With the best router table in your workshop, you can become an amazing artist.
But you will hardly achieve that degree of finesse if you don't have the right router table. You need a platform where you can securely mount your router for optimum control during the cut.
The combination is a well-rounded and exceptionally pliable tool with the power to create a rich variety of outputs. Make fine cutouts, duplicate patterns, decorate surfaces, cut joints, shape different edges; all these with a single versatile tool.
A seasoned woodworker or a crafter, there will always be lots of uses for your router and its table. But what makes a really good router table?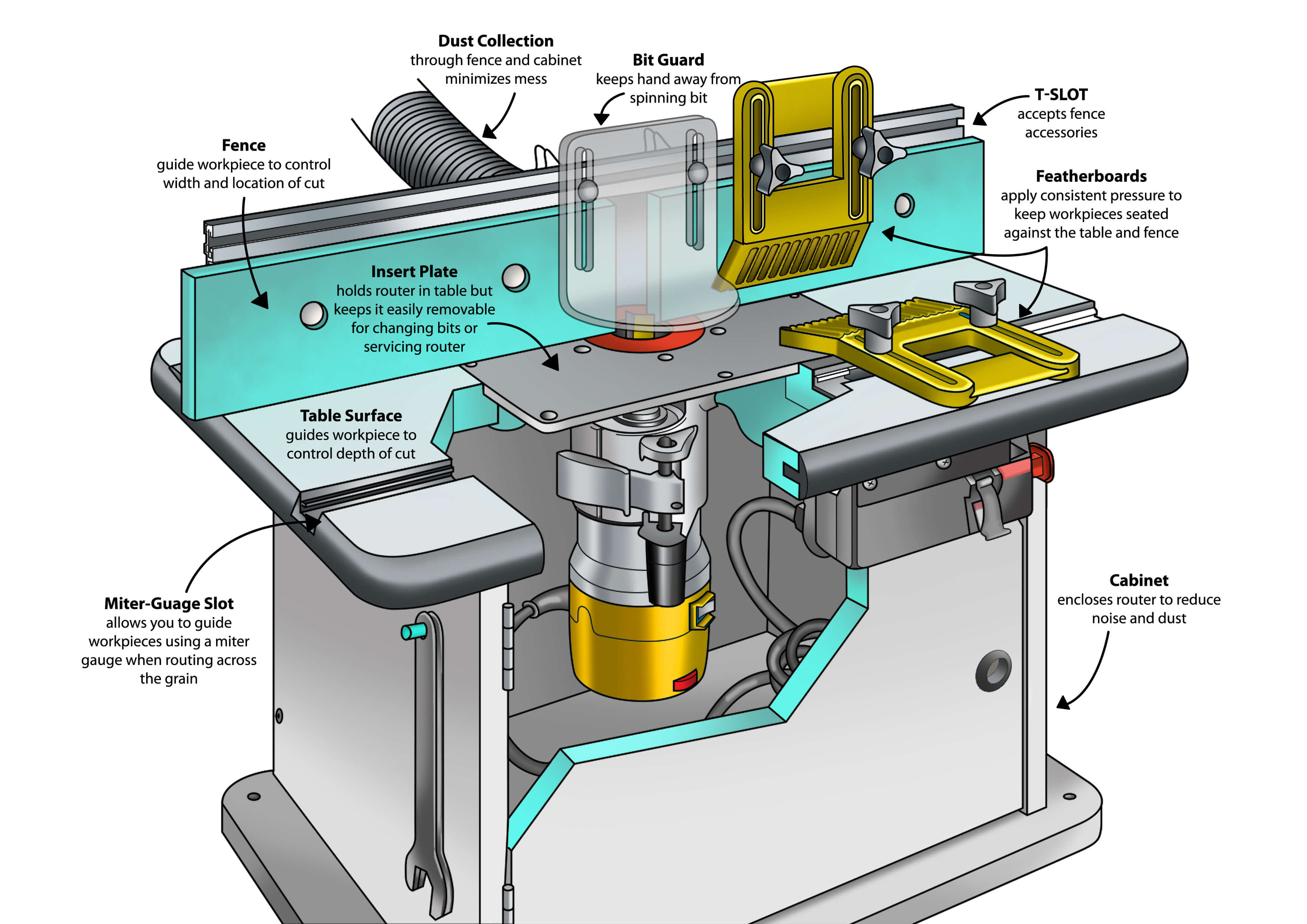 Router table reviews
I will qualify the following as best router tables for hobbyists
And these as router tables for serious WoodWorkers
Best Router tables recap.
Best Router tables and images
Weight
Fence material/dimension
Table-size
Dust collection
Bosch RA1171 Router Table


45 Pounds

Aluminium
4-7/8 x 25-1/8 inches (HxL)

25-1/2 x 14-1/2 x 15-7/8 inches (WxHxD)

Two dust collection ports for removing dust and debris
Bosh RA1181 Router table


34.4 pounds

Aluminium
4-7/8 inches in height by 25-1/8 inches

27-inches wide by 14 1/2-inches high by 18-inches deep

Features a dust collection port in the fence for
2 1/2-inch Vac hoses
Bench Dog 40-001


43.2 pounds

Aluminium
22" ProFence

laminate top with 24 x 16 inches

2-1/2-inch dust port fits standard shop vac hoses
SKIL RAS900 Router Table


32 pounds

Aluminium

14 x 26 x 18 inches (H xLxW)

dust collection
port in the fence
Kreg PRS2100 Router Table


28.4 pounds

Aluminium

16 x 24 inches

dust collection
port in the fence


Considerations to make when selecting a router table
A number of features will make a router table selection to be the right one. Let's break them down and consider the details you must pay attention to.
Router table top
A flat solid router table top is a perfect choice.
Its stability will go a long way in determining the quality of your cuts. You don't want to settle for less than an optimum quality. So it will pay to go for something truly rigid on the top.
In addition, the table surface should be flat, as near perfect as possible. This will help with precision, especially in the event that you want to cut an edge or work a board joinery.
A poor table top may in such cases result in skewed or uneven profile, just to mention one.
As you go about working on the router table, you will notice that rigidity is crucial from two angles. For one, it withstands the pressure and will not flex downwards when you feed it with wood. That way you are sure to avoid any cases of inaccurate cuts.
Aside from that, the rigid router table top is firm enough to support the weight of the router lift or plate and router itself. A weaker top may otherwise deflect and ruin your work.
Router base plate
Most router tables have a base plate for mounting the router on the table. The base plate is nuzzled into the opening at the center of the router's table top.
Both the layout and quality of this plate are likely to have significant impact on the functioning of the router table.
The best idea is therefore to look for a sturdy and flat base plate. The more rigid the plate the better your assurance for a secure and stable mounting on the router.
The mounting plate should have a hole that's sufficiently large to accommodate the largest available bits and one to two reducers that you'll use with smaller bits.
There are mounting plates that use a twist lock ring system. Such a ring system allows for the adjustment of the size of the router bit opening without compromising the flush appearance and flatness of the surface.
The base plate has to remain flat while it supports the weight of the router. So it must be solid enough to make this happen.
Many seasoned crafters find machined aluminum and solid phenolic as great options.
Do not however just pick any mounting router because it looks solid and is made of aluminum. It must be compatible with your router. I wouldn't be swayed by a "one-size-fits-all" pre-drilled plate.
The argument is, they tend to have a large number of screw holes drilled in them already. This eats away their sturdiness and as a result they may be inherently less strong. In addition, they provide more room for debris and dust to accumulate. This affects the feeding of stock.
The base plate must also sit seamlessly flat with the surface of your router table aside from being flat itself.
Its levelling system such as the screws should be enough to take care of this element.
Router Fence
Precision plays out as a key consideration in nearly every component of a router table. It is even more crucial when it comes to the selection of a router fence.
Most operations on the router table require that as you advance your workpiece past the bit, you keep it pressed against the fence to control the cut.
That means the fence must be up to the task.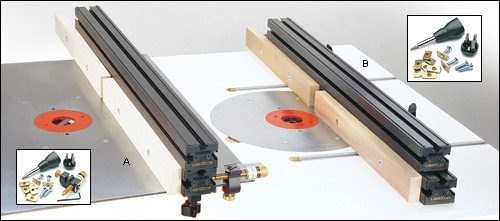 Consider a sturdy, straight router fence that its easy put into position. It should stay firmly in place and give room for various positions.
There are two types of router fences.
Split fence

One-piece fence

A split fence is formed by two halves that are independently and separately adjustable. The two halves of the fence must be aligned into a perfectly parallel position against each other to deliver accurate cuts.They can be moved farther or closer to the bit depending on your workpiece requirements. Moving the two fence sections closer to the bit may provide enhanced workpiece support.

Though it can be slightly challenging to adjust the two halves into a perfect parallel alignment, this type of fence has an upside. It lets you to offset your in-feed and out-feed fence sides to allow for the removal of material during the cut.

There is no alignment issue with the single-piece fence. This is a single, solid and straight piece which covers both outfeed and the infeed sides of the router table. This sort of built-in alignment has a number of limitations, though.

In case of a bit with smaller diameters, you may potentially have problems with workpiece support. There is likely to be a large gap that could leed to a significant opening between the bit and the fence.

As a result, your workpiece remains unsupported in the gap areas and it could potentially get hooked up in the fissure.

This means that you must have a large clearance hole in the fence to firmly accommodate the largest diameter bit you intend to use.

Final verdict: go for a sturdy single-piece fence frame that is equipped with split fence faces or sub-fences.
T-Slots and miter

Base

Majority of the woodworking operations using a router table involve keeping the stock pressed against the table's fence. But as we noted earlier, the router table is versatile and has several functions. At some point, you will be involved in a task that requires the use of miter gauge. In such a case, you'll need to have your table equipped with a miter slot.

The miter slot is also useful where you want to secure particular accessories needed for router tables including feather boards.

Some router tables come already outfitted with T-slots in different locations. All in all, they are things you must pay regard to when picking your router table.

Just about any woodworker wants crisp, clean cuts. That is something you cannot achieve on a shifting or wobbling router table base.It is the platform that will anchor every other accessory on your table. So, to get the job done, and done well, go for a stable, sturdy base.
Criteria by which we selected the best router tables
We believe that everyone would appreciate a great quality product without having to shell out so much dough.
When it comes to machinery, there is the element of safety. So, in selecting the best of best router tables for your consideration, we have made our recommendation based on:
How durable the table is
How cost effective it is to acquire the table
How convenient it is to work with the table
How secure it is to use the router table
Eventually, having considered all these factors and canvassed the current router table marketplace, we have put together the following router table reviews.
Sit tight and have a look.
The best router tables
Bosch RA1181 Router Table
This is our all-time top pick. We recommend it particularly if you are on budget, but looking for the best reward on your buck.
Onto the quality, the Bosch RA1181 benchtop router table offers a huge work surface for convenient woodworking and routing.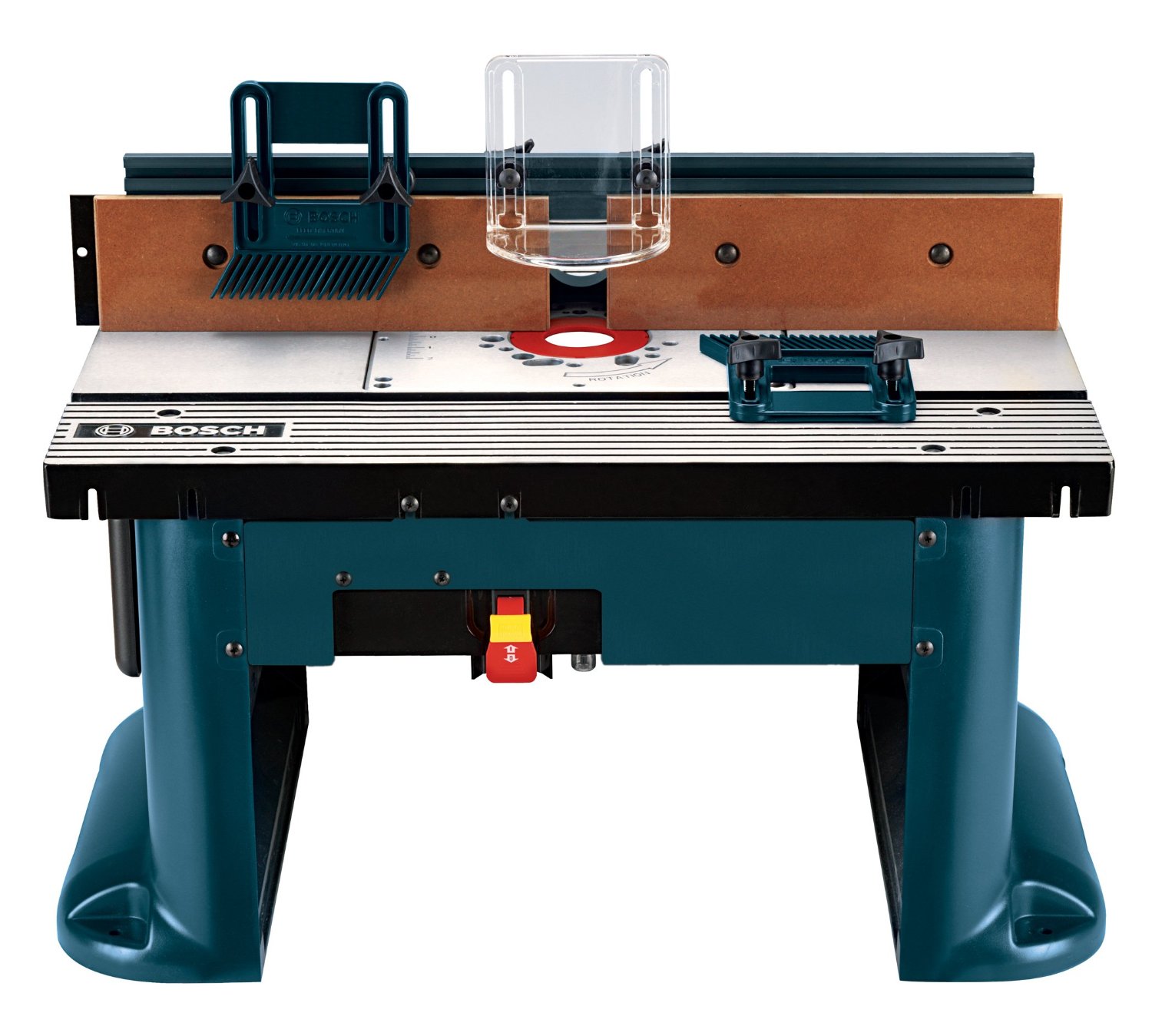 Check the Price
It has been designed to fit various routers. It is therefore highly versatile and will definitely be an indispensable part of your woodworking outlet.
Bosch RA1181 Router Table has a 2-1/2 inch dust collection port for enhanced dust collection. That means it helps you maintain a cleaner work environment.
It has a large aluminum top that makes it portable and very durable. It also features a tall aluminum fence with adaptable MDF face plates, a mounting hardware, double outfeed shims and an aluminum router base plate.
To top it all, the table comes with the starter pin and router guard for curved workpieces included.
Bosch RA1171 Router Table
Bosch brand will frequently pop up when you search for power tools or appliances. Here is another of the brand that you will most likely love.
This Cabinet Style Router table features dual sawdust collection ports designed to suck up a huge pile of debris and guarantee a clean work environment.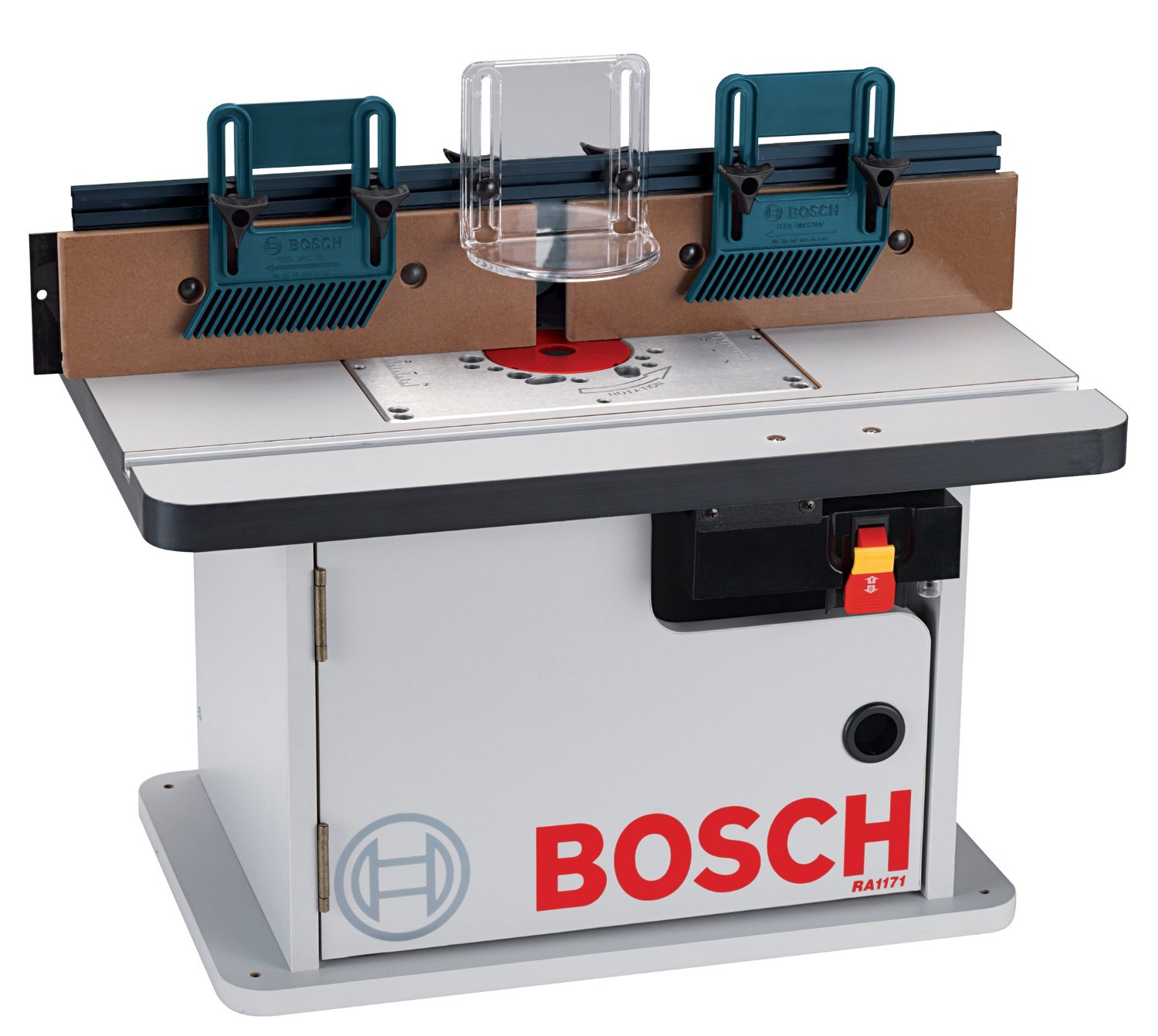 This router table comes with a premium work surface for routing and woodworking.
Just like its sister the RA1181 Router Table, this Cabinet Style Router table is designed to fit a good number of routers can conveniently mount on a variety of workbench.
The cabinet-style construction is not only optimized for good collection of dust but also reduced noise in your work environment.
It has 4-7/8 by 25-1/8 inches tall aluminum fence and handles tall stock conveniently.
Its fence features a set of adjustable face plates for smoother operation. It is pre-drilled to fit different routers for added versatility.
You may be delighted to know that its easy-to-use feather boards are totally adjustable and attach to the fence and table. They provide added control and support while feeding stock across the table.
SKIL RAS900 Router Table
If you are looking for an easy to fold piece of equipment then you shouldn't look any further than the SKIL RAS900 Router Table.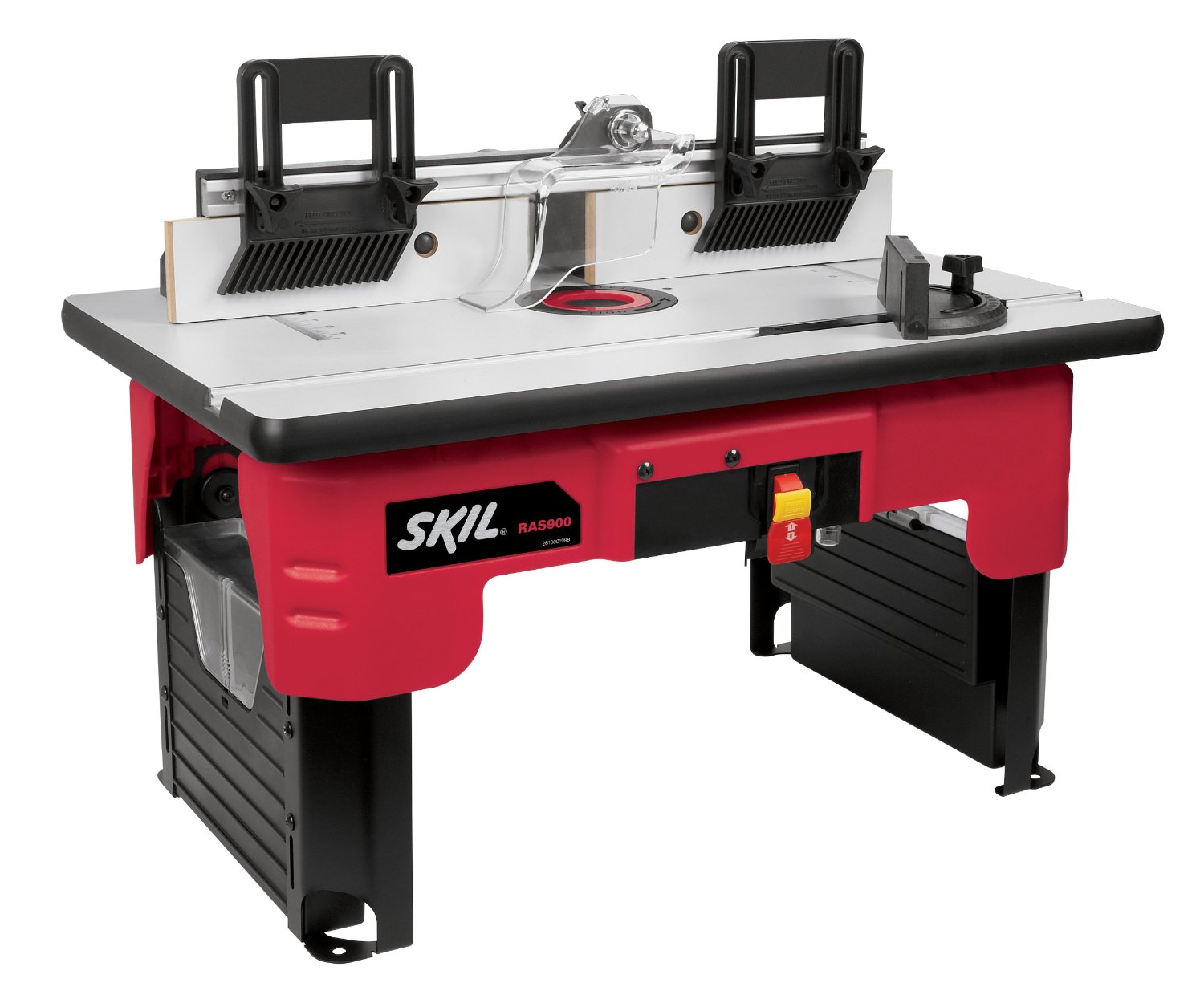 No need to assemble it because it comes already as it. It has a laminated MDF top and an incorporated accessory storage bag.skil-router-tables
It features a storage for needed parts such as the router fence and bits.
The table comes with a feather board, guard, miter gauge as well as bit inserts.
It features a bit height gauge to ease bit setup and improve precision of cutting.
This router table has a quick-release router mount which quickly and seamlessly attaches and detaches in a matter of seconds.
The preassembled nature means there is little work left for you. Its legs are designed to fold for storage and its convenience and stability makes it hands down a perfect router table.
Kreg PRS2100 Bench Top Router Table
Just a single look and you can tell this is a sturdy equipment.
The Kreg PRS21000 measures 9-1/4″ by 11-3/4″ by 3/8″, a deliberate design meant to support even the biggest of all routers.
The table features Kreg's innovative Level-Loc Reducing Rings. The rings seamlessly twist into place and bolt in flush with the surface of the plate.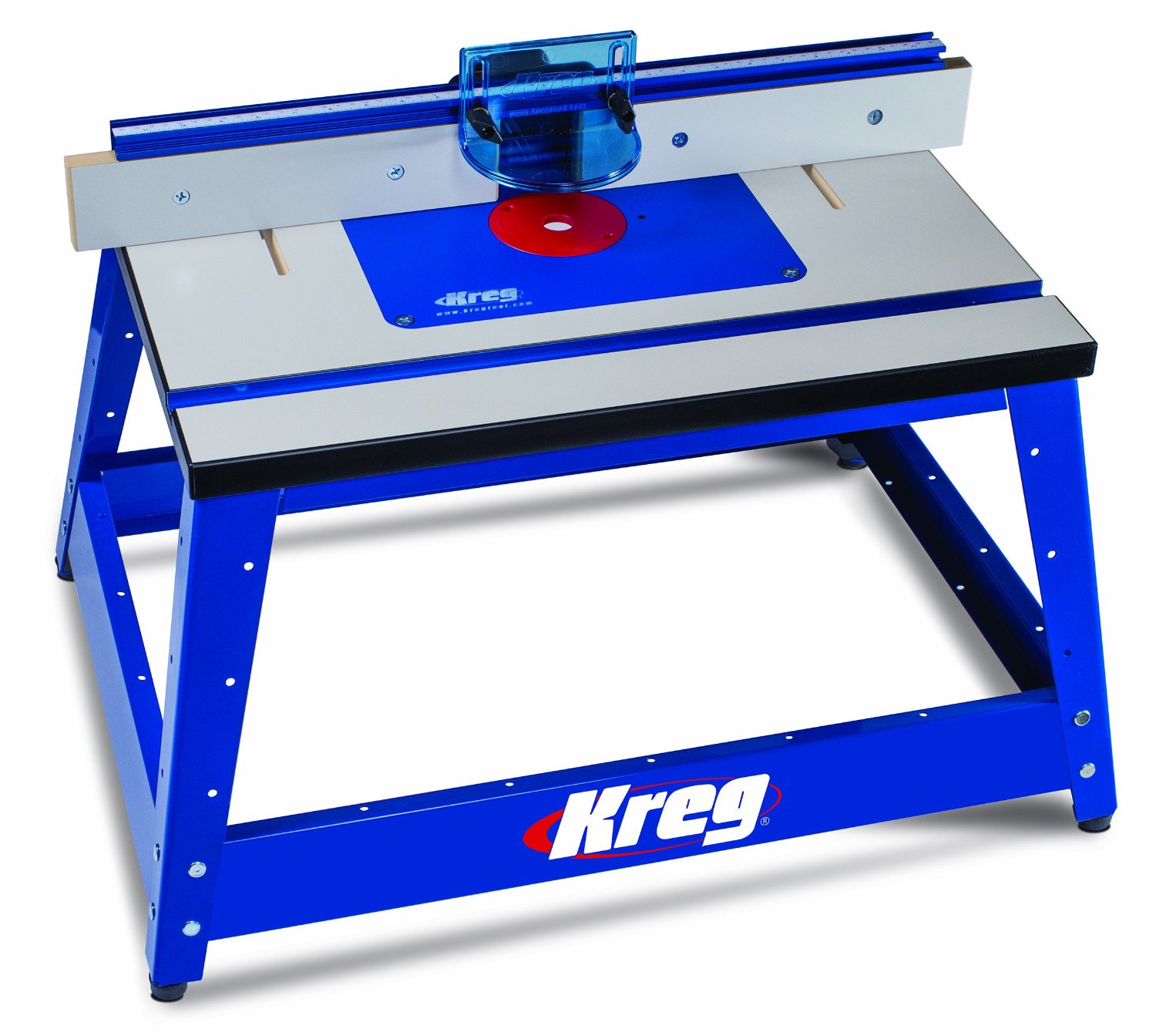 It comes with three Level-Loc rings included, each for a specific function.
The plate's underside has laser-engraved markings for better and much easier router mounting. This precision factor is further enhanced by a set of Kreg's Precision Insert Levelers that come with the equipment.
The table features the upgraded Kreg's industrial-quality fence and cam clamps that enable you to quickly adjust the fence with ease and securely lock it in place.
This Precision Bench top Router Table has a broad table top measuring 16″ by 24″. The table is made of thick MDF to absorb vibration.
Bench Dog 40-001 Benchtop Router Table
The compact look of this router table may make it pass for some regular piece of work, but that should not mislead you.
The Bench Dog 40-001 is packed with standard features and exemplary attributes that make it qualify as one of the finest worksite router tables in today's market.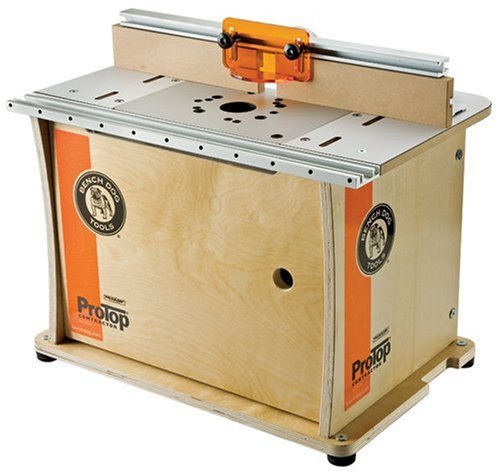 Its inside cabinet measures 15″ high, which can house practically any router.
It features a non-marring shield top, 22″ ProFence from Bench Dog and an integrated 2-1/2″ dust port. It also has an adjustable aluminum miter auxiliary track, an enclosed cabinet that minimizes noise and dust, and a pre-drilled router insert plate fitting many popular routers.
Router table 101
Round-up
Every router table featured here is a fine piece. But based on your budget and specific requirements, you may need just one of them. Whichever you pick, the value it adds to your workstation is definitely top of the range.
More Categories To Check Out
Wood routers
Routers are the piece that is at the heart of routing, making it an important tool. Selecting a good one for your woodworking task is crucial. Some routers are meant to be mounted on router tables and some are meant to be of palm type.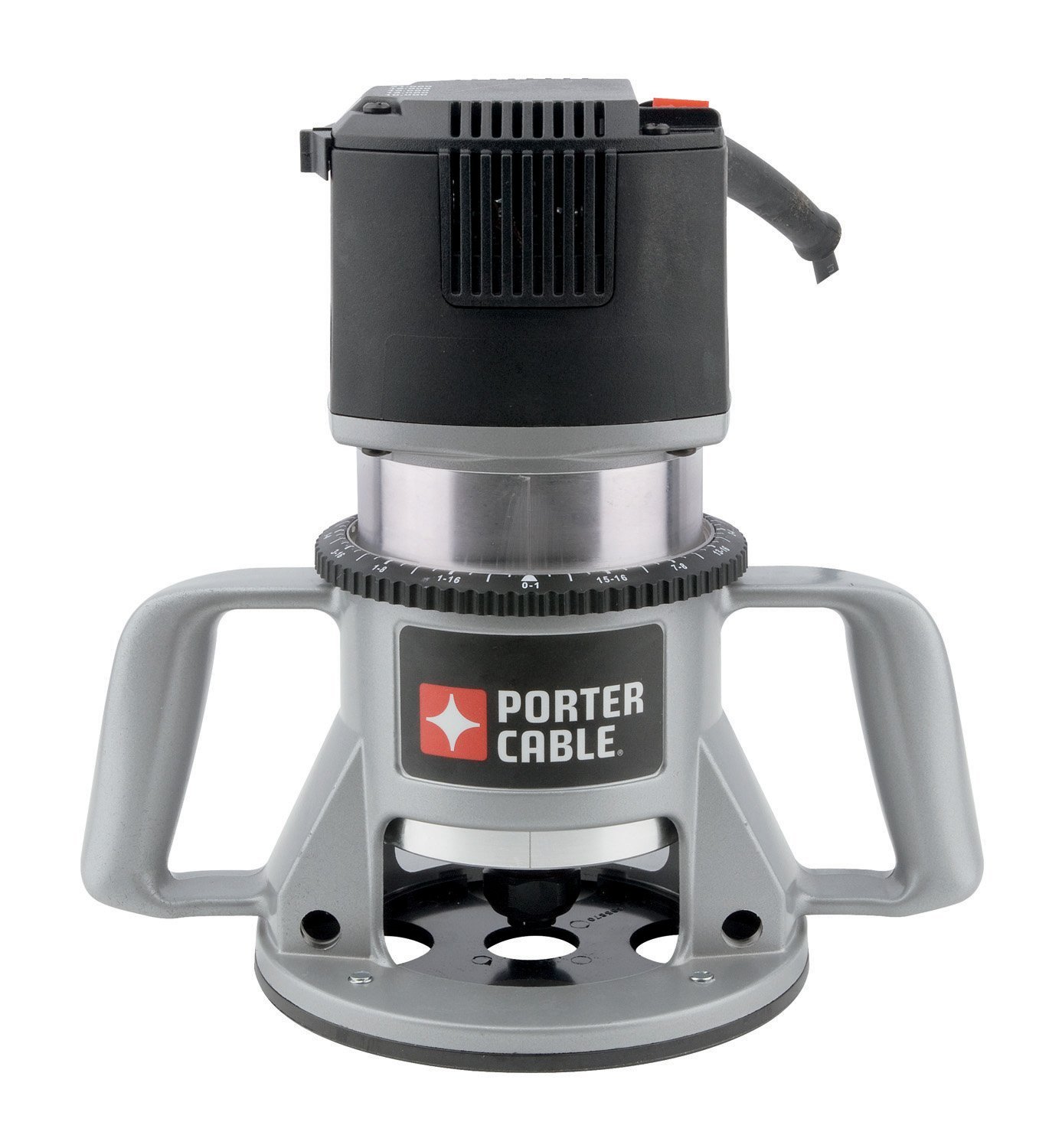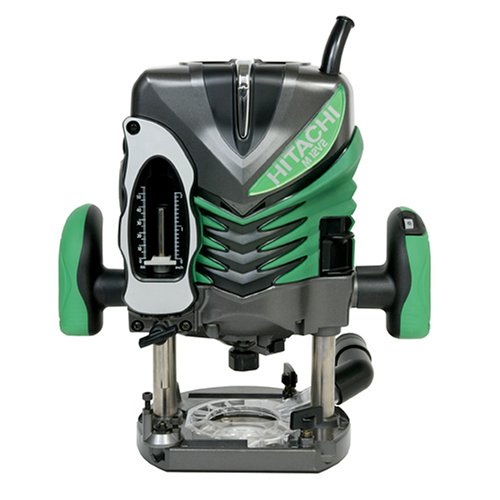 Router bits
Router bits are the piece that does the cutting. The following will help learn more about bits and their use.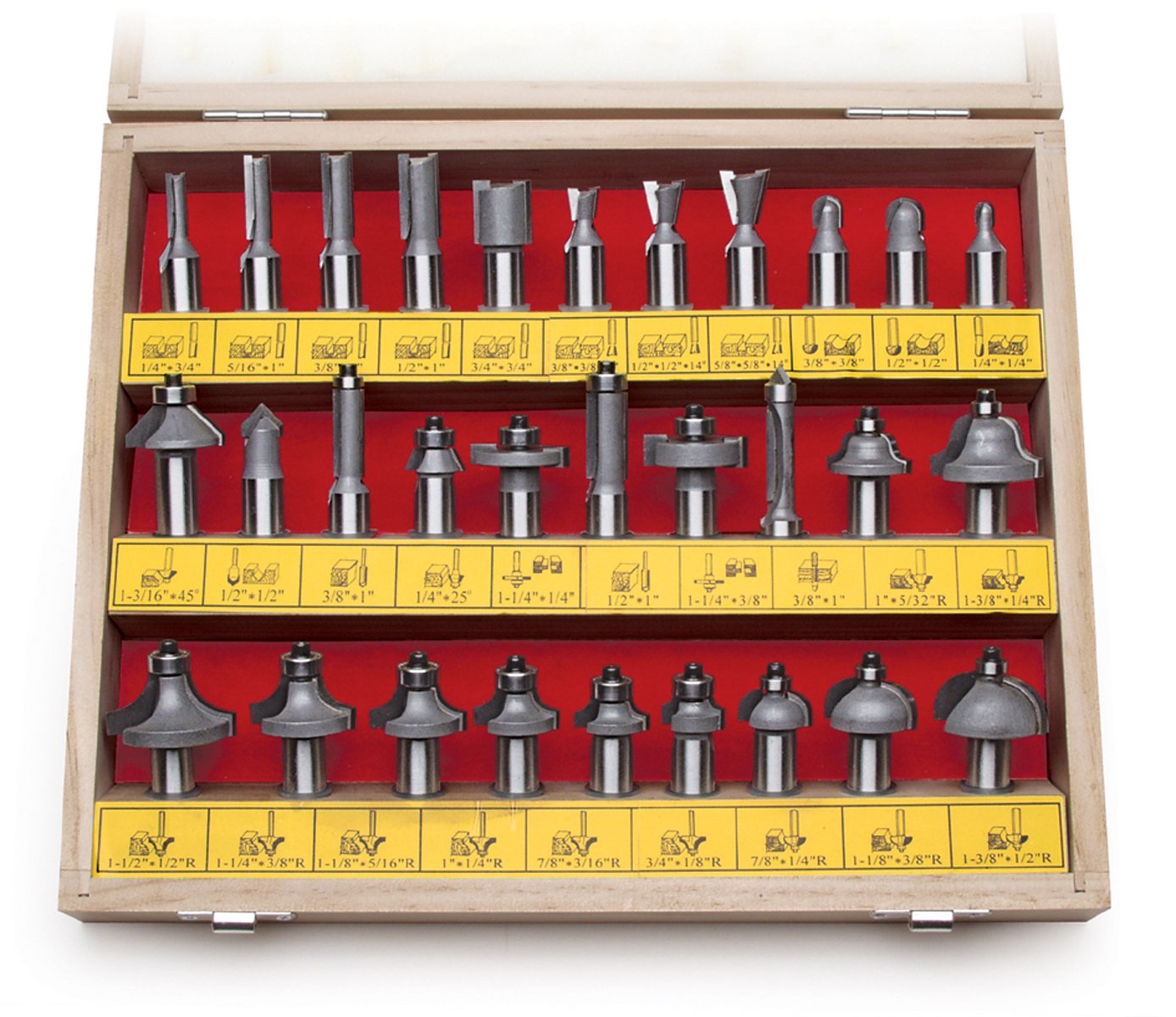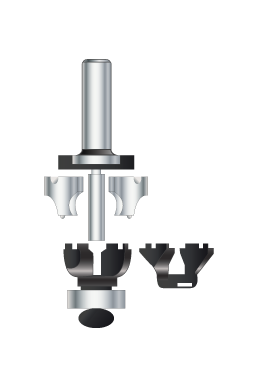 Router LIFTS
Lift will help you lift the router as its name states, helping move the router vertically.