Like any other cordless tool, a cordless drill offers the convenience of freedom from a cord. No more moving extension leads around and no cables to trip over to provide slack in the cord. A cordless hammer drill can also be used in places like up ladders and on roofs without the cord catching on everything. Another benefit of a cordless hammer drill is a better balance and more lightweight, which means it's easier to use with one hand. Corded drills are heavier and bigger. Read on to find out the important features of cordless drills and check our top 5 cordless hammer drills on the market.
Battery options
The vast majority of cordless hammer drills use lithium-ion batteries and they are the best choice. Older cordless drills and cheaper new drills use nickel-cadmium batteries, which are also good when you use the tool often. However, the nickel-cadmium battery composition is more toxic and not environmentally friendly. Besides, lithium-ion batteries are better at delivering high-range power.
As we all know, when you really want to do the job quickly, you find the battery is dead and you need to find another one. When it comes to cordless hammer drills, it is less expensive to buy a kit with two batteries rather than buying batteries separately later on.
Battery capacity is measured in ampere hours. The larger the capacity (search for 5AH or more) the longer the battery will run. It's not always the case but most batteries follow this rule. Then there is also battery voltage, which can tell you what power you can expect from your cordless hammer drill. The higher the voltage, the better the torque. But torque isn't everything that you need to consider – drills with the same torque can vary a lot in their performance.
Chuck
Every drill has a hole at the end where you can put the drill bits. The hole is called the chuck. If you need a drill for drilling in small holes and nothing else, you don't have to worry about the chuck. However, larger drill bits need at least a 13 mm chuck. Cheaper and older models only have 10 mm chucks. Search for a model with a keyless chuck, so you can tighten and loosen it by hand without having to find a key every time. All drills in the list have keyless chucks.
Trigger/speed control
The trigger on the drill should be easy to operate and give good control, from zero to full speed. It is especially important to have good control at low speeds because when you start a screw or drill on surfaces without good friction, you need to keep everything under control.
A range of gears will allow you to get better results for different jobs. Low gear is better for powerful drilling, for example drilling though still and drilling with a wide-diameter bit. High gear is better for fast drilling, for example with small-diameter bits.
The Main Considerations To Make Before Buying A Cordless Drill
Now when you know about torque and batteries, there are a few considerations to make before buying a drill. If you want a good drill for different jobs, choose the one with 18V and a Lithium-ion battery pack. We would also recommend getting a spare battery if you're going to use the drill regularly. This way it will be fully charged at any point of time. The rest of the things you should know are discussed below.
Just A Drill?
Some drills work as screwdrivers as well, so do you need two tools in one? There are also different attachments you can get for a drill to make it even more versatile. Of course, every attachment adds to the cost, so choose wisely.
Hammer Action
You may have seen this characteristic written on drill packages; understandably, it can be confusing for beginners. The hammer function is useful but not a must-have. Hammer action is necessary when you need to drill through concrete or brick. When you switch on the hammer action function, the chuck on your drill goes in a pulsing mode, which produces thousands of pulses every minute to add power and help penetrate tough materials. You don't need this function if you drill softer materials like wood. Most cordless drills come with this function, anyway.
What Is Torque?
Torque is one of the most important characteristics. The modern cordless hammer drills use gear to help you easily adjust torque to the job you're doing. Torque means the amount of twisting power that you can apply. There are certain projects that need low torque and high speed drilling, for example drilling through wood. And some jobs need high torque and low speed, for example putting in a screw.
Corded drills often have a better selection of gears but cordless hammer drills listed below are catching up. They have 2 or 3 gear selection which is enough for all jobs. If you going to use your drill a lot, always choose the one with 3 gears.
Speed Control
For beginners, it can be tricky to find the difference between the torque and speed. They are not the same thing. Cordless drills listed below have a variable speed feature. This means you can change the speed of the drill depending on the type of a material you're working on. You need this feature for more accurate drilling of holes. You always want to choose the drill that offers variance because you're probably going to drill through different materials.
Work Light
Modern cordless hammer drills have a work light built into them. This is really convenient when you have to work in unlit spaces. When you pull the trigger on your drill, the light comes on and allows you to see the spot you're going to drill.
The real star in our top 5 list is this hammer drill, which features 0-38,250 BPM and 2,250 RPM. It is 80% more powerful than the previous model and offers 3 times more run time. It also has a 60-Lumen LED light, as well as nitro-carburized metal chuck that you can easily grip and comfortably handle in one hand.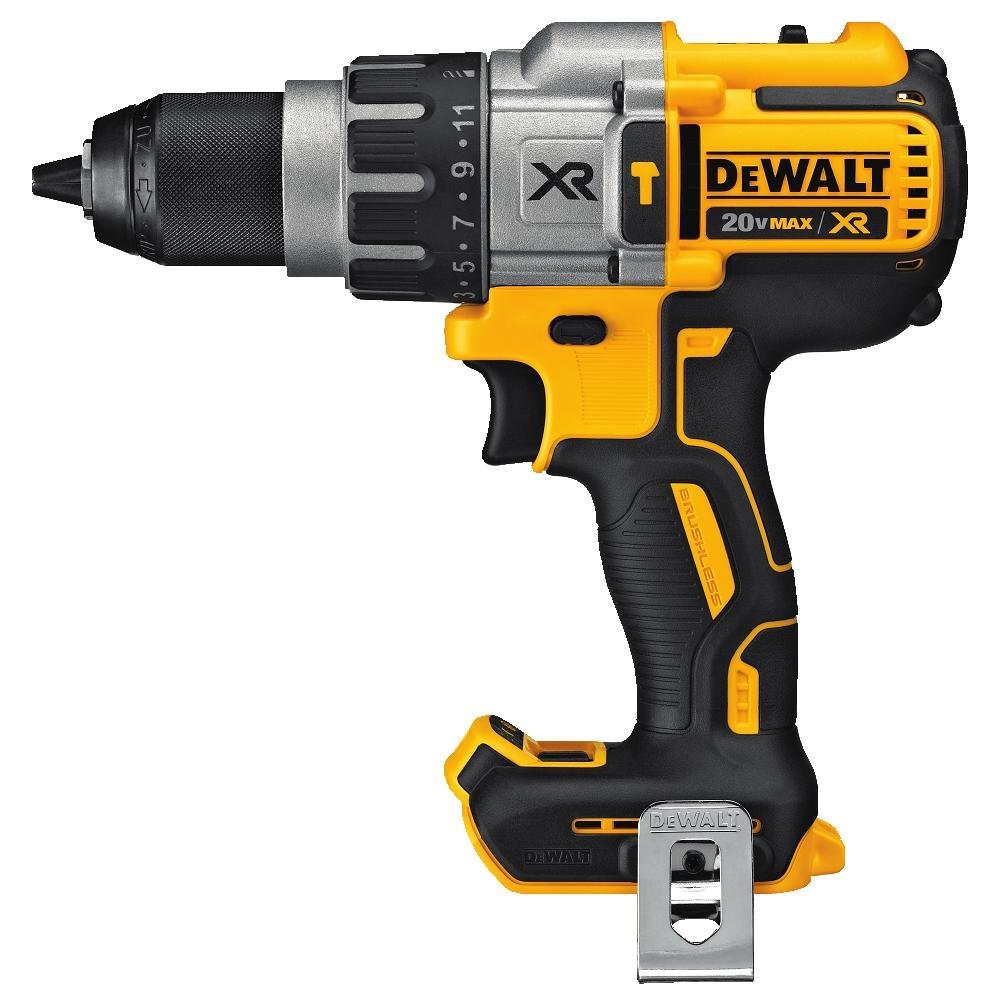 The drill delivers 820 watts of power, which is almost 30% more than the previous model. It performs equally well on heavy duty jobs as well as simple DIYs. The cordless hammer drill is extremely durable with its coated and sealed switches; the tool is moisture and dust resistant. Like other Dewalt tools, this one comes with a 3 year warranty. The LED light has three settings, including a convenient spotlight mode with a delay option.
Things We Like
Durable tool made of quality materials
Comfortable grips
Lightweight
2,250 max RPM
Things We Don't Like
The gear selector can be sometimes difficult to set at 2
The new Ryobi hammer drill is paired with a set of compact batteries and a 30 minute charger to allow you to keep your drilling activities all day long. Aggressive jobs will drain batteries quicker, but all you need is a quick brake and the tool is ready again.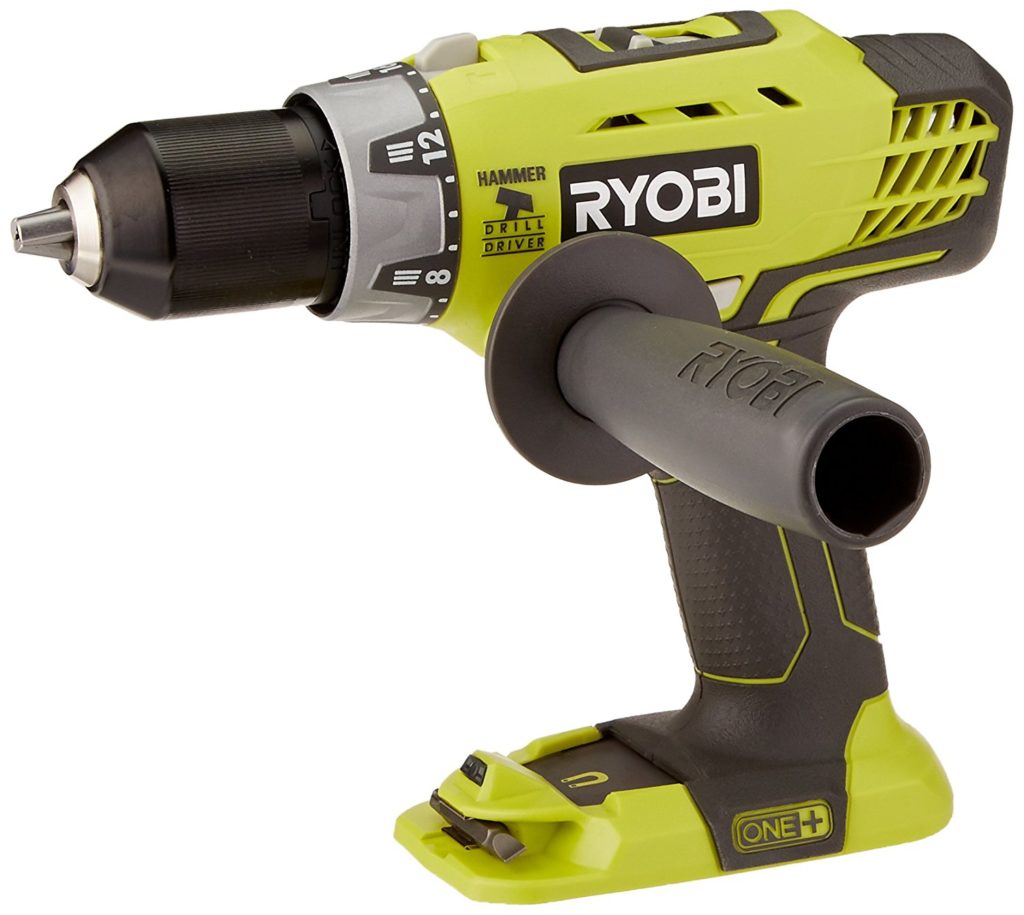 The 2-speed motor can deliver 600 inch pounds of torque at 375 RPM. If you need low stress application, you can switch to a higher 1600 RPM. The tool has 24 clutch positions to help you have complete control over the amount of torque you need for drilling. It also prevents you from damaging your work surface. The clutch-overriding drill mode will take care of everything else, including concrete drilling.
The drill also has LED lights to help you illuminate darker areas. It also has a convenient magnetic storage for bits and fasteners. This model will get the job done even if you use it regularly for all type of projects. Given this fact, there is no reason why hobbyists will pass this drill up.
Things We Like
3 different modes
2-speed motor
Magnetic holder
LED light
Things We Don't Like
You need to retighten the chuck from time to time
This high-torque and high-speed gearbox offers up to 1600 RPMs, up to 300 watts of power, and it is perfect for wood, brick, concrete, block and applications ranging from plumbing, HVAC and electrical to small residential repairs. With its 1.5 inches chuck, the bits are never slipped, and when you don't use the tool, the bits are waiting for you in the magnetic clips.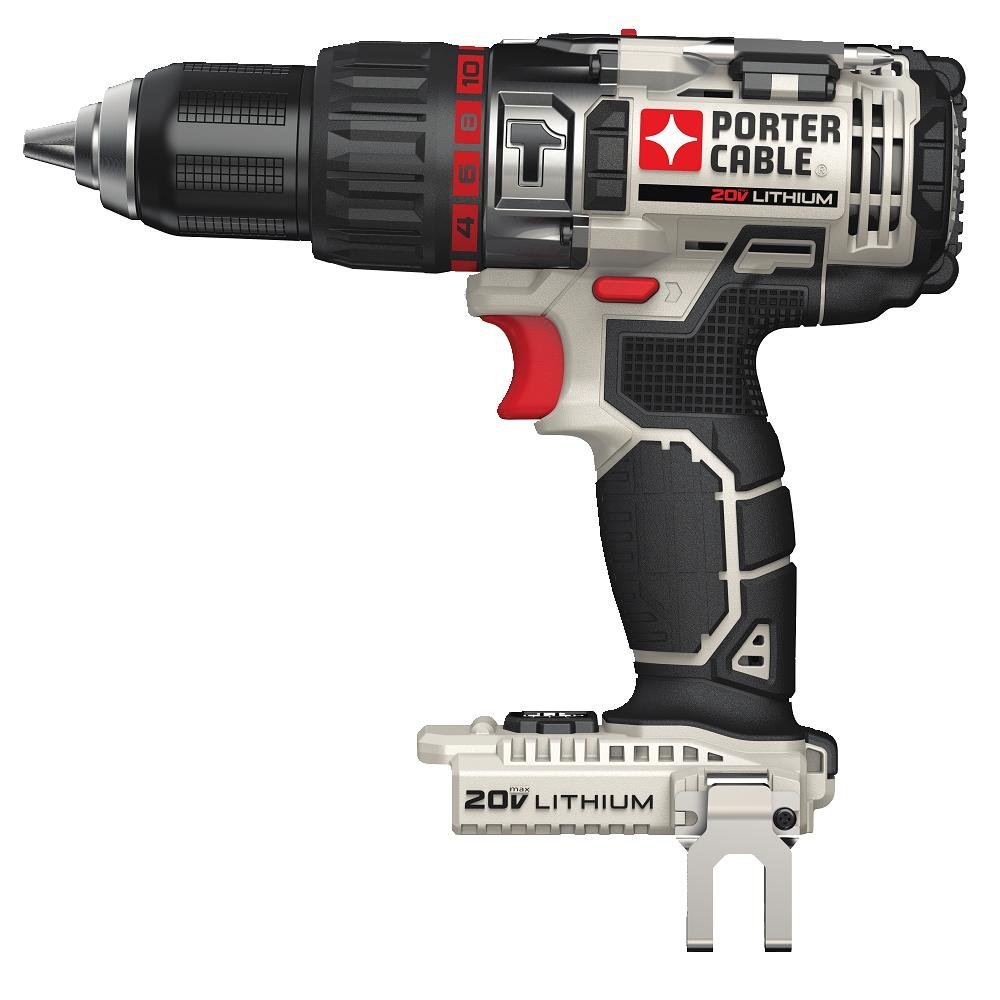 The company has done a lot of improvements, and this model features upgraded 2.0Ah lithium ion cells, which can offer 30% longer life than previous batteries. Thanks to the prolonged runtime, you can handle bigger jobs and don't worry about recharging the drill.
The drill has the pressure-sensitive trigger, which doesn't require a lot of force to use, and the textured handle ensures convenient carrying and holding. The drill comes with a 3 years warranty.
Things We Like
2-Speed gear box
27,200 BPM
5 inches metal chuck
23 chuck settings
LED light
Battery gauge
Easy handling
Things We Don't Like
Not the best tool for the everyday construction use
This cordless hammer drill delivers a full 1,090 in-lbs. of torque, which is the most powerful in the market in this price range. This 18V tool is one of the best with its combination of speed, power, and run time that out-performs and out-lasts many other modules. The model is powered by the BL Brushless motor manufactured by the same company, which is electronically controlled to increase the battery lifetime (we mentioned the 50% longer run time compared to the previous model). Electronic controls use the energy to match RPMs and torque to increase power speed when you need it.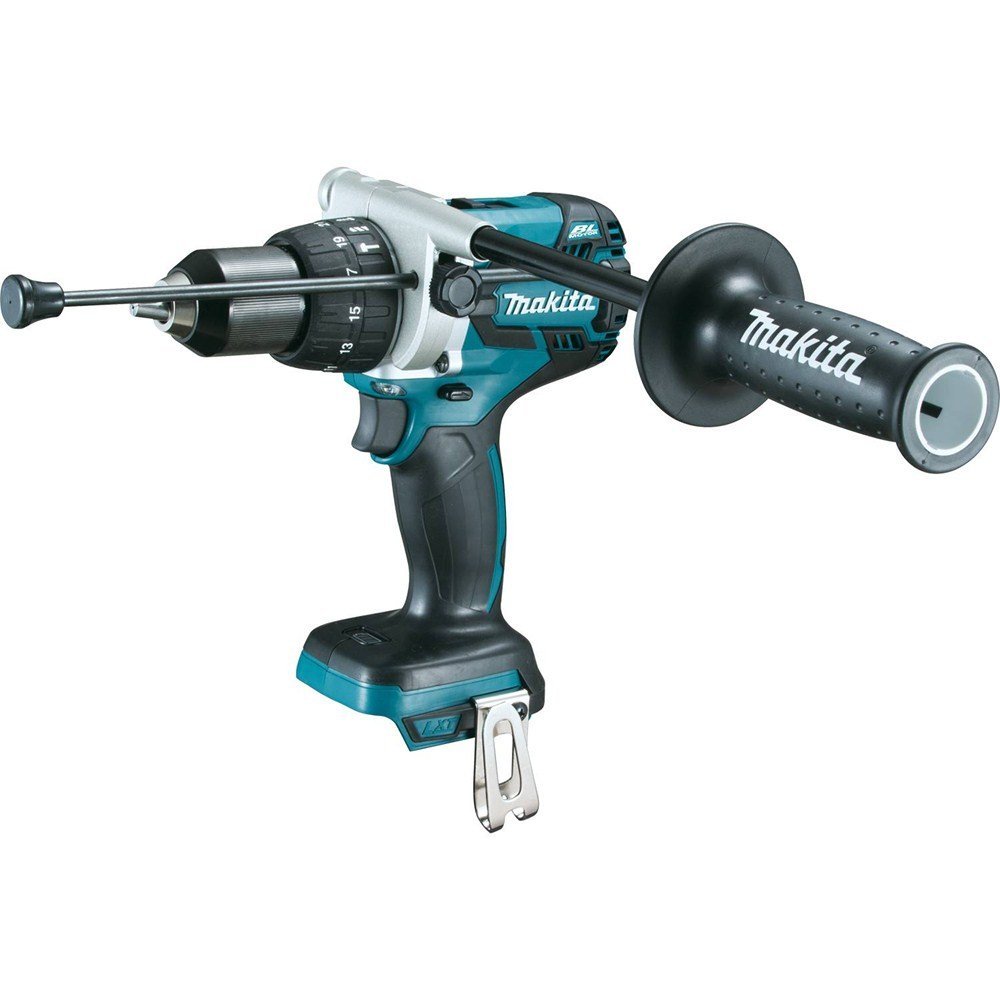 And since the drill doesn't have carbon brushes, the motor runs more efficiently and more quiet for a longer time. For better durability, the drill has the Extreme Protection Technology, a unique invention that protects the tool from the inside and makes it water resistance. The technology helps channel water and dust from the main components of the drill. This drill can handle the vast majority of big and small projects in steel, masonry, wood and other materials.
Things We Like
Delivers 1,090 in-lbs
Maximum torque is 0-31,500 BPMs
Brushless motor
The tool is more quiet than other in the list
Electronic motor
50% longer run time
Metal chunk for better durability
Things We Don't Like
The tool comes without instructions
This is more than just a cordless drill. This tool allows you to quickly change attachments to perform multiple tasks with ease. In fact, there are six attachments: jigsaw, sander, oscillating tool, trim saw, router and impact driver. You can also purchase an attachment if you cut plywood. And when you need to decorate something, you can use router attachment. Of course, the main tool is cordless drill that performs equally well. The drill has a keyless chuck that enables you to change everything easily.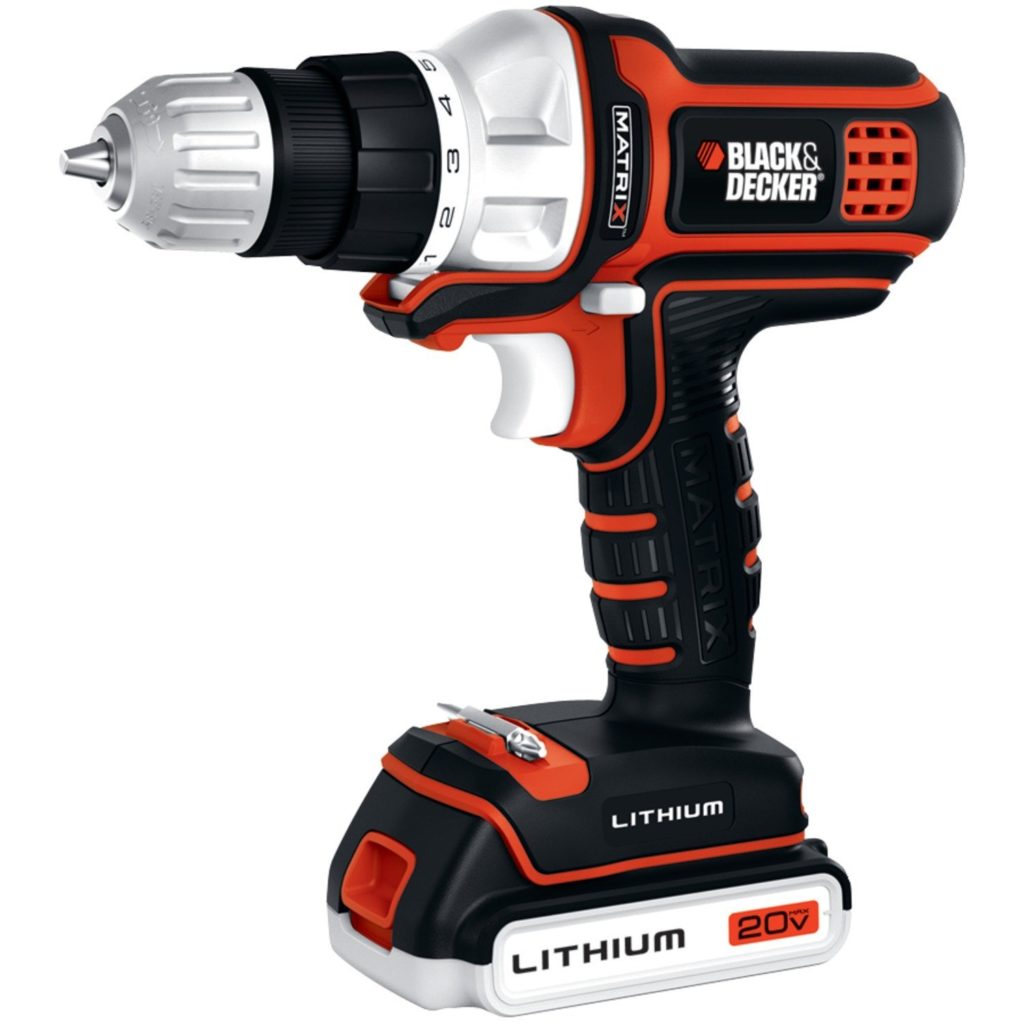 Instead of separately buying multiple tools, you only need to care the base power unit and one attachment. Powered by a 20V Lithium Ion battery, the drill delivers up to 800 RPM. Like other drills in the list, it has a variable speed trigger that lets you control the speed to suit your needs. The drill also has the forward/reverse slider to allow you to change the motor easily.
The tool has the versatility of 10 clutch settings, allowing you to perform a wide range of jobs. With the torque adjustment feature, you can change the torque according to your needs. This reduces the chances of overdriving screws.
Things We Like
Compact and versatile
Lightweight
Portable
Has 6 attachments
Things We Don't Like
The tool doesn't notify you about battery drains
The winner
DEWALT DCD996B 3-Speed Hammer Drill is a great tool for everyone who is going to perform both small and large jobs. The drill protects the user from sudden kickbacks and other risks. Combined with extra LED lighting and power, the tool is the best that can be found on the market.