The router is arguably the most important tool in woodworking. You can make dovetails, box joints, lock miters, decorative molding and a whole lot more with a router. If you're serious about getting into woodworking, this tool should definitely be in your collection. Before you buy your first router, you should know exactly what options are available so you can get the one that's right for your needs. Let's investigate what makes the best wood router.

10 Things You Need to Know to help select the best wood router
Fixed Base Routers

Plunge Base Routers

Many routers come with what's known as a fixed-base, which means that the cutting depth will remain fixed during operation.

To use a fixed-based router, you install a bit in the router collet (more on that later) and set the depth of cut by adjusting a ring on the outside of the router base. Then you lock the base in position before making a cut.Because the bit sticks out beyond the base of the router when you start the cut, a fixed-base router is most appropriate for operations in the edges of boards.

It's excellent at creating decorative profiles for doors, drawers and tables.  A fixed-base router is also a great tool for joinery like dovetails, box joints, lock miters, rabbets and dados. You'll need a router table for a lot of joinery work, but you can do an impressive number of joints without one.

Good fixed-base routers include the Porter Cable 690LR, DeWalt DW616, Bosch 1617 and Milwaukee 5616. Craftsman makes a decent entry-level router (model #2767) that will stand up to light use.

When routing with a plunge base, you start with the router bit above the work and then "plunge" it into your material. You do this by pressing a lever that allows the bit to slide downwards. This is extremely helpful when cutting a mortise into the face of a board.

It's also perfect for routing inlays or using guide bushings and templates. Many projects that would be difficult or impossible with a fixed-base router are easy with a plunge base.

The DeWalt DW612 is an excellent plunge router with useful features like variable speed and a built-in dust collection port. It accepts ¼" and ½" collets, so you'll be able to use any router bit you want, and it has plenty of power (2HP).
Combination Kits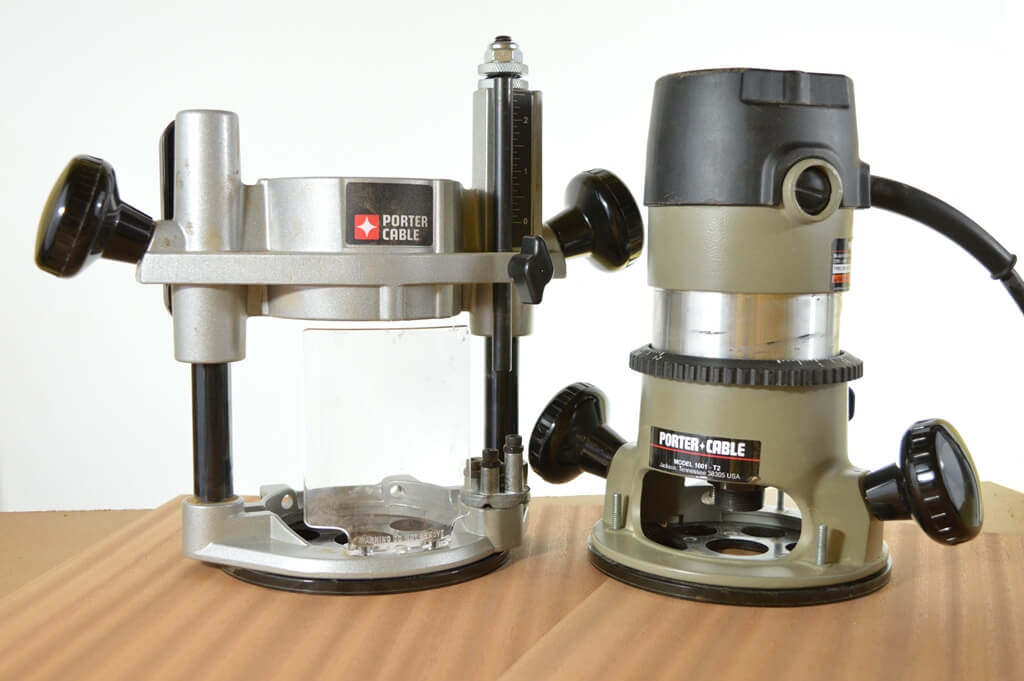 Most router manufacturers offer kits that contain fixed and plunge bases. If you don't want to be limited by your router base, consider getting one of these kits. You'll be able to switch between the two bases, and some woodworkers like to keep one mounted in a router table at all times while using the other for handheld operations. It's usually less expensive to buy a kit than to buy the bases separately, so you might want to get both up front if you think you may need two.
DeWalt's DW618K kit is a great value. You'll get variable speed, 2-1/4 horsepower, plus ¼" and ½" collets. The 693LRPK kit from Porter Cable is another good deal for about the same price, but it doesn't come with the variable speed option and has a lower horsepower rating. However, this router is a workhorse and you'll find it in just about every professional woodworking shop.
Bosch makes the 1617EVSPK kit with variable speed soft start, 2-1/4 horsepower and two collet sizes.
Variable speed

Soft Start

Not all routers come with variable speed, but it's a handy option because it allows you to use bits of all sizes. Small bits can be operated at high RPMs, but the bigger the bit, the slower it needs to spin.

Some woodworking routers are capable of speeds up to 35,000 RPMs, which is way too fast for a large bit like a lock miter. To use large diameter bits, you'll need a router with variable speed. You simply dial the speed up or down to something appropriate for the bit you're using.

Even routers without variable speeds can be adjusted for bigger bits with the use of an external variable speed control. There are several models available that allow you to adjust your router's speed simply by turning a dial. An external speed control isn't cheap; expect to pay about $50 for a good one. For this reason, it might be wise to invest in a router with built-in variable speed.

When you turn on a router, it immediately spins at full speed, unless it has what's known as soft-start. Routers with this feature slowly ramp up to full speed, which is much safer with large bits that can cause the router to jerk during start-up. Soft-start is especially helpful on routers over 2 horsepower.

You don't want a router to jump out of your hands when you turn it on, and the larger models have enough power to take off if you don't have a tight grip.
Collets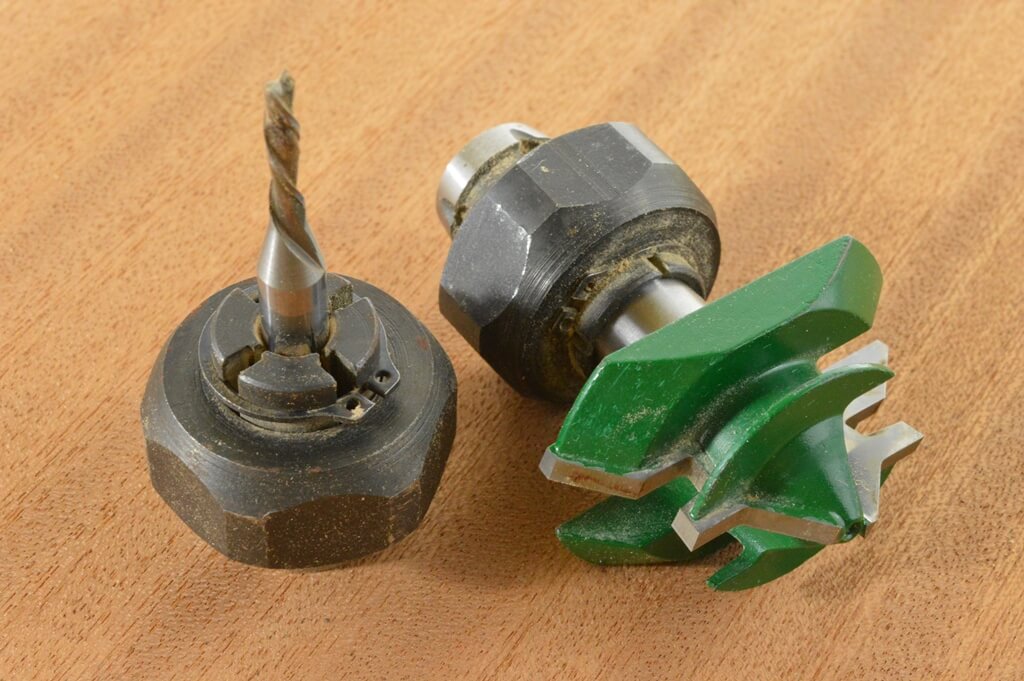 To put a bit in your router, you insert it into what's called a collet and tighten the collet nut. The collet clamps the bit in place. Router collets come in ¼" and ½" diameters. Although some routers can use both, some can't.
Many routers that are designed for homeowners or hobbyists come with ¼" collets and can only be used with bits that have ¼" shanks. If you choose a router that only accepts these smaller shanks, your choice of bits will be limited. Most professional routers come with ¼" and ½" collets, so look for brands that are made for people in the trade, like Porter Cable, DeWalt, Makita, Milwaukee, Bosch and Festool.
Guide Bushings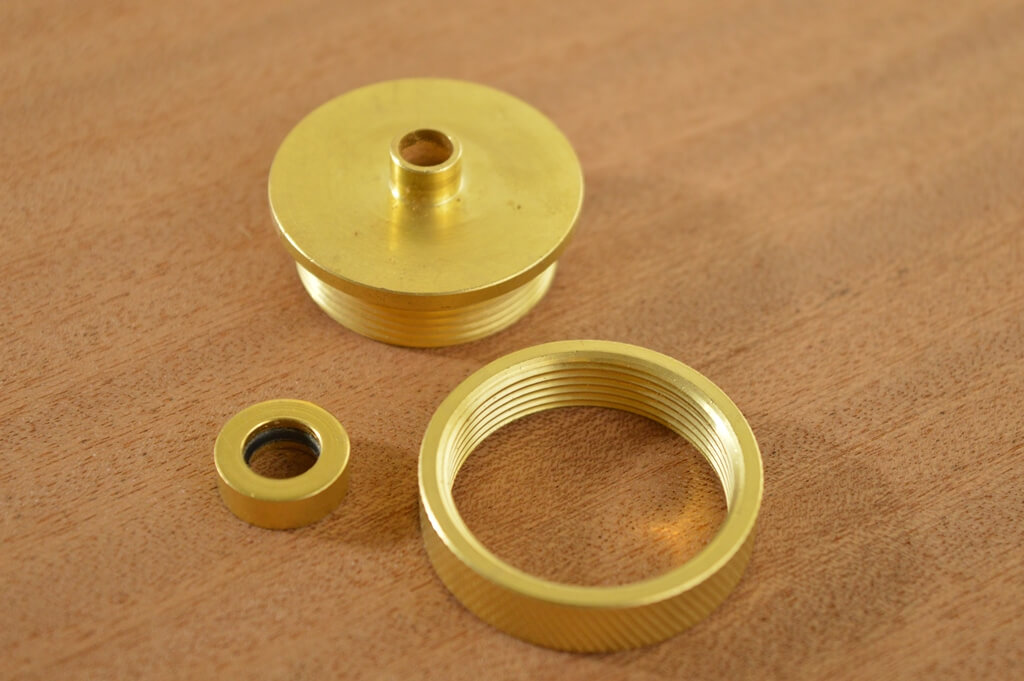 A router might be the best joinery-making tool you'll ever use, and to make the most of its capabilities, you'll want to invest in some quality guide bushings. To route mortises, inlays or anything that requires a template, you install a guide bushing in your router's base plate. The bushing follows the edges of the template during routing so that you end up with just the right shape.
You'll also need a bushing if you want to route half-blind or through dovetails for drawers or casework. There are several dovetail jigs on the market, but they all work basically the same way. The router bushing follows an aluminum template to cut the shape of the dovetails into your work pieces.
Before purchasing a router, find out what kind of guide bushings it will accept. Most dovetail jigs, inlay templates and other commercially available fixtures are made for routers that can use Porter-Cable style bushings. Some manufacturers make their own bushings, which won't fit on routers made by other companies. If you end up getting a router that won't accept Porter Cable bushings, it doesn't mean you can't use them. You can purchase an aftermarket base plate adapter, but you'll spend a little more money than you would by getting a router that comes from the manufacturer with the correct base plate.
Horsepower

Laminate Trimmers

Routers come in a variety of horsepower ratings, from 1 to about 3-1/2. Depending on what you want to do, you may be able to get away with a smaller router. However, if you'd like to be able to make raised panel doors or crown molding, you should shell out a little extra cash for something more powerful.

The Porter Cable 690LR is the industry standard router, and it's rated at 1-3/4 horsepower. That's enough muscle to handle dados, dovetails, decorative edges and other joinery work on a daily basis. It's also adequate for occasional heavy-duty routing with panel raising and crown molding bits.

Most hobbyist woodworkers will probably never need anything bigger than the 690LR, but for those who want to do a lot of work with big bits, a 3-1/4 horsepower router is a better choice. For demanding jobs on a regular basis, something like the Porter Cable 7538 or the Makita RO2301 would be a good fit. Big routers like these are pricier than the lower horsepower models, but they're worth when you need something with serious power.

Are you planning to do a lot of joinery and decorative profiles with your new router, or do you just need something for light trimming tasks? Laminate trimmers are small routers that can be operated with one hand. They're designed to trim laminate and veneer, but can be used for a variety of other jobs.

For example, hobby CNC machines are usually equipped with laminate trimmers and are capable of routing signs, guitar bodies, templates, solid wood, plastic and even non-ferrous metals like aluminum. A few manufacturers even make plunge bases for their laminate trimmers, which opens up even more possibilities like inlay work and mortising.

The DeWalt DWP611PK is an excellent laminate trimmer that comes with fixed and plunge bases. For something a little more entry level, the Rocky 30 Trim Router is one of the few laminate trimmers available with variable speed. It also includes a built-in dust collection port, another feature you won't find in most routers of this size.
Router Tables
To turn your router into a joinery-making powerhouse, you'll need a good router table. The router mounts in the table upside down, and instead of running the router over the work piece, you run the work piece over the router. You might be surprised at just how much this expands the tool's capabilities.
Parts that are too small to work with a handheld router can be safely machined in a router table. You can install feather boards and hold-downs in the table to control the stock and produce more accurate cuts. Joints that would otherwise be impossible are easy: lock-miters, finger joints, cope-and-stick joints and many others can be safely cut on the router table.
When shopping for a router table, look for something with a split fence. This means that the fence can be adjusted on either side of the bit, allowing you to increase or decrease the opening size according to the bit diameter. You don't want a big gap between the bit and the fence, which could allow chunks of material to get stuck during operation, so get something that can be adjusted to provide the smallest gap possible.
Kreg, MLCS Woodworking, Bench Dog, and Woodpeckers make excellent router tables and fences. Some of their products can be expensive, depending on the options you choose to include. To get started, a simple phenolic or laminated table and split fence should be just fine. In fact, many commercial woodworking shops never use anything fancier. But, if you do want all the bells and whistles like a micro-adjustable fence and above-the-table router lift, go for it. Just know that you're going to spend as much as $1000.
For a less-expensive option, you can build your own router table. All you need is a flat piece of material like MDF or particleboard for the surface and fence, plus some 2x4s for the stand. To minimize friction, apply plastic laminate to the table top and fence. You can find dozens of plans for router tables online. If you have some basic tools like a miter saw and a drill, you should easily be able to build your own router table.
The best wood router comparison table
Router Type


Fixed & Plunge

Fixed & Plunge

Fixed & Plunge

Plunge

Fixed

Fixed

Fixed

Fixed & Plunge

Horsepower


1-1/4

2-1/4

2-1/4

1-1/4

1-3/4

1

1-3/4

2-1/4

RPM


27000

25000

24000

27000

27500

35000

24500

25000

Depth Stop


5

5

2

5

4

5

5

4

Base Dimension


4 3/8″ x 5 3/4″

6″ x 6-11/16″

6″ x 5-3/4″

4-1/2″ x 6-1/4″

5.5″ x 4 3/4″

3-1/2″ x 3-3/4″

6″ x 6″

6″ x 6″

Collet Diameter


1/4″

6″ Fixed
6-11/16″ Plunge

1/2″, 1/4″

1/4″

0.25″

1/4″

1/2″, 1/4″

1/2″

Weight
(Pound)


10.3

19.5

22.4

10.9

9.4

3.3

7.1

14.4

Height


7″

7"




9.13"

11.5″

8.625"

14.6″

7.25″

10.5″

Depth


19.25″

21.5″

15.88″

11.9″

12″

15.7″

10.75″

16.75″

Width


10.25″

16.25″

24″

6.6″

5.5″

4.9″

9.25″

10.5″



Functionalities
Variable Speed


Shaft Lock


Multiple Base


Spindle Lock Button


Spindle Lock

Aluminum Motor
Housing

Final thought
When selecting your first router, look for the best combination of features, durability and price. Most of the professional-grade routers are comparable in quality and will come with both ¼" and ½" collets. Before purchasing a model designed for hobbyists like a Craftsman or Skil, make sure it doesn't take only ¼" bits, unless you're sure you won't ever need anything larger.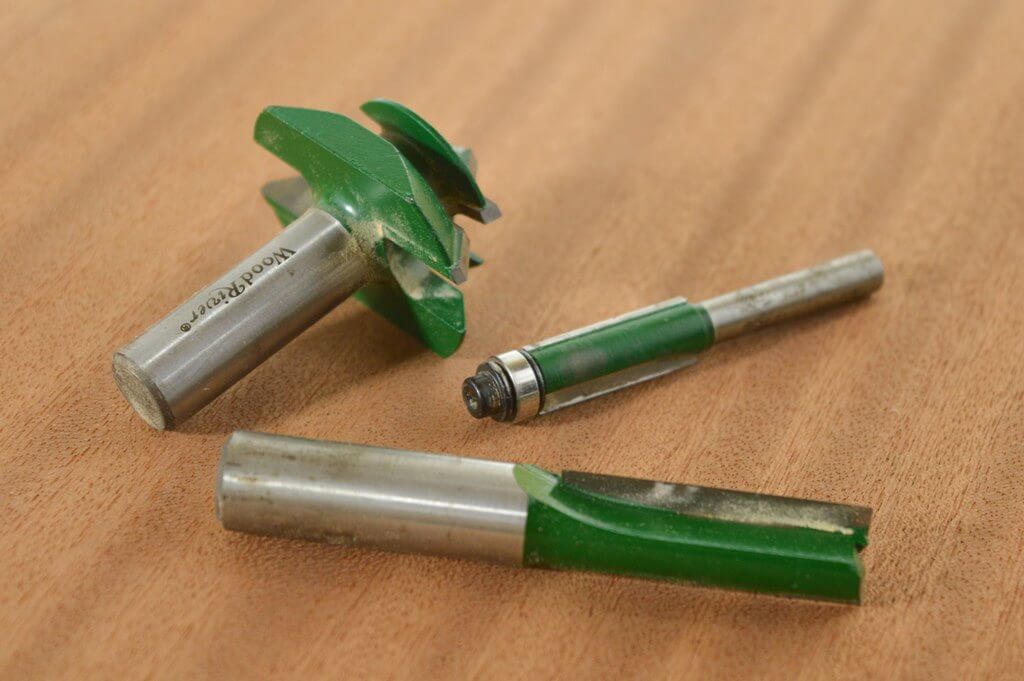 To get the most out of your router, you'll probably want variable speed and a plunge base. The fixed/plunge base kits are great options that can save you a little money.
Professional woodworkers usually work with Porter Cable, DeWalt or Bosch routers, so you can be confident that anything from these manufacturers should be able to handle your woodworking projects.
Finally, if you're looking for a recommendation for the best overall value in a router, check out the DeWalt DW618K fixed/plunge kit mentioned above. You can't beat the combination of power and features. It also comes with an adapter for Porter Cable style guide bushings, a handy accessory for template work.
Wood router reviews
Hitachi router m12vc review
Triton TRA001 3-1/4 HP Plunge Router review
Dewalt DWP611PK review: Router Combo
Fixed Base vs. Plunge Router: Which one is the best?