Hitachi offers you another new high-end yet affordable model, the Hitachi M12VC. With an electronic speed control and a powerful motor, M12VC is a perfect choice for smooth cuts and different kinds of materials. It operates quietly; you can choose a speed of your own liking and the best part allows you to make easy depth adjustments. To cut to the chase, M12VC is a perfect addition to your workshop. If you are a regular woodworker, then adding this to this new model to your workshop will do you some good. Check out why you might want to give it a top rating.
Key Specs
A two stage motor release clamp
A motor housing with Nickel plating
11-Amp motor with a 2-1/4 peak horsepower
Quiet operation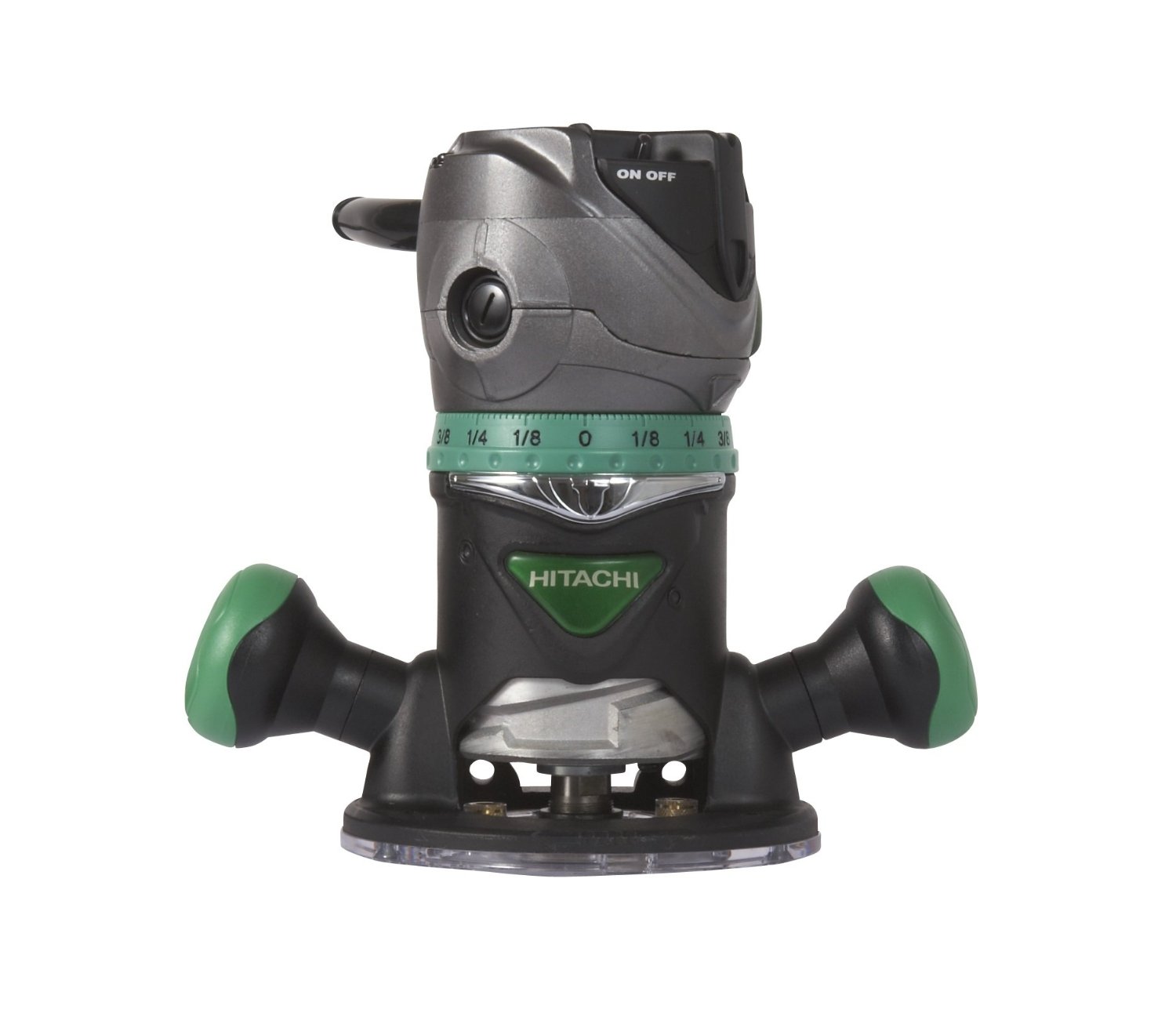 Why Choose Hitachi M12VC?
You'll barely come across a fixed base router that has everything you need. The M12VC just made that misconception invalid. With an 11-Amp motor featuring a 2-1/4 horsepower, you'll need to apply less effort to achieve accurate and controlled cuts. It offers you a two-stage quick motor release that allows you to make quick and precise depth adjustments as well as base changes.
It is also one of the fixed base routers whose motor will offer you an astounding performance for an extended period. Also included is an electronic speed control that will maintain constant RPMs when varying the loads. Long story short, Hitachi offers you an astounding performance at a price that won't hurt your pocket. Check out some of the reasons it is rated at the top.
Benefits of Buying Hitachi M12VC fixed base router
Make depth adjustments without a sweat
Hitachi M12VC offers you a two-stage motor release clamp that allows you to make quick and precise adjustments with limited risks. The clamp enables you to move from a fixed to a plunge base router easily. With a motor housing that is nickel plated, you never have to worry about unwanted stains and scratches on your tool.
A motor performance that will encourage you to continue
When dealing with hardwood material, you'll need a heavy-duty motor that won't break in the middle of completing your project. Hitachi M12Vc is one way to go. With an 11-Amp motor having a 2-1/4 peak horsepower, you can always be sure of perfect cuts even when working with the toughest hardwoods. It also features an electronic speed control that runs at 8,000 to 24,000 for maximum performance. This makes it easier to maintain a constant RPM when changing the load.
Quite operation
You'll rarely find a router that is equipped with a powerful motor that operates quietly. With Hitachi, you'll have to drop that thought. Even with one of the most powerful motors you'll find with any router, you'll always enjoy a quite operation. With a noise level of 79.5 dB, you'll never have to worry about noise ruining your ear drum. This also allows you to be in control of your cuts.
Ergonomic design offers you comfort and full control
If you've worked with any other Hitachi tool, you might have realized that manufactures placed much effort in ensuring that it is comfortable to handle and control. Hitachi M12Vc isn't an exception. It weighs only 7.3 pounds making it a perfect choice for freehand routing. Also, its handles are covered with an Elastomer compound that works best to reduce the vibration as well as prevent your hands from slipping while in use.
What you might not like
There are few complaints about the collet releasing bits. Some users claim that you have to involve much effort in ensuring that you don't damage the collet jaws when releasing some bits. To be on the safe side, you must be cautious enough not to set the router bit fully.
If you experience the problem, you'll have to tap the releasing bit lightly using a rubber mallet or anything similar before you remove it. The good news is, none of the issues affects its performance, meaning that you'll just need to be a little bit careful when working with the tool.
Summary of customer reviews and ratings
If you are looking for a way to do away with disappointments, investing in Hitachi M12VC will undoubtedly meet your needs. Unfortunately, not all users agree with this. There are those who rank it at the top as well as those who wish the manufacturers had made some changes.
Going through the positive reviews, it is apparent that most users are satisfied with what it can do. There are more than enough claims about the motor performing beyond expectations.
The quietness of operation, easy depth adjustments, and comfortable handling are just some few things some happy customers can't fail to mention. Another thing mentioned a lot in the positive comments include its electronic speed control that maintains the RPM at a constant level when varying the loads.
On the other hand, we can't miss a few complaints here and there. There are those users who have a lot to complain about including the stiffness of the plunge base and more. There are also a few complaints about the ½'' and ¼'' collets.
Other users claim that the bit can be a little disappointment when working on complex projects. It gets loose, and if you are not careful enough, it can spoil your workpiece. So, you need to be careful.
Summing up all the user ratings on Amazon, Hitachi M12VC settles at a 4.1-star rating after 244 reviews. Over 81% consider it the best on the market, 15% have a few issues, and 4 percent feel it isn't the best choice for a woodworker who hates disappointment. The good news is, even the complaining users, are happy with its performance.
You may also like: the best palm router
The Final Verdict
There is no doubt that you'll come across a router that will impress you the moment you step into the market. What you must keep in mind is that not every router is designed to meet your needs. Hitachi M12VC has been tested by both the users and other reviewers on sights such as Walmart, Lowes, and Amazon. I must say, that it has a better rating than its closest rivals. Give it a try and realize the difference.