In the beginning, it may seem easy to choose a bench vise because they all look the same. But anyone who has been using these for a while can tell you that it's not always the case. Getting the right vise for your projects means the difference between frustration and annoyance and a smooth project. In this guide, we go through vital things that you should know before buying a bench vise, discuss what makes a bench vise good and offer the best models on the market. After reading this, you are sure to get the right bench vise.
Why Do You Need A Bench Vise?
A bench vise will help you glue pieces together. It's always better to rely on a vise rather than on gravity to hold your project. You can just put everything in a vise and leave it, knowing that it will not move until you come back.
This is really important when working on time-consuming projects that demand precise measurements. It will also help you keep two pieces in place while cutting. If you ever had trouble using a saw freehand and imagined a way of holding everything with ease, you need to get a vise.
Before choosing a vise, ask yourself, will you be using it for DIY projects? Do you need something that can handle heavy-duty work? Will you work on mechanical projects? Answers to these questions will help you get the perfect bench vise.
You should also consider the price. There are plenty of models on the market; some of them really cheap, while others are quite expensive. It's easy to just look at the price and think that the higher the better, but it's not always like that. Think about the purpose of the vise, not about its price. Take the time to examine each model listed here and make sure you're getting what you need.
Best bench vises list
Bench Vise Width
If you have already used bench vises before, you know how important their width is. If you're going to buy the first bench vise, always consider the width of its jaws. Otherwise, you will find the bench vise doesn't suit your needs. Remember, you can easily go too small but you can't go too big. If you don't know what projects you're going to perform, choose the bench vise with a larger width.
Bench Vise Swivel
Understandably, you may think that the bigger swivel the better, just like with the width of a bench vise. While it is sometimes true, bigger swivel results in a higher price. If it wouldn't cost anything to add a 360-degree swivel into a vise, every manufacturer would do this. Therefore, if you're not a professional woodworker, it makes sense to get a 180-degree swivel. On the other hand, if you think you will take bigger and more complex projects in the future, a large swivel is better, because you will use all its features at some point. Thus, consider which types of projects you're going to undertake before buying a swivel.
Do You Need A Portable Bench Vise?
There are lightweight bench vises and there are really heavy bench vises. If you know you will be carrying it with you, always choose a five-pound model over a twenty-pound model. On the other hand, if you're not going to transport your bench vise, choosing a heavier option will net you with additional features and larger jaw width. Portable bench vises are often manufactured for a specific project, while larger bench vises are multifunctional.
The Most Common Bench Vise Features
There are very specific features that are suitable for very specific projects and then there are features that everyone wants to see in a bench vise, no matter what projects they will perform. Unlike those features that mark up a price and left unused by most woodworkers, these are will save your time and money.
Replaceable Jaws
Jaws are the most fragile part of a bench vise, so choose a model with replaceable jaws. The worst-case scenario is you never need to replace them, in which case this feature wouldn't be used.
Teethed Jaws
There are bench vises that deliver great results without teethed jaws. However, you're always better off choosing a model with this feature. This delivers a higher degree of grip and helps you during your work.
A High PSI
The PSI is a measurement that means how hard a vise can clamp down a material. Not every model has PSI listed but if you find one with the higher PSI, this is your best bet.
Heavy-Duty Bench Vises
These vises are made of iron so they can handle frequent use and heavier applications, and professionals call them machinists' vices. They often have a precision slide bar and steel jaws. You will need to buy fasteners for these, as well as a set of replacement jaws. These are suitable for demanding use and aren't necessary for non-professionals.
Best bench vise reviews
This is the best bench vise out of all cheaper models. It is made of quality materials such as cast iron for the body, and no matter what pressure you apply, it will not get distorted.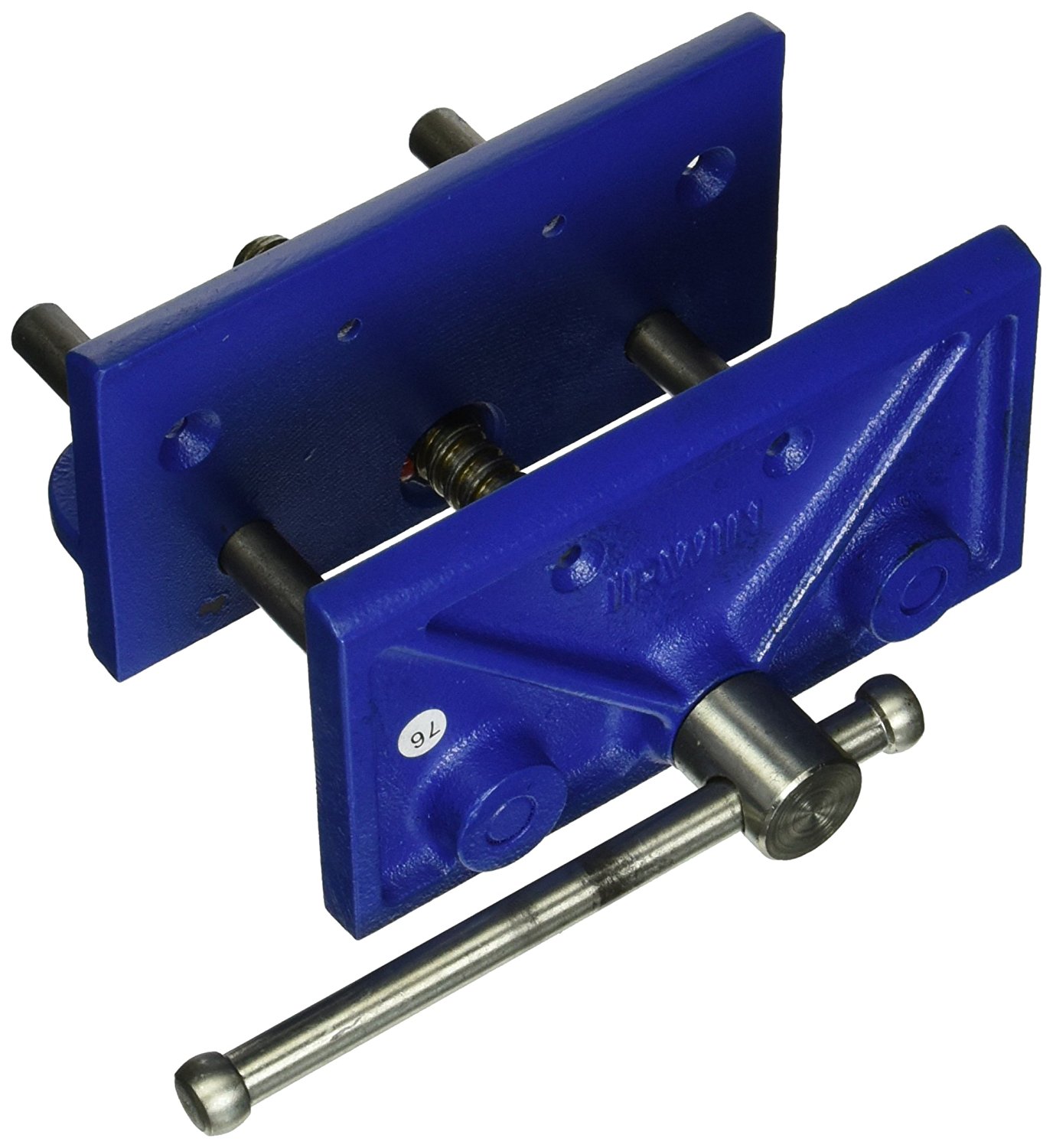 Even better, this model comes with 2 types of jaws for tubular surfaces and for flat surfaces, and you can rotate it to 360°. It is also important that the clamps can be crashed in only to 3,000 pounds of pressure so you can use it to hold parts while you're working on them and also bend them into shapes you need.
Things We Like
Easy to install
Convenient to use
The vise is 6.5 inches
Things We Don't Like
The maximum opening is 4,5 inches and you need wood faces if you need more
If you need a quality bench vise on the budget, this model is the best you can find. The jaw width is 6.5 inches in length, and the swivel opens up to 180°. It is suitable for almost any project; you can quickly install and start using it.
The body is made of cast iron with a steel channel bar that adds to durability and strength. It also has replaceable jaws and since they are the only parts that wear and tear with time, it is important you can change them. The flat surface on top of the model lets you use it as an anvil.
Things We Like
Smooth operation
Convenient and lightweight
The smooth quick release feature
Flawless operation
Things We Don't Like
The release mechanism can loosen up after 8-10 years of regular use
The vise opens to 13/5 inches with the ¾ inches inserts installed. The quick-release feature can be adjusted to suit your requirements and works just great. The jaws are secure and square, as they should be. This is the only model here where jaws close at the top, which allows you to place the object in the vise, close it, and then make necessary adjustments before tightening it. Once you tighten the vise, it keeps everything in place. The model comes with a metal dog that can be held securely with a thumbscrew.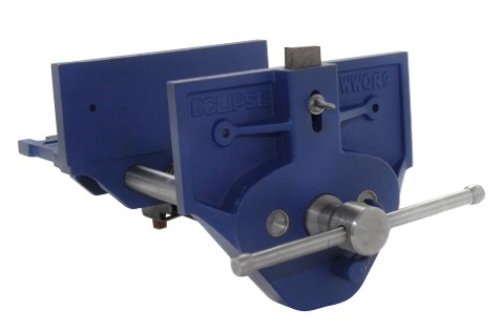 The vise is perfect for everyday use and you can add two o-rings to the ends of the bar to reduce the metal-to-metal sound.
Things We Like
Comes with a built-in bench dog
Holds different sizes of wood
Convenient quick-release feature
Perfect for small projects and delicate needs
Things We Don't Like
It comes without instructions
If you are on a very tight budget but still need a quality bench vise then this model is your choice. Compared to other models, it is the smallest vise with a 4-inch width jaw opening, but it is made of quality steel and costs so little that there is no excuse for not getting it if you don't have one in your garage.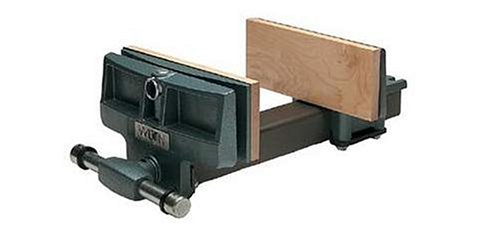 What is really impressive about this model is the fact that it has the largest anvil flat surfaces that compensate for the small jaw width. It has a 360° swivel so you can position it in any convenient position. The base also has a lockdown feature so when you assemble the vise, it will stay there no matter what you do. It doesn't wear and tear and can be used for many years.
Things We Like
Sturdy and solid model
The second jaw allows you to clamp objects of different width
Easy to use for non-parallel projects
Has magnetic maple pads
Things We Don't Like
Some people prefer a more traditional pop-up dog
If some of the above benches seem too heavy for your needs and you want something lightweight in stature, you will be able to reap more benefits that come along with this model. It comes with a lifetime guarantee, which means you can return it at any point, even if it has defects. This is a great quality model that ensures a risk-free purchase out of the dollar it costs to ship the item.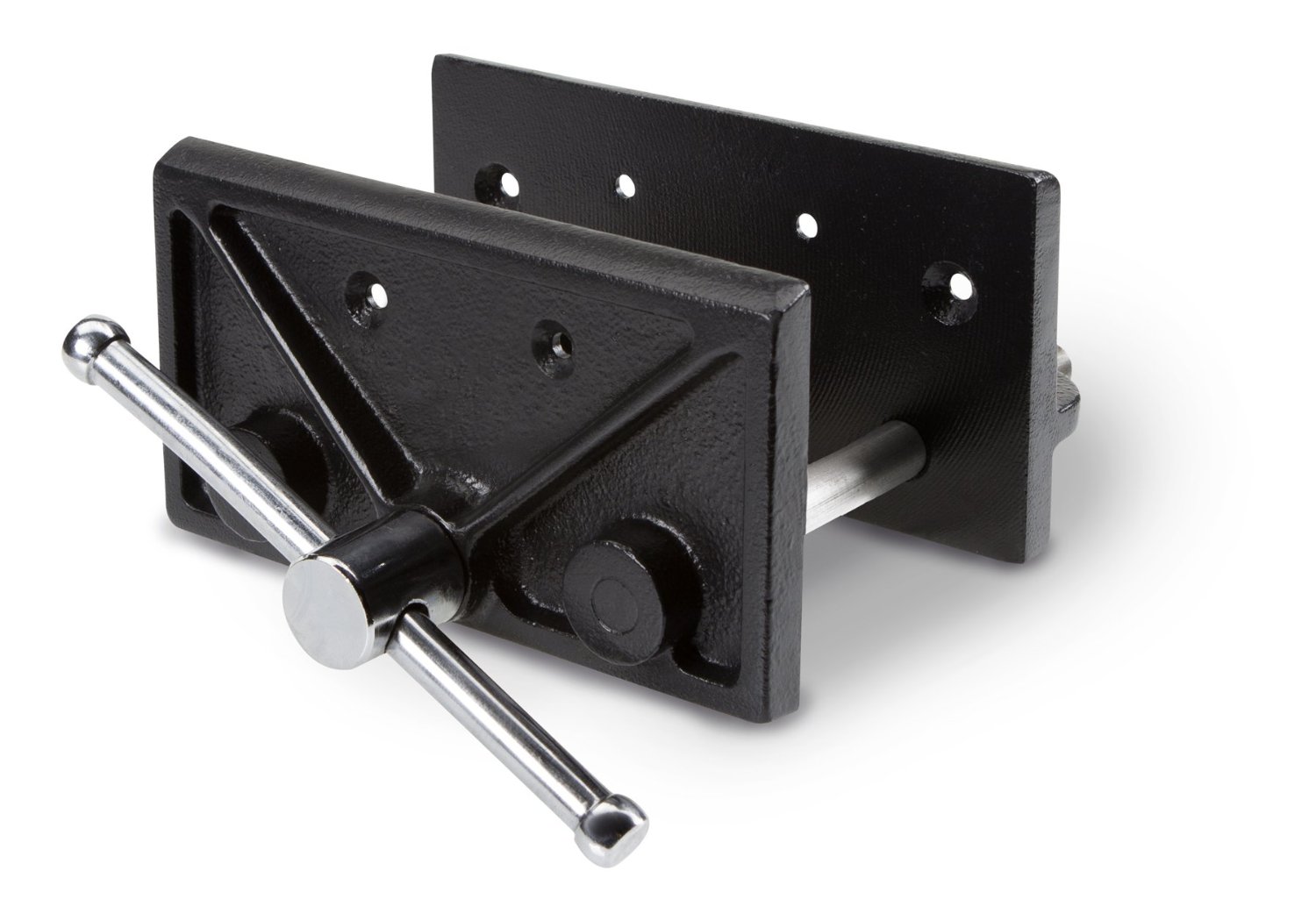 It is very lightweight and can open up to only 3 inches, which is still more than enough for many projects. Though, if you know you'll be handling more jobs, it's better to consider the previous 4 models.
Things We Like
The guiding rods keep the faces from rattling
It won't crack or bend
Pressure is distributed evenly
Things We Don't Like
The underside is ridged, not flat. It makes mounting a bit harder
What To Consider Before Buying A Bench Vise
Jaw Size
Large jaws allow you to hold bigger workpieces. It also means more friction to keep the parts from slipping. Of course, you can always increase the surface area of bench vise by adding cheeks, but it's always easier to get large jaws.
Jaw Opening
Most of the time you don't need to open your vise all the way, but a deep capacity is better for clamping versatility. Sooner or later you will need it.
Quick Release
It's quite convenient to slide the front jaw in and out without turning the handle but it's even better when you have a quick release function. All models mentioned above have the quick release option.
Vise Dog
The vise dog is needed when you want to hold your work on top of the bench. Spring-loaded, friction-fit are the most convenient to use.
Handle
You'll be working with your bench vise a lot, so its handle has to be comfortable. Some vises have larger-diameter handles that are easier to hold than the rod-type handles. The handle should always be large in diameter to fit into the socket.
And the winner is…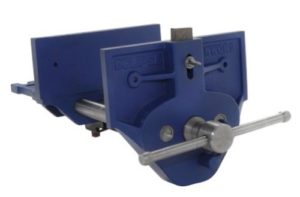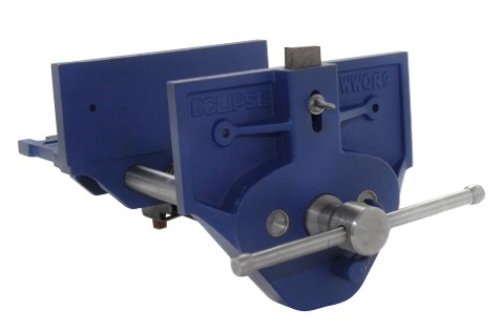 Most woodworkers buy a bench vise once and it lasts them in full-time use for about 100 years. We recommend getting Eclipse EWWQR7-NA Quick Release Woodworking Vice, a full-size bench workshop vise. It has shock-absorbent grey iron for increased strength with 2 steel rods to reduce wear and tear and ensure convenient action and a quick-action acme thread. It's suitable for all types of projects.
Eclipse EWWQR7-NA Quick Release Woodworking Vise delivers good durability and strength. To top it up, the coating gives this model a soothing appeal and protects it from rusting, which is a common issue for many vises. The fit and finish are just perfect. The construction is also nice, which is important when you use something for many decades.