Clamps seem simple at first glance, but when you start shopping for them, you find a variety of different types of clamps that work for certain situations. Most often, people need clamps when they want to glue two pieces of wood together. But many times, you can use them to hold parts together while you work, hold a stop to a machine, or hold parts to a fixture. In other words, clamps can come handy as a temporary means of attachment.
Different types of clamps work better in some situations than in others. Here, we start with basics and work our way up to specialized clamps for complicated projects.
Best clamps for woodworking list
Basic Clamps For Starters
Spring Clamps
Spring clamps are often used for temporarily holding parts together or for gluing small parts. They don't have much holding power but are really easy to use and work like a binder clip, which can be useful in many projects. They come in four sizes, and each size shows the maximum opening. For beginners, we can recommend sizes 2 inches and 3 inches. The smaller one is limited in what items it can hold but is easy to open with bare hands. The larger one is harder to open but has a larger capacity. You can get a pair of each and decide which one is better for your needs.
F-style
Most woodworking projects require F-style clamps. 4 inches and 6 inches are the most popular and used for attaching jigs, grouping parts together, holding parts, and attaching hold-downs. Then, there are larger F-style clamps. If you need to assemble drawers and panels, choose sizes between 12 inches and 24 inches. Heavier clamps will distort smaller assemblies.
There is also a variation of the F-style clamps that is called a Kliklamp, which tightens with a convenient ratcheting level (instead of a traditional handle). These are quick to use and you can control the amount of pressure you want to generate. However, they are pretty new and it can be hard to find them.
The longer clamps, such as 30 inches and larger, aren't so popular for DIY woodworking projects since they can throw parts out of alignment. And then there are also "quick-grip" clamps that should be faster to use. In fact, it is often really hard to properly tighten them. If you're choosing between F-style and quick-grip clamp, choose the first ones. F-style clamps let you adjust them with one hand by pushing with your thumb. If you're just starting working with wood, stick to these basic ones – others will only slow you down.
Types Of Clamps For Experienced Woodworkers
These clamps will meet all your requirements for all woodworking projects; these are nice to have if you've already done some simple things and want to move on. The first are c-clamps.
C-Clamp
A few C-clamps are a necessary tool for many projects. Start by getting eight of them of medium length. Once you have stocked C-clamps, F-style clamps, and spring clamps, you can move up to specialty types. If you need a clamp that is handy for both gluing and clamping, get these.
Sometimes, you can see cheap aluminum clamps on the market, and if you find a good deal, take advantage of it. Cheap clamps are perfect when you don't need to generate a lot of pressure. Use them for small projects.
Pipe Clamp Fixtures
If you need to secure large parts or apply extreme pressure, you can make clamps from pipe fixtures. Take standard or galvanized iron pipes and thread the headstock fixture onto the end of your pipe. Then take the adjustable tailstock fixture and slide it onto the pipe's end. You can choose the capacity of your DIY Pipe Clamps by choosing pipes of different lengths. You can also join different pipes for total control of the clamping capacity.
The best thing about these clamps is that you can make clamps of any length by joining the pipes (and for the price of a few couplings!). Just remember to make sure that the threaded part of the pipe clamp should be in line with what you're gluing. For example, when you're putting tabletops together, you can keep the clamps in line by ripping strips to the rest of the wood parts. You can also adjust the top and bottom of the clamp to keep everything glued in line.
Deep Throat Bar Clamps
If you DIY Pipe Clamp Fixtures, you may not need F-style and spring clamps. However, you will still need deep throat bar clamps. These clamps have outstanding stretching capacity combined with deep-reaching capacity, easily making them the most versatile. They come in many sizes and are irreplaceable by other types of clamps.
Hand Screw Clamps
These clamps are often excluded from the list of must-have clamps because you can do simple home repairs using other tools. But, if you like DIY projects and love tools that look cool, the hand screw clamps are for you. They have sturdy metallic handles and jaws made of maple that help you exert a lot of pressure. You can also adjust them, making them useful for both big and small projects.
Best Clamps For Big Projects
Moving on to larger projects, if you're going to assemble furniture and glue wide parts, you need large clamps. And the best is parallel-jaw clamps. They are user-friendly and the jaws will be parallel as you tighten the clamps. However, they are very heavy and quite expensive; the price depends on the depth. If it's ok for you, get these and complete huge projects with ease.
Bessey LM2.004 LM General Purpose Clamp
If you need clamps with good pressure but not too cumbersome, these fit the bill. They are lightweight, small, with a good force and built quality suitable for most projects, and they're not expensive. These are quality clamps that professionals and amateurs can use with ease and they are made in Germany (most cheap clamps are made in China).
One thing that you should be aware of before buying these is the barcode stickers on the handles. If you remove them, they leave a sticky residue that you have to clean off somehow (probably with alcohol). Not a big deal, of course, and it doesn't take more than 15 minutes of your time but these stickers could be placed on jaws.
Things We Like
Things We Don't Like
– Very sturdy
– Hold parts as long as you want
– Allows adjusting the tightness
– Last through many projects
– The bar doesn't catch the jaw
IRWINQUICK-GRIPOne-Handed Mini Bar Clamp
These clamps are great for lightweight holding and gluing projects; they can handle up to 70kg of pressure. If you need a tool to work in tight areas, this is your best bet. Non-marking pads are a nice bonus. Use these clamps for general woodworking projects and they will last you for a good while.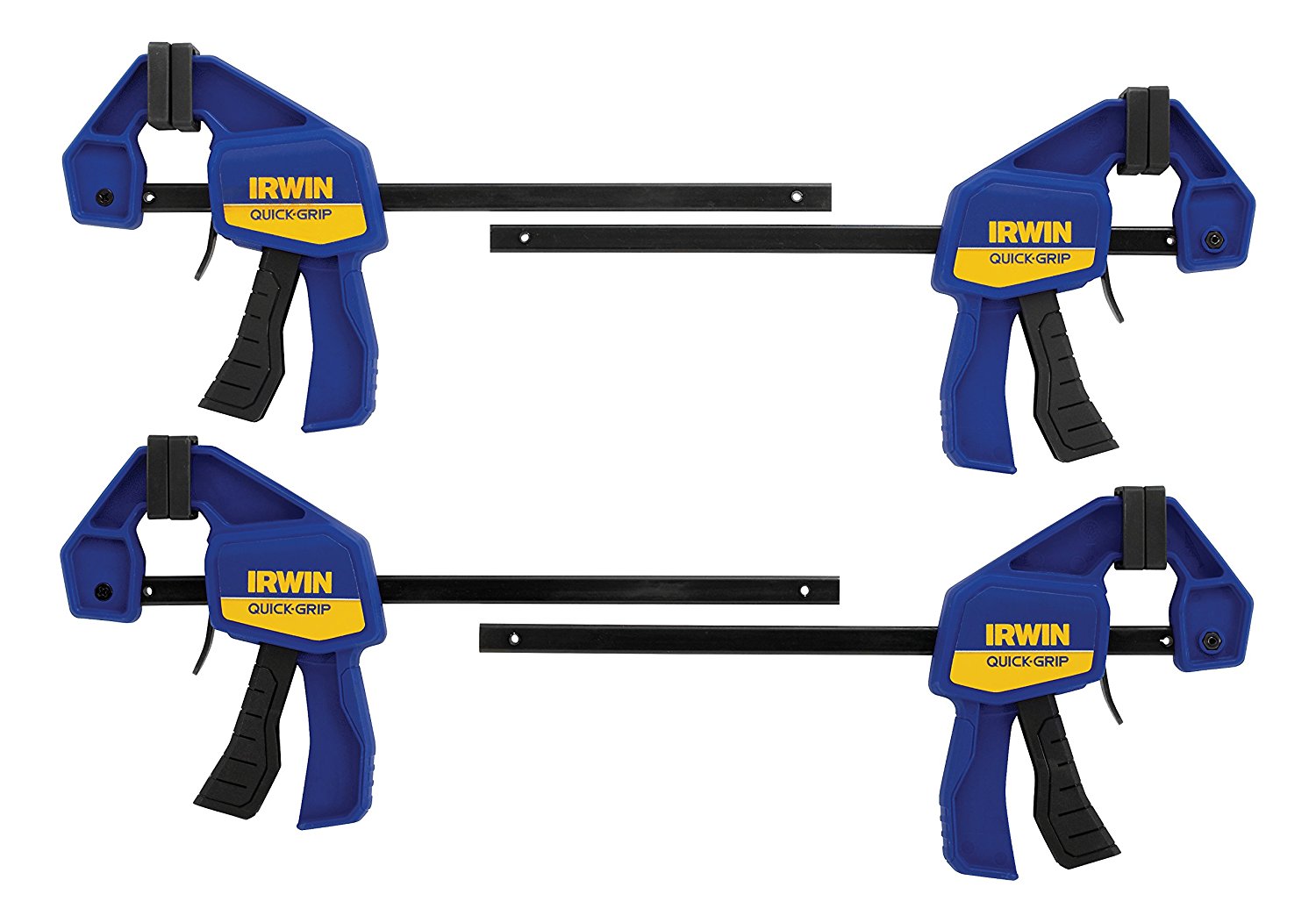 The clamping cauls are made of metal to ensure advanced grip capacity. Another advantage is their small size because you can take it with you. We can't say these are the best for hardcore woodworkers, but if you're anything else, these would be perfect clamps for all your projects.
Things We Like
Things We Don't Like
– Clamping pressure
– Steel bar
– Quick-release trigger
– Fast positioning
– Side covers can come loose with time
TEKTON 39180 Mini 6 Ratchet Bar Clamp
These clamps are essential for all types of woodworking; they are perfect for holding small and medium-size parts together. Constructed with a strong nylon jaw, they allow you to apply precise force and position the clamps in the desired place. They also have a convenient quick-release button. Ratcheting action is silent and smooth. Jaws don't leave marks or scratches on surfaces.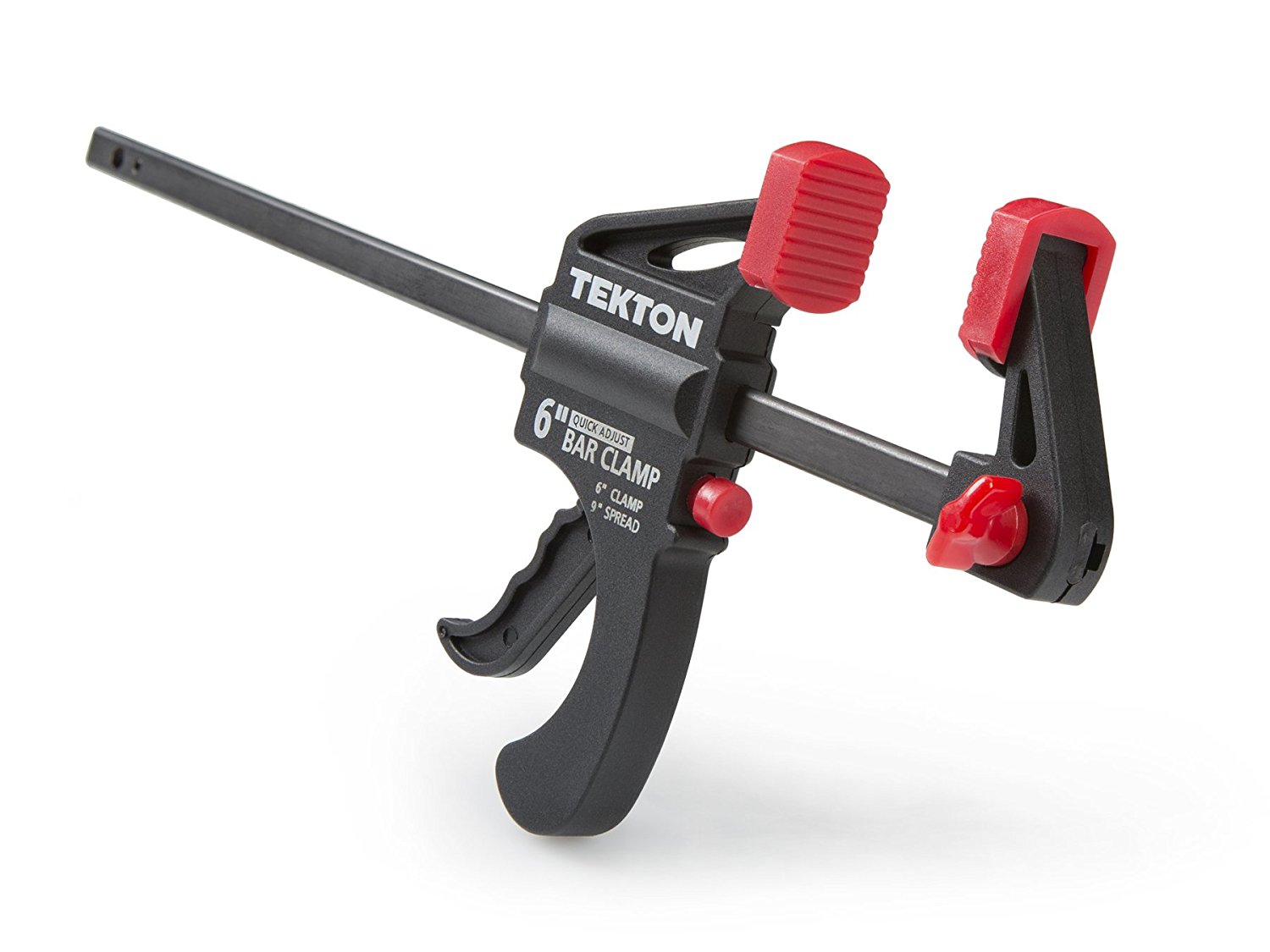 These clamps are backed with a lifetime warranty. Once set, jaws will not creep. When you are done with your project, press the release button to let clamps go of the workpiece.
Things We Like
Things We Don't Like
– Useful in tight spaces
– Durable
– Securely holds small and medium-size parts together
– More stiff than other clamps
Neewer Heavy Duty Muslin Spring Clamps Clips
These clamps have a 2 inches jaw opening, which is perfect for small projects and operations in tight places. You can use these every time you need quality spring clamps. They have a sturdy grip with convenient, gentle pads that allow you to adjust to the grip surface. Small teeth on the diameter ensure small objects are secured. Flat pads hold wood parts together while the glue dries.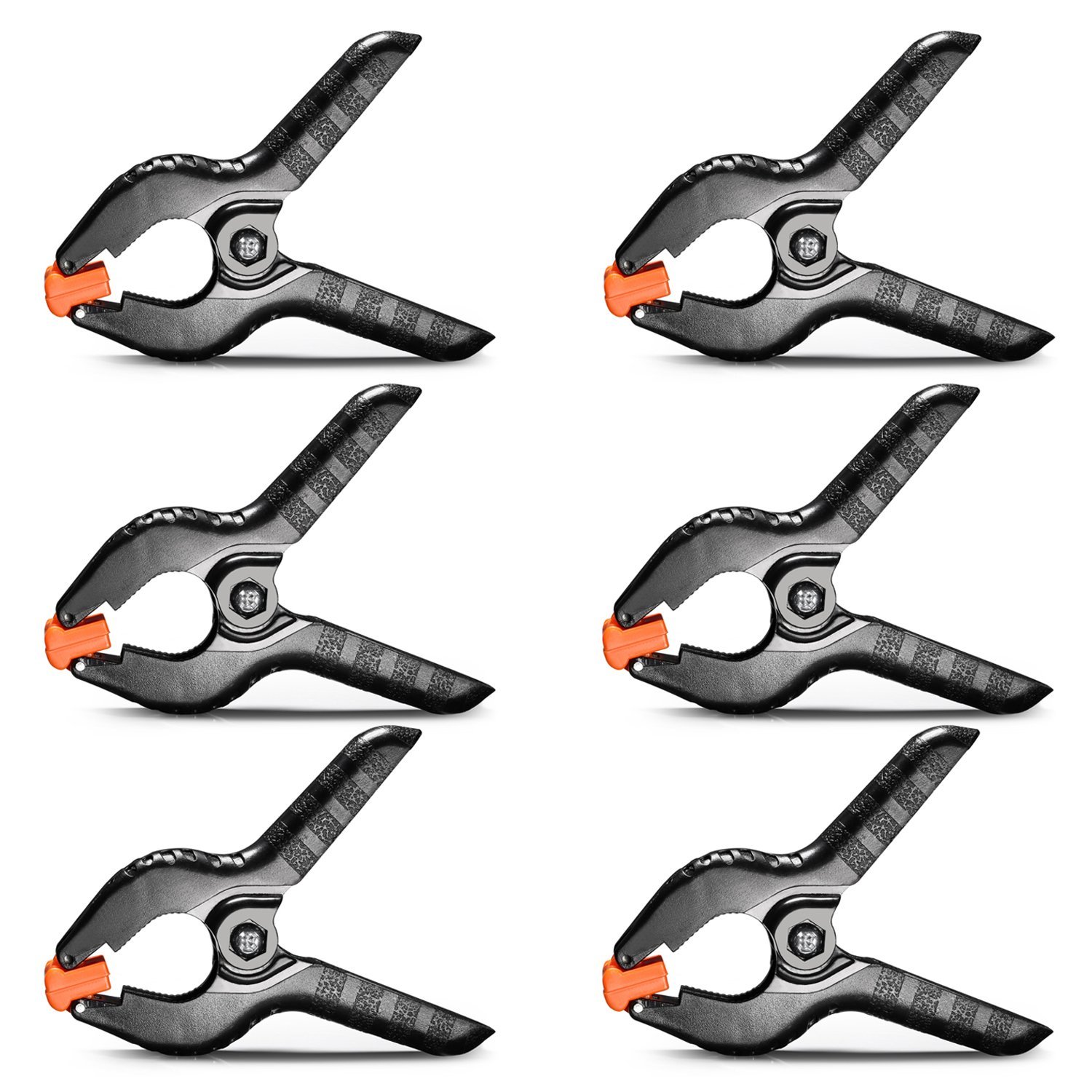 The 2 inches jaws are sufficient to fit most objects. The inclusion of 6 clamps is more than enough to ensure the most stable placement of the items. Overall, these clamps are great for your crafting needs. You can use them conventionally, for many projects. The only downside that we've mentioned is their stiffness when compared to other clamps, which makes opening a bit difficult.
Things We Like
Things We Don't Like
– Rounded handles
– Comfortable grips
– Reinforced nylon construction
– Steel pivot for better durability
– More stiff than other clamps
Kreg KHC-PREMIUM Face Clamp
These are classic face clamps with amazing reach and capacity. They are specifically designed for small projects, with a deep throat that enables you to clamp directly over the line, ensuring a flush seam. With these clamps, you will forget about misalignment.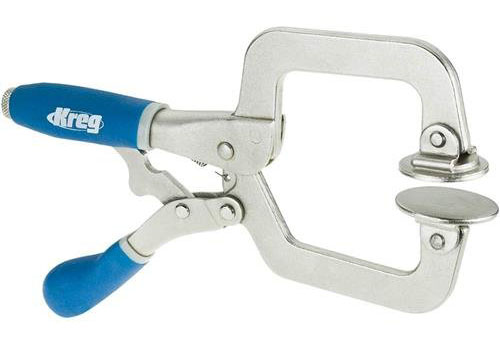 They also have the vise-grip action so you can easily engage and disengage the clamps with one hand. They work great for most home and shop projects that require clamping without marring. They ensure even distribution of force and hold pieces in place during assembly.
Things We Like
Things We Don't Like
– Deep throat clamps that stiles easily
– Soft-grip handles
– Convenient operation
– Adjustment knob dials
– Some may want a bit longer depth of the arms
What To Consider Before Buying Clamps
The main criteria you should consider is the type of projects you are going to do. For example, if you need to clamp several boards, you can use bar clamps but F-style clamps will do it much easier. And bar clamps are better to clamp at the edges. In short, the right clamp for the right project makes everything much easier.
Materials
Unlike hammers and chisels, there is not as much to look for in terms of materials. Most of the clamps are made of quality plastic that can last for years. However, try to avoid hard brittle plastic because it cracks easily, so looks for softer materials.
Metal parts aren't that important in clamps, so they don't have the same hardness as chisels but make sure to look for cracks and damages. Speaking of wooden parts, for example, the hands of clamps, they should be made of hardwood. Oak or maple is what you want to look for. If you can't say whether the quality of the wood is good, try to scratch it with a fingernail. Quality wood doesn't scratch easily and will serve you longer.
The winner
While searching for the best multitask clamps for your woodworking projects, we strongly recommend you to take the Kreg KHC-PREMIUM Face Clamp into consideration. They are great for clamping wood to the bench to hold while carving, gluing, or sanding.
They are also great for router tables to workbenches and allow your hands to handle the workpiece and not the clamp. They are easy to engage and disengage with one hand. Its 3.5 inches depth makes it a deep throat clamp, which can handle most projects with ease. These are very versatile clamps and are perfect for all types of projects.