A table saw is the foundation of the woodworking shop. Whether you're a hobbyist woodworker, a do-it-yourselfer or even a professional carpenter, your table saw is possibly the most important tool you'll ever own. Before purchasing your first saw, you should know your options. For most people, with the exception of full-time woodworkers, a hybrid table saw is the best choice. Let's take a look at what constitutes a hybrid table saw, what you should look for in a good one, and then we'll examine five of the best saws currently on the market.
What Exactly is a Hybrid Table Saw?
A hybrid table saw is essentially a cross between a contractor-style saw, which is normally portable and built to be transported from jobsite to jobsite, and a stationary cabinet saw you'd find in a professional woodworking shop. It combines the compact size and horsepower of the contractor saw with the weight and quality of a cabinet saw.
Contractor-style saws have open stands or sit on mobile bases. They usually have motors somewhere around 1-½ horsepower, which is perfect for cutting framing lumber and other materials involved in rough construction. Because this type of saw is meant for portability, it's not the ideal tool for precision woodworking. Sure, you can use it for furniture-making and similar projects, but when you find yourself needing more power and accuracy, it's time for an upgrade.
The next step up from a contractor saw used to be a cabinet saw. This type of machine is heavy, powerful and usually expensive. But recently, manufacturers have started to offer a middle-of-the-road option between contractor and cabinet saws: the hybrid table saw. Hybrid saws provide a little more power and professional features without the cost associated with a cabinet saw. It's possible to get a good hybrid table saw that works perfectly for precision woodworking for only slightly more than a good contractor saw.
The best Hybrid table saw list
What to Look for in a Hybrid Table Saw
Horsepower
The first feature you should look at when trying to decide on a hybrid table saw is horsepower. 1-¾ horsepower is standard for this kind of tool, so don't settle for anything less. Some models even come with 2 hp motors, which should be able to handle almost any cutting job. Hybrid table saw motors are usually wired for 110v power, but can sometimes be configured for 220v.
Fence
An accurate and secure fence is essential for all table saw work. There are dozens of table saw fence designs, but the best fences are made with steel rails mounted perpendicular to the blade and a locking cam lever. Professional woodworkers refer to this kind of fence as the Biesemeyer after the company that made it popular, but you'll also see it described as a "t-style" fence.  A hybrid table saw fence should be easy to move from one position to another and should lock securely. Stay away from aluminum fences. With some exceptions, they tend to be too flimsy for precision work.
Riving Knife
Table saws are potentially dangerous machines, so it's a good idea to get one that's equipped with as many built-in safety features as possible. A riving knife is one of the simplest and most effective devices for preventing table saw kickback, which is the most common cause of table saw accidents. The riving knife mounts behind the outfeed side of the blade and keeps the wood from binding during a cut. Unlike contractor saws, a good hybrid saw should come from the manufacturer with a riving knife.
Large, Easy to Reach On/Off Switch
Your table saw's on/off switch is another important safety feature. It should be big and easy to reach, even when you're in the middle of making a cut. Mistakes happen, and sometimes it's necessary to shut off the saw before cutting all the way through a piece of material. If you can't reach the power switch while operating your saw, you could find yourself in serious trouble some day.
Wide Rip Capacity
If you plan to cut plywood, MDF, particleboard or other sheet goods on your new hybrid table saw, you'll want something that can cut wide materials with ease. Most saws have about 30" of rip capacity on the right side of the blade, and you can find saws with up to 52". A wider rip capacity also means you'll need a bigger fence, so plan to spend more money if you want to cut big boards.
Dust Collection
Sawdust is unavoidable in a woodshop, but you can minimize the amount that gets in the air and into your lungs by getting a saw with good dust collection integration. Ideally, your saw should have a 4" dust port that can be connected to standard dust collector hoses. Some woodworkers attach shop vacuums to their saws, but the small diameter of the hoses on these vacuums provides poor suction, which means more dust in the air.
Flesh-Detection Technology
In the past decade, table saw safety has reached new heights with the advent of flesh-detection technology. Two table saw manufacturers currently offer saws with built in sensors and brakes that stop a spinning blade on contact with flesh, a feature that could save your fingers in case of an accident. The brakes ruin the blade when activated, but they can be replaced for a relatively low cost. No woodworking project is more important than your fingers, so don't underestimate the value of this feature.
Best Hybrid Table Saw Reviews
If you're looking for an entry-level hybrid table saw on a budget, take a look at the Jet 708492K. It has the power you need to cut hardwoods, plus a smooth and secure fence, large on/off switch, riving knife and plastic blade guard. The fence is available in two different lengths.
What We Like
Fairly low price means you can upgrade from your contractor saw without spending a small fortune. The on/off switch is easy to reach, even in the middle of a cut.
What We Don't Like
Not quite as heavy as most other hybrid saw, which can mean more vibration. Steel wing isn't as rigid and flat as cast iron.
Here's a hybrid table saw with a precision-ground cast iron table, t-style fence and 2HP motor. This saw has all of the features of a good tool, including riving knife, handy safety switch and a large extension table.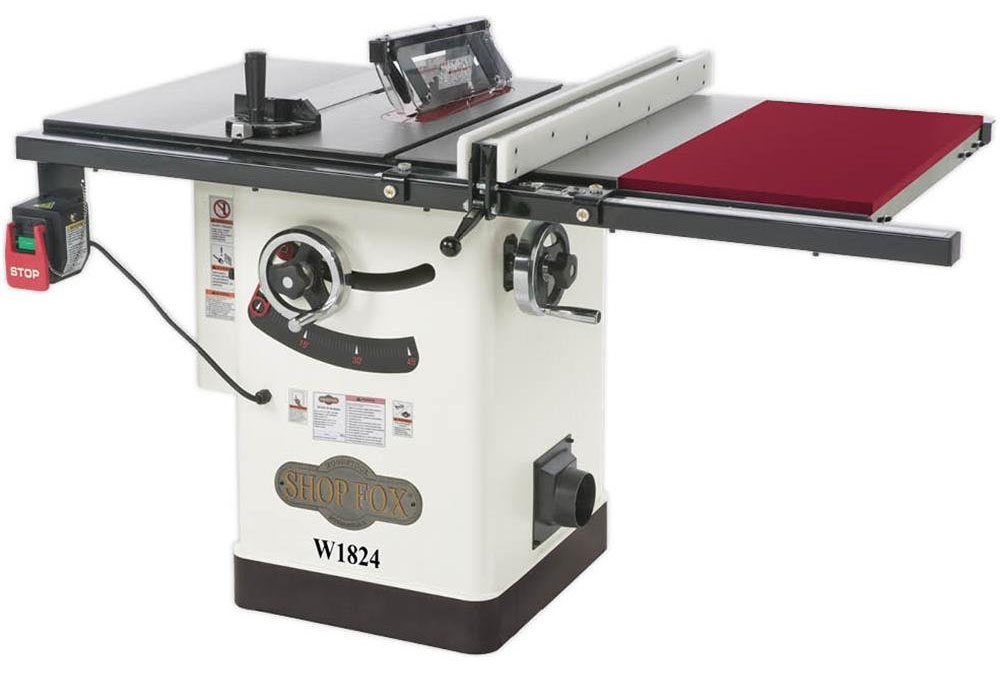 What We Like
– The 2HP motor provides power for heavy-duty cutting.
– Powder-coated body prevents rust.
– Priced about the same as the Jet, but this saw has a better fence and enclosed body.
What We Don't Like
– Miter gauge feels flimsier than more expensive models.
– Can be difficult to set up prior to first use.
Laguna tools are popular with serious hobbyists, mostly for their sliding table saws and their line of bandsaws. Laguna's hybrid table saw is a relatively new product, but with their reputation for quality, it's likely that this tool will be a good choice for most hobbyist woodworkers.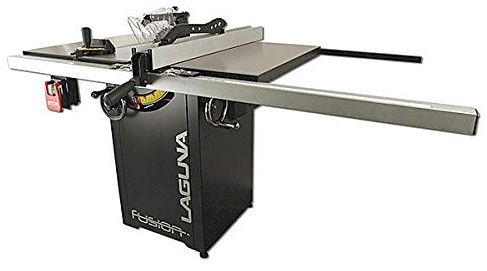 The company boasts that this saw is quieter than most and the precision-ground table allows for smooth cuts. If you're used to a contractor table saw, you'll love cutting with this tool.
What We Like
– Fence glides smoothly along rails
– Quiet, low vibration operation
– Cast iron wings
What We Don't Like
Aluminum fence instead of steel
Walk into just about any professional woodworking shop and you're likely to find at least one Powermatic tool. This name has been around for decades and has proven to be among the most reliable in the industry.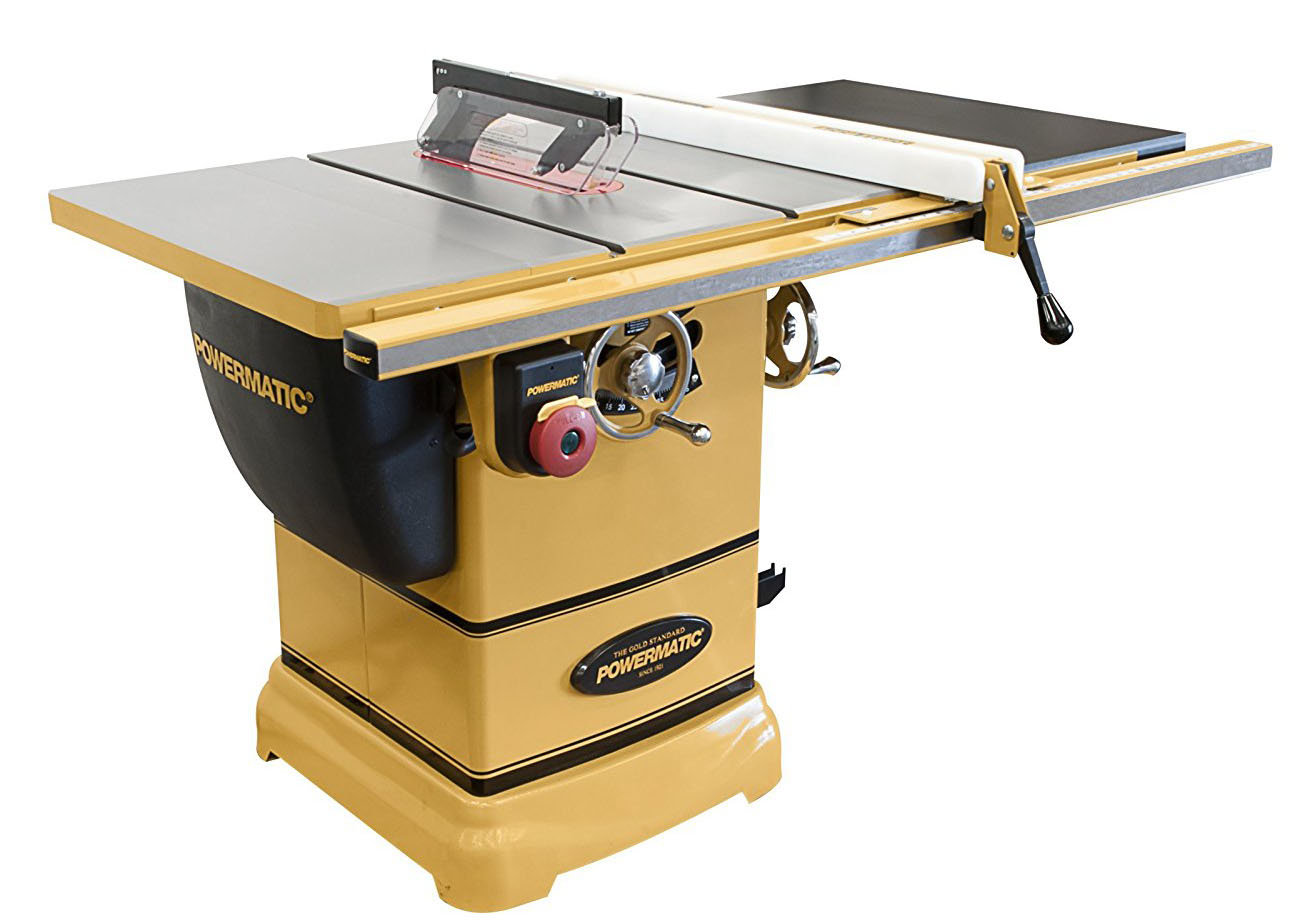 Powermatic isn't known for hobbyist tools, but with their new hybrid table saw, home woodworkers and do-it-yourselfers now have access to a world-class machine.
What We Like
– Top-notch fence is square and accurate.
– Hands-free power switch is easy to press in case of emergency.
– Good dust collection keeps the saw clean.
What We Don't Like
– Pricier than the Laguna.
– No flesh-detection technology yet.
For the ultimate combination of fit, finish, features and power, SawStop's PCS175 hybrid table saw is unbeatable. This manufacturer is known for its patented flesh-detection technology, but the quality of their tools is as good or better than just about anything on the market.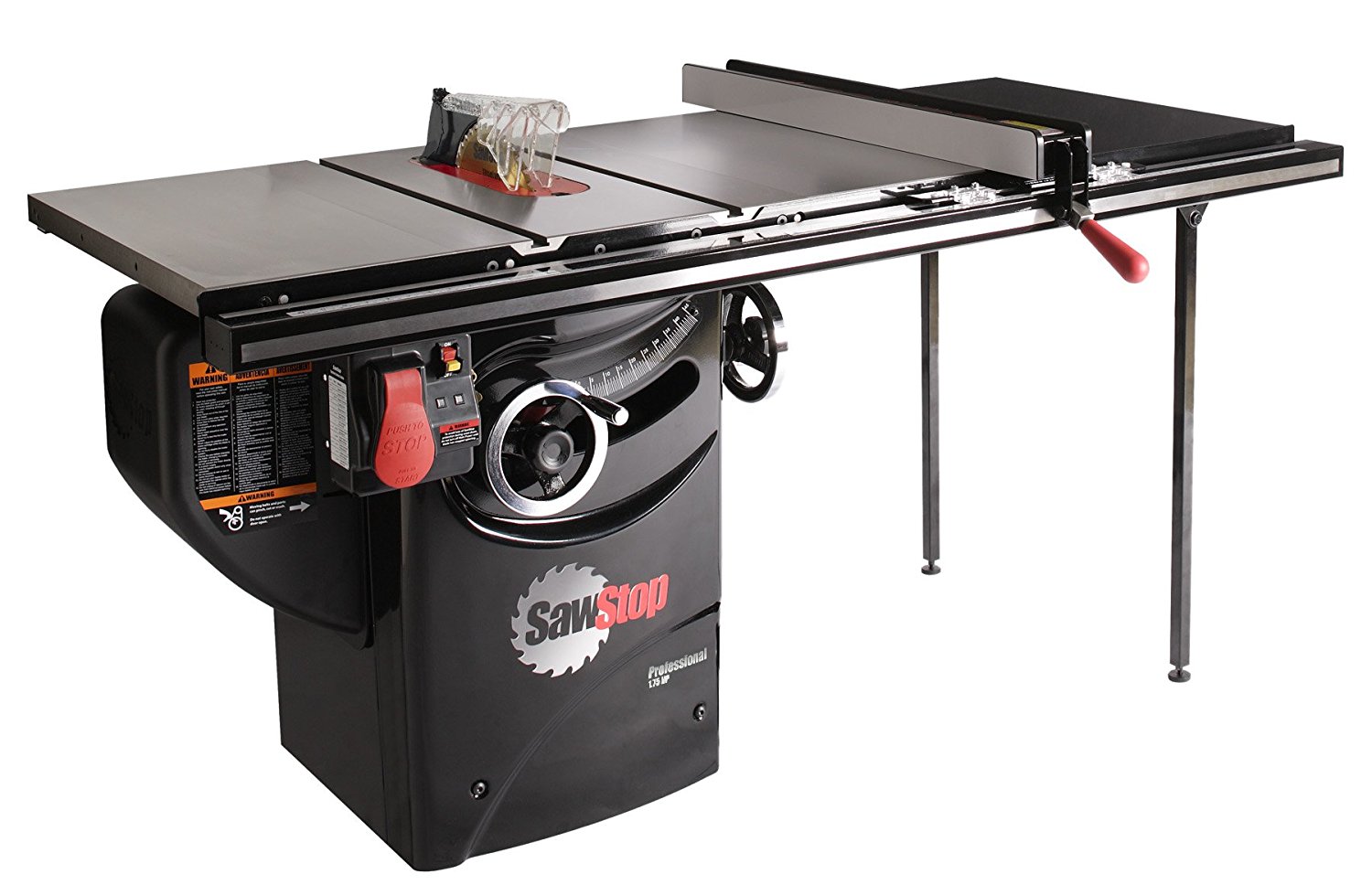 Any SawStop saw is a great machine, but their hybrid saw is ideal for hobbyists or professionals on a tighter budget or without access to 220v power. There are several fence options, as well as a variety of helpful accessories like a mobile base, overhead dust collection and large extension table.
What We Like
– Patented flesh-detection technology that senses contact with flesh and stops the blade.
– Exceptional fit and finish.
– Professional fence system.
What We Don't Like
– A bit more expensive than most hybrid table saws.
– Replacement cartridges for the brake system are expensive.
Conclusion: Our Pick
There's no question: the SawStop PCS175 is the best hybrid table saw money can buy. You get outstanding quality, plus the peace of mind that only comes from having a saw equipped with a safety device designed to keep your fingers out of harm's way no matter what.