A scroll saw is a tool for cutting wood, plastic and other items. While a scroll saw and a band saw has the same functionality, a scroll saw has a reciprocating blade to cut complex shapes and make interior cuts. The worker has to drill a hole in the pattern and insert a blade there for interior cuts.
Before you buy a scroll saw, take its speed, size and blades into consideration. And always consider the uses it is going of serve.
Best scroll saw list
The Size Of A Scroll Saw
You can determine the size of a scroll by measuring from the blade to the back of the tool. The size of the saw limits the size of the material you can use. Most often, woodworkers prefer a 16-inch scroll saw; it can handle a 32-inch piece of material and is suitable for many projects. But you can also find sizes ranging from 12 inches to 30 inches.
The Speed Of A Scroll Saw
There are slower scroll saws that can manage 400 strokes per minutes and there are fast saws that run at 1800 spms speed. Many models also have a variable speed feature which often comes in handy because different materials require different speed. For example, if you work with wood, high speed will overheat the saw blades. Besides, more complicated designs require a slow and precise cut.
The Blade Of A Scroll Saw
Look for models with a quick release feature for easy blade changes and simple blade clamps that don't require any additional tools. If you want greater versatility, get a model that accepts both pin-end and plain-end blades.
Scroll Saw Drive
Most modern models have parallel arm drivers, which means the motor is mounted to the rear. This way, the arms are parallel. There are also parallel link drivers, which has rods in the arms that push moveable pieces that secure the blade. The parallel link drive is less noisy.
Scroll saw Support
A support frame you're using should absorb vibration and provide stability so that you can cut with precision. There are models that are mounted on saw stands while others are sold separately and you will have to buy a stand as well. Some saws also have clamps that attach them to a work bench. Where they ensure support, smooth operation and reduced vibration when using a saw.
Scroll saws are notorious for even distribution of weight and optimal stability. But other types of saws can also be adjusted to suit your needs. Just choose a workbench with adjustable legs to suit your specifications.
Scroll saw reviews
DEWALT DW788 Variable-Speed Scroll Saw
This model allows you to change the blades within several seconds and setting the tension by pushing one button. You can also move the project around to get the perfect angle and put the project on and off the table with ease.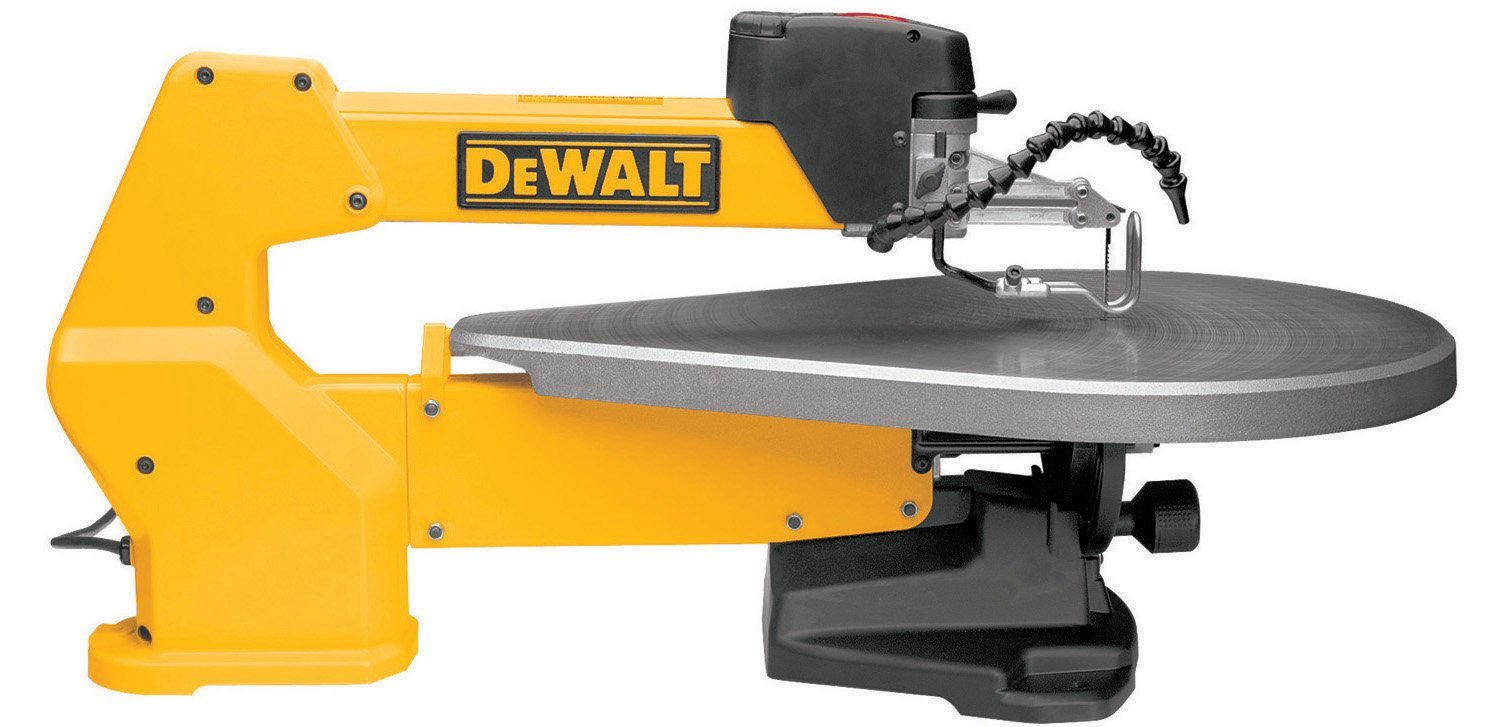 A sturdy workplace and immovable rear blades are another nice bonus. Your wood will not burn and you will get precise cutting. The blades have proven to have a really long lifespan and will serve you for many years.
This model is pretty heavy, which means you have no vibration at all, even if you set it to full power. It operates in a quiet and smooth way. Speaking of usage, it is a perfect scroll saw for both amateurs and professionals. It is easy to install and handle, with convenient electronic variable speed and an on-off switch. You can also adjust the tension of the jaw.
Things We Like
Absorbs all vibrations
Tension knob with numbers to get the same tension every time
Blades are easy to put in
Bendable arms
Things We Don't Like
With years, the model can become louder
Shop Fox Variable Speed Scroll Saw
This model provides you with several gadgets that often come only in high-end models. If you haven't used a scroll saw before, this is a perfect investment. It precisely cuts through a range of woods without any effort. Take pinewood that is a quarter-inch thick, and this saw cuts it wonderfully.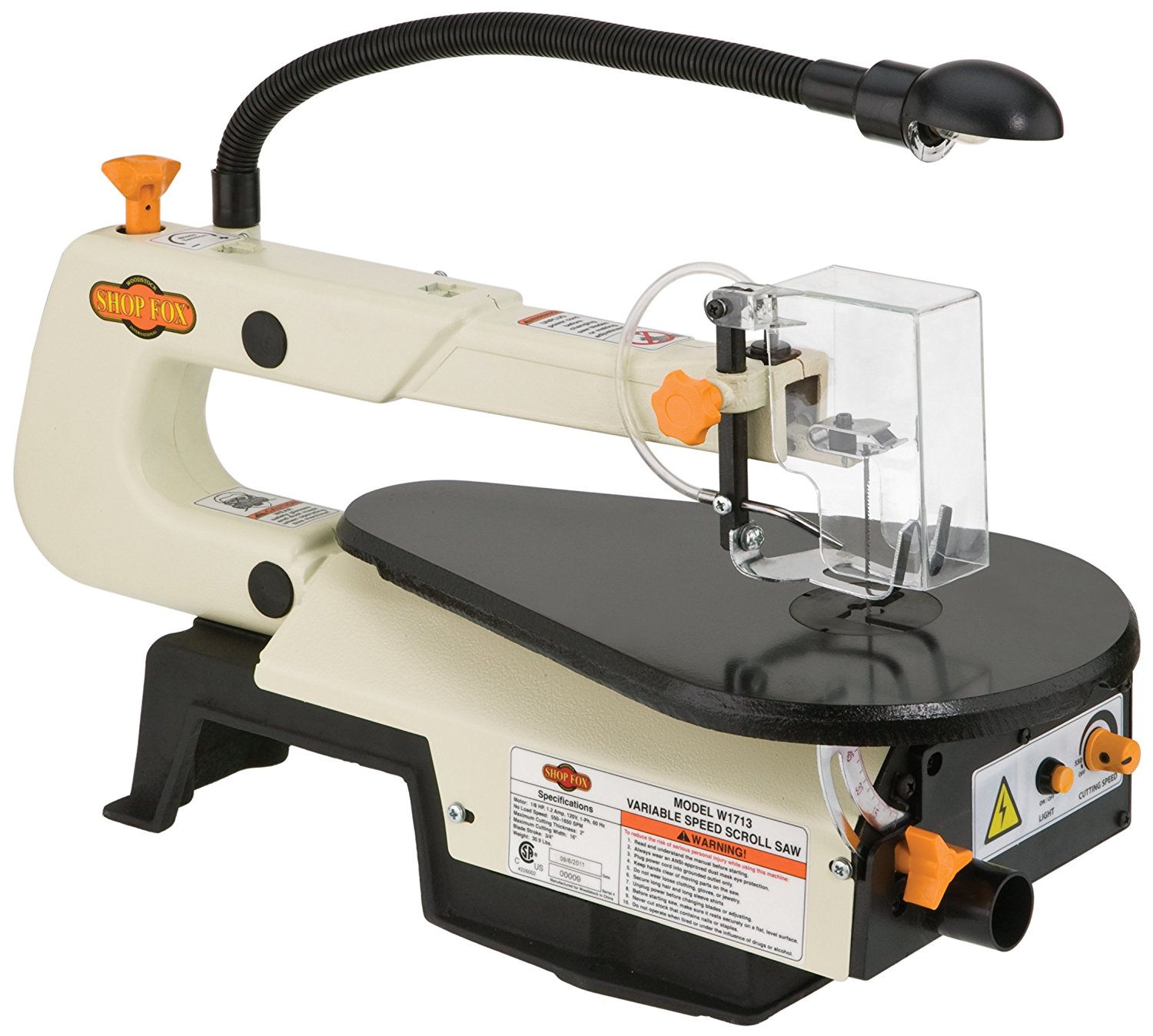 To get the best this model has to offer, it would be a great idea to use ½ inch wood. Before you start working with a saw, check the fasteners because they can become loose.
Things We Like
No vibration
Quick blade changes
Easily cuts hard wood
Can run at high and low speeds
Things We Don't Like
Mounting takes a bit of time
Rockwell RK7315 Scroll Saw
This model has a variable speed feature and an angle adjustment option, making it suitable for a wide range of projects. It allows you to easily cut through wood up to 2-1/2 inches. This is a great model for beginners who want to get a feel for sawing. When it is set up and after watching a quick video guide, you will be able to use all its functions. The speed control gives precise cuts – not something you can find in many other saws.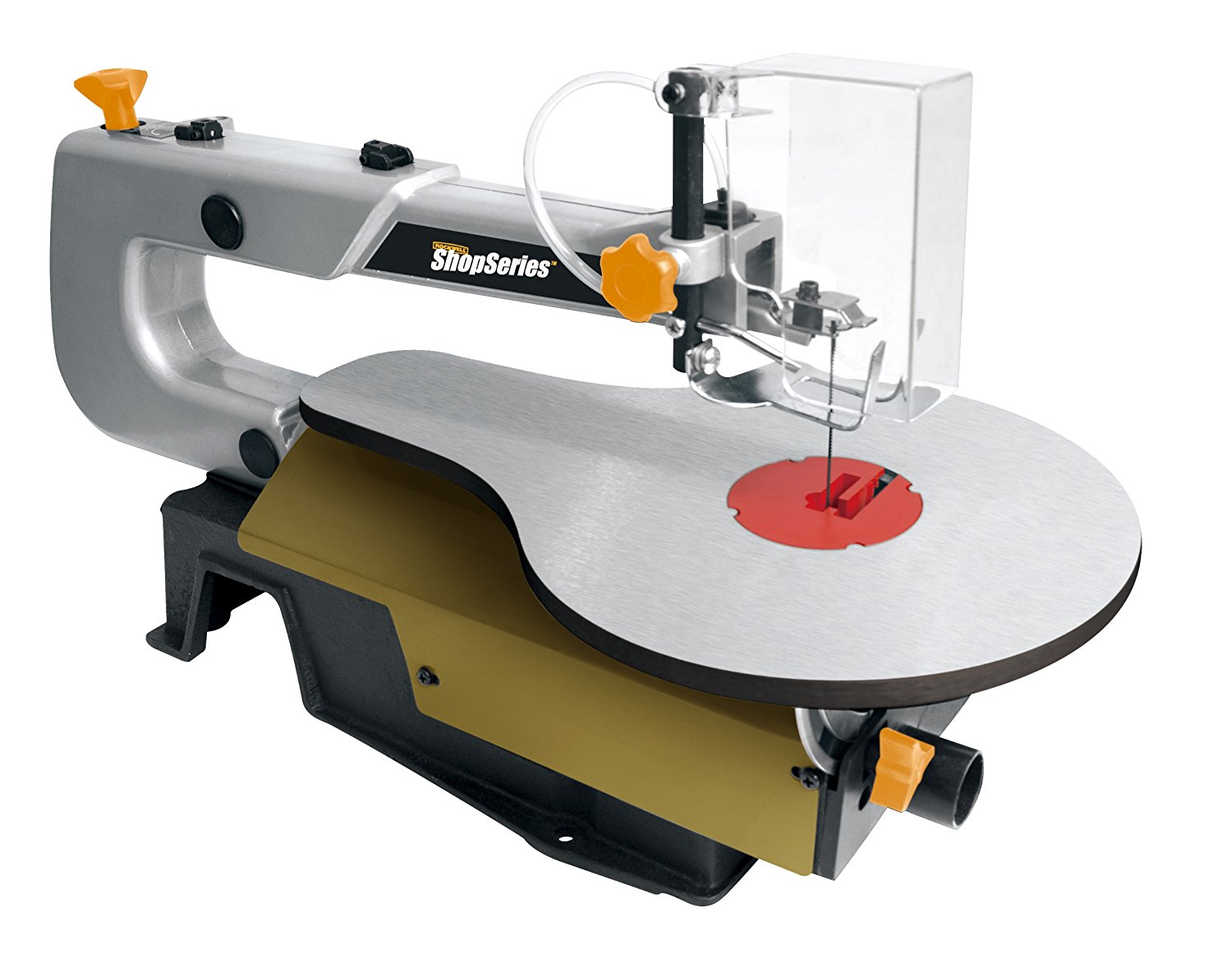 You can bolt it down to a base which you can clamp down if you need a portable saw. When you don't need it, it can settle down on the shelf giving more space in the workshop.
Things We Like
Perfect for beginners
High-quality lower-end model
Easy to set up and manage
Precise cutting
Variable speed feature
Things We Don't Like
The table only tilts in one direction
WEN 3920 Variable Speed Scroll Saw
This saw has a variable speed, convenient table, a cast iron built, and an air pump. The stroke varies from 400 to 1600 strokes per minute. This is suitable for a variety of cuts, even though more expensive models offer 1700 strokes. It depends on the projects you're going to perform; we would say you don't need 1700 strokes for DIYs. Adjusting the speed is easy; the speed knob is on the front which keeps your arms out of the sight-lines.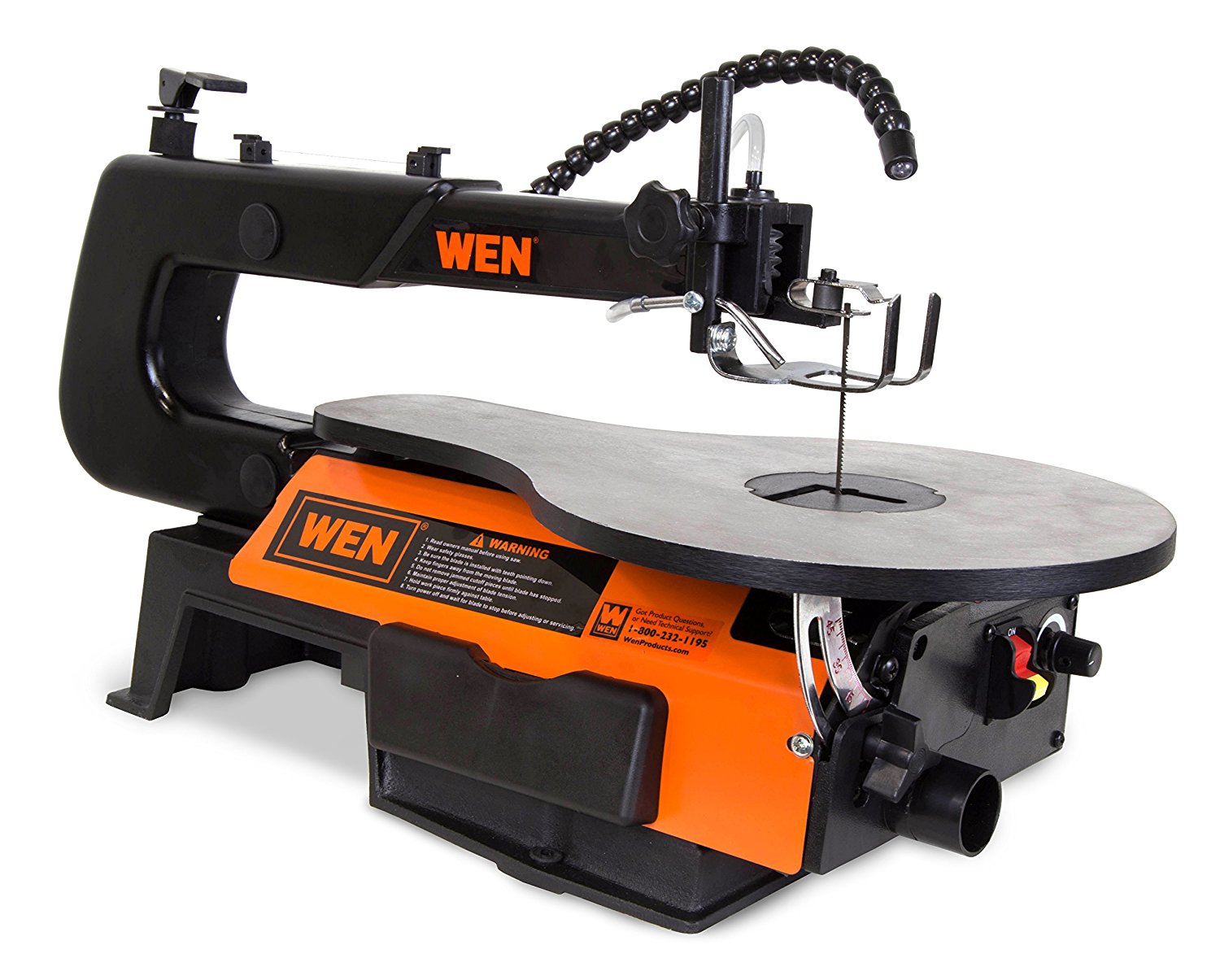 The table is more than enough for a scroll saw and works well for small and medium-size pieces. The saw allows for the 45 degrees tilt to the left. Not a bad thing, it depends on your preferences. The 16-inch throat depth makes cutting larger parts easier. You can cut pieces as thick as 2 inches.
And like other scroll saws on this list, this one accepts both pinless and pinned blades. It comes with an extra blade to swap it out.
Things We Like
400-1600 Strokes Per Minute
Cast Iron
Reduced vibration
Air Pump
Dust Port
2-Year Warranty
Things We Don't Like
Some owners say they would prefer stronger blades for bigger projects
PORTER-CABLE Variable Speed Scroll Saw with Stand
This model features an automotive saw with a shape similar to a sewing machine with a sharp blade instead of a needle. It is mounted on a four-legged stand and is perfect for smaller and intricate cutting. The blades move at a high speed, creating curves and details as you move the wood around the blade.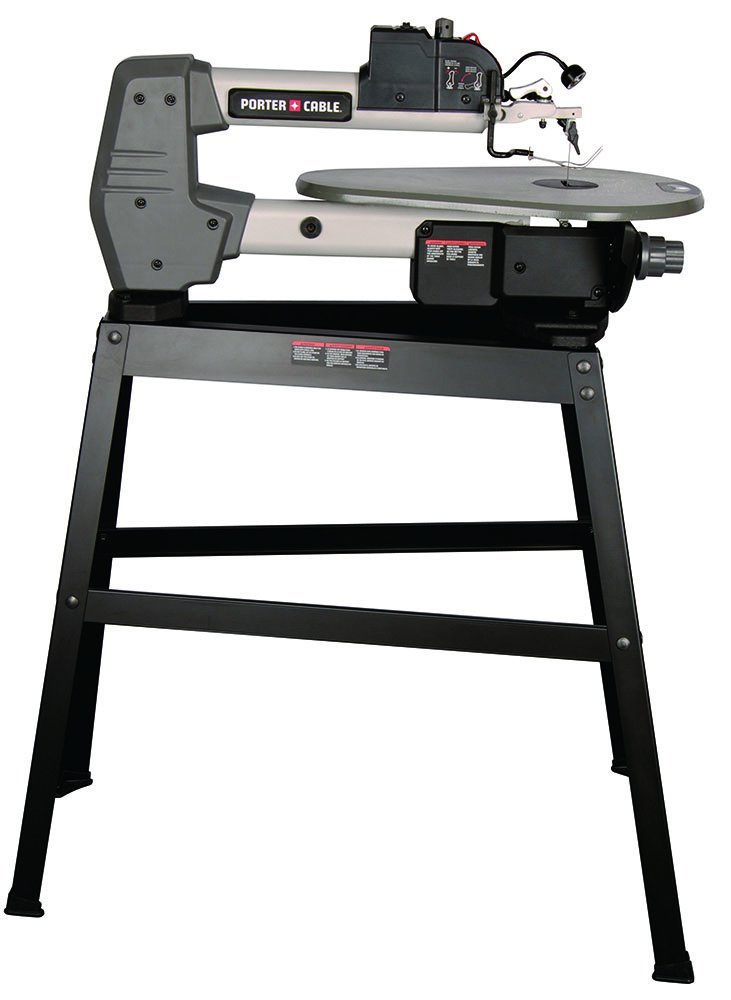 The saw also has a storage compartment where you can put extra blades and other equipment. This keeps everything you need close at hand. It also has a convenient on and off switch on the top of the saw. This keeps you safe as you can turn the saw off immediately. There is also a tension control switch located near the on-off switch.
Things We Like
The dust blower
The slack control
No vibration
On-off switch on the top
Things We Don't Like
The light over the stand could be brighter
The Main Features Of A Scroll Saw
The throat size refers to the distance between the back throat and the blade of the saw. If you know the throat size, you can determine what wood pieces you will be able to cut.
Pinned blades are thicker than other options and they are used for thicker cuts of wood. You can't cut fine details with pinned blades.
Unpinned blades allow for more options of cutting wood. You can do more detailed cuts.
When shopping for a scroll saw, you need to consider how you're going to mount the blade. If your project requires many cuts, you have to change blades often. Tooled blades need special tools in order to change them which is quite irritating.
For this reason, many professionals use tool-less blades. These saws have a mechanism for quick change of blades.
Some saws have a cam, other have levers or knobs on the back, all of which allows you to control blade tensioning. Many 16-inch scroll saws have a knob at the back. However, it is more convenient to have it at the head. You will be tensioning the blade for every cut you make. So think about it before buying a saw.
At the moment, not that many saws can do a good job at collecting dust. Some of them have compressors or blow tubes, but you should make sure the tube is flexible and doesn't blow dust onto your lab.
The hold down foot should be able to securely hold down the piece you're working on. You should also check if it's adjustable. It is especially important for beginners who learn how to cut. As you become better at this and start doing delicate work, you will feel that it can break an intricate piece. But in general, this feature is very helpful.
This feature gives the strokes of the blade up and down motion. Some models have a solid arm that handles the movement of the blade. Professionals say it's a bit too turbulent when you try to make delicate cuts. The saw with a single arm is more budget friendly.
Other specialists say that smaller arms provide less vibration. So, it's just a personal preference.
Before buying a saw, you need to consider projects you're going to perform. A top lifting arm can really help if you do fret work (from the top of the working area down).
Some scroll saws have a right tilt, others have left tilt, and the most expensive models have both right and left tilt. You should check if the tilt has an accurate angle. The best way to find this out is to get a construction square and test it out. The ease of adjustment is also important.
As you get used to your new tool, you will have many different blades. And you need a place where you will store all those blades. Finding a scroll saw that stores them is a nice bonus when choosing the best model.
This is not a must-have, but something you may find convenient. A good lighting is important, but if you work in a room where lighting is up, you should be ok with a saw that doesn't have any lighting.
Many scroll saws have their own stands. Or you can buy a stand with adjustable legs. You need to make sure you can work at a height that is comfortable for you.
And the winner is…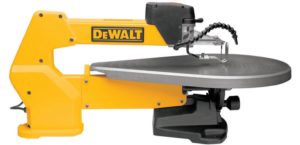 The DEWALT Scroll Saw is by far the best scroll saw for the money on the market, and the best in terms of quality and features. It is targeted mainly to semi-professionals and hobbyist; this is a model on which you can work every day without wear and tear and use it for moderate and precise cutting.