If you are looking for something that will change the way you operate your workshop, then it is time you try Bosch RA1181 router table. A combination of accuracy and durability will make every moment you take on that piece of wood enjoyable, but do you take my word for it? Going through several reviews by users, it is quite clear that it isn't just a regular router table professional woodworkers work so hard to find, but one of the best on the market.
Perfect Choice For Professional Woodworkers
It isn't about its design, features, and performance. It is all about a router table that will give you what you want for an extended period at an affordable price. Here are some of its astounding features.
SPECIFICATION
Compatible with several routers
Included is mounting hardware that works for several router sizes
Accompanied by two adjustable feather boards, a dual switch, a post for collecting dust, and last but not least, a power cord that measures 6 feet long.
Features adequate working surface that measures 27'' long and 18 inches wide.
Features aluminum fence that has MDF faceplates.
Weighs 34.4 pounds
It comes with a mounting plate made of aluminum.
Why Choose Bosch Ra1181 Benchtop Router Table?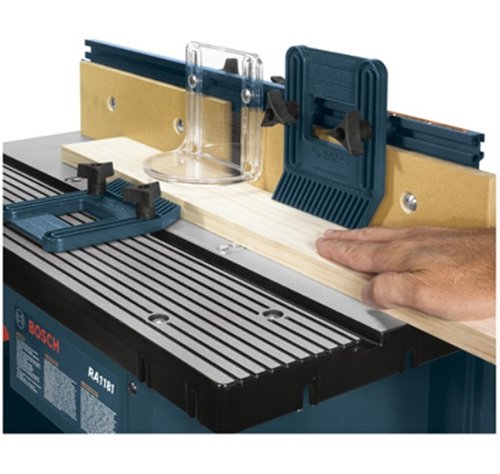 Bosch RA1181 is just like any other router table you'll find on the market but unique in several ways. What makes it quite admirable is the fact that it will serve you for an extended period without worries that it may fail while working on an urgent project. Compared to router tables on the market with the same price, it is durable, performs beyond expectations and the best part, it is one of the best router tables Bosch Engineering has ever produced.
You don't have to worry about the working space, it is light, making it a perfect choice for woodworkers who are fond of moving around with their tools and lastly, comes with more than enough features you'll find useful. Here are some of the reasons to give it a try.
Benefits
The feather board is easy to use: Unlike most of its closest competitors, Bosch RA1181 features two feather boards that are adjustable. The feather boards are to be attached to the router table to provide kickback protection as well as additional guidance when working on complex workpieces.
The aluminum fence is tall enough and has an adjustable MDF faceplate: Which means that you don't have to worry about how short or long your workpieces are.
Large workspace: It has a tabletop made of Die-cast Aluminium and measures 27-inch long and 18-inch wide. The Aluminium makes it quite durable while the large tabletop offers you enough space making it easier to work on tougher projects.
Stable mounting plate: It features a router mounting plate that is tightly assembled making it easier to work on your precision. As you work, it stays flat and stable enough to withstand unnecessary movements while working. It is also predrilled so that it works best for several types of routers.
Offers room for additional accessories: Unlike most router tables, Bosch RA1181 features other slots where you can attach several accessories to make your work easier. The accessory slots accept ¾-inch accessories, for example, the miter gauge, and additional feather boards.
Storage pockets: If you are working with more than one external tool, it is easy to misplace one or two. Bosch RA1181 features storage pockets whose primary purpose is to hold and store router accessories as well as a pocket to store Cord wrap.
Comes with dust collection ports: When working on wood pieces more and more dust particles accumulate in your store making it harder for you to keep your workshop clean. Bosch RA1181 has a dust collection port that allows standard two and a half vacuum hoses.
What You Might Not Like About It
Takes time to assemble: You'll need a few hours to assemble Bosch RA1181 fully, meaning that you won't find it convenient especially when you are in a hurry. However, when fully assembled, it is quite easier to use.
It doesn't come with a standard-sized miter gauge. You will have a hard time figuring out the type of router that will work best with it.
Weak plastic legs and facia: Despite being one of the most stable and durable router tables you will find on the market, its fascia and legs made of plastic say otherwise. It is easy for its plastic legs to break when working on heavier workpieces simply because the plastic stands won't offer much support.
You have to do a lot of work when removing the miter: If you like shortcuts, then you might find Bosch RA1181 quite inconvenient. Removing the router starts with removing the fence following up with removing many more screws that make the switching bits quite hectic.
What others say about it
Despite a few cons, Bosch RA1181 makes one of the top-liked router tables on the market. The 4.3-star rating after 464 user reviews makes it quite obvious. However, not all users are singing the same song. There is a good number of users that will do anything to give it the highest rank as well as those that work so hard to ensure you don't buy it. Don't fall for any.
However, to avoid regrets, it is vital that you pay attention to a few complaints as well as praise. As mentioned earlier on some of its drawbacks, it is coming out clear in the user reviews that no one likes the hard task involved in its assembly.
There are also few complaints about the flatness of the benchtop and more. Contrary to the complaints, there are those users who feel that Bosch RA1181 is one of the best router tables you can find on the market. For most users, it performs much better compared to its previous versions, cheap for a router table of its type and most importantly, offers more astounding features. Summing up all the reviews, more than 50% of the users recommend it fully, meaning that, it works just fine for an average woodworker.
---
---
Final Verdict
I can conclude that it isn't the best but worth giving a try. Nothing is made perfect, and Bosch RA1181 isn't an exception. Despite having more than enough likable features, you can't miss a few faults in one out of ten of the Bosch Router tables you come across. However, we can't say that it is worse than others simply because it has a better rating. It doesn't matter how hard your project is. Despite a few issues, Bosch RA1181 Router Table will always do a better job.