Your ability to properly cut wood depends greatly on the tool you're using. Of course, it is worth investing time and patience in a good cut, but the right saw can do the rest. There are various types out there, and this simple guide discusses them all while offering the best saws on the market.
Type of Cut vs Type of Saw
| | | | |
| --- | --- | --- | --- |
| Type of cut | Jigsaw | Reciprocating saw | Circular saw |
| Straight-line cut | Good | Fair | Excellent |
| Shape | Excellent | Good | Not possible |
| Crosscut (wood) | Fair | Fair | Good |
| Straight-line cut | Good | Good | Not possible |
| Shape | Good | Fair | Not possible |
| Piping | Fair | Good | Not possible |
| Straight-line cut | Good | Good | Fair |
| Shape | Good | Fair | Not possible |
| Pipe | Good | Excellent | Poor |
| Straight-line cut | Good | Good | Not recommended |
| Shape | Good | Fair | Not possible |
| Pipe | Good | Good | Not recommended |
| All cuts | Not possible | Possible with a special blade | Not possible |
Some of the best saws for cutting wood
Black & Decker Powered Handsaw
This saw is a powerfully performing and easy to use tool that helps you get everything done with ease. The 16 inches handsaw is equipped with a 3.4 amp motor that allows for precise cutting of wood, metal and plastic. Besides, it is very lightweight with convenient controls and comfortable handles, so you can make detailed cuts. You can operate both indoor and outdoor.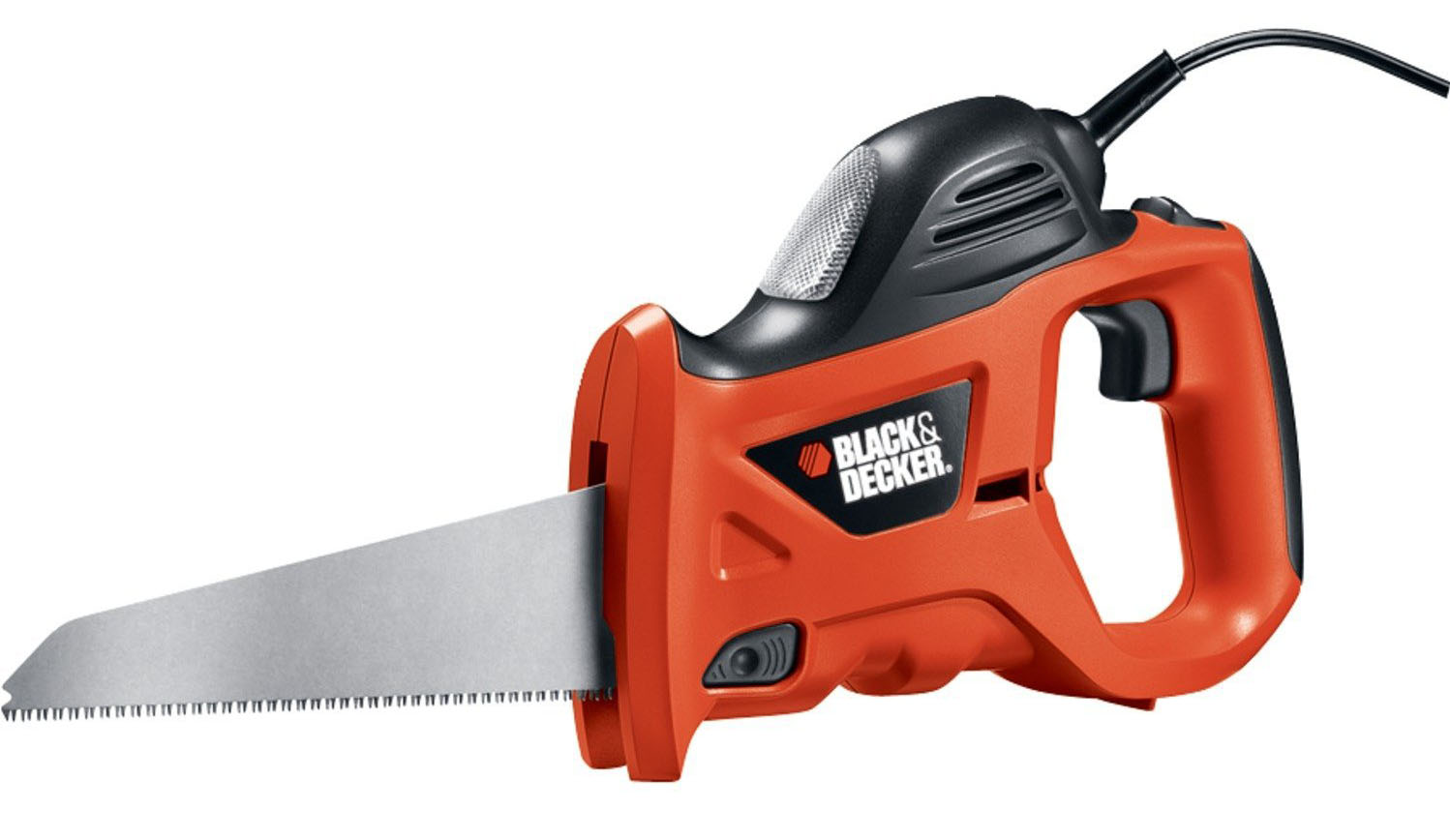 It comes with a blade perfect for straight cutting. There is also a tool-free blade change feature for your convenience. Finally, it comes with a storage bag to hold the components.
Things We Like
High-performance
4 amp motor
4600 SPM for precise cuts
Lightweight handsaw
Versatile operation
Tool-free blade change
Things We Don't Like
When you get it out of the box, you need to properly position the pin that the blade attaches
XtremepowerUS Gasoline Gas Chainsaw
Gas chainsaws are the most powerful – you can compare gas and electric saws of similar weight and size, and the gas chainsaw will be an absolute winner. And this model is the best of the best. With this chainsaw, you will be really productive when working on your projects. You can get a lot done over a short period of time.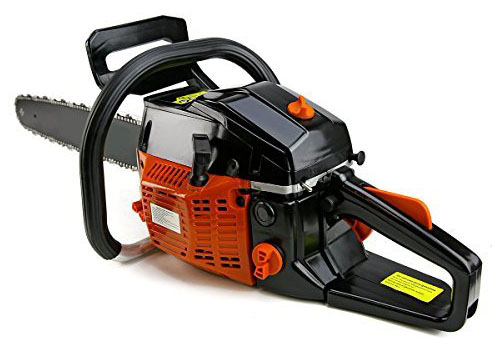 It doesn't require electric leads, which means better mobility. And it is very important when you're working over a big area. This solid, powerful chainsaw has a 2.4 hp motor, anti-kickback chain, clean air-intake system, and a chain brake for safety.
Overall, this is a great option for demanding use, especially on big terrains.
Things We Like
The chain doesn't overheat
22 inch bar chain acceptability
Cutting wood is a breeze
Things We Don't Like
sometimes you should manually adjust the carburetor
Rockwell BladeRunner X2 Portable Tabletop Saw
This saw comes with a couple of accessories, such as a rip fence, a miter gauge, a starter blade assortment, and the vacuum port. It operates as an inverted jigsaw and can produce cuts using any jigsaw blade. But it can also mare crosscuts, miter angles, and rip cuts like a table cut. It's equipped with a 5.5 amp motor that develops a speed of 3,000 strokes per minute.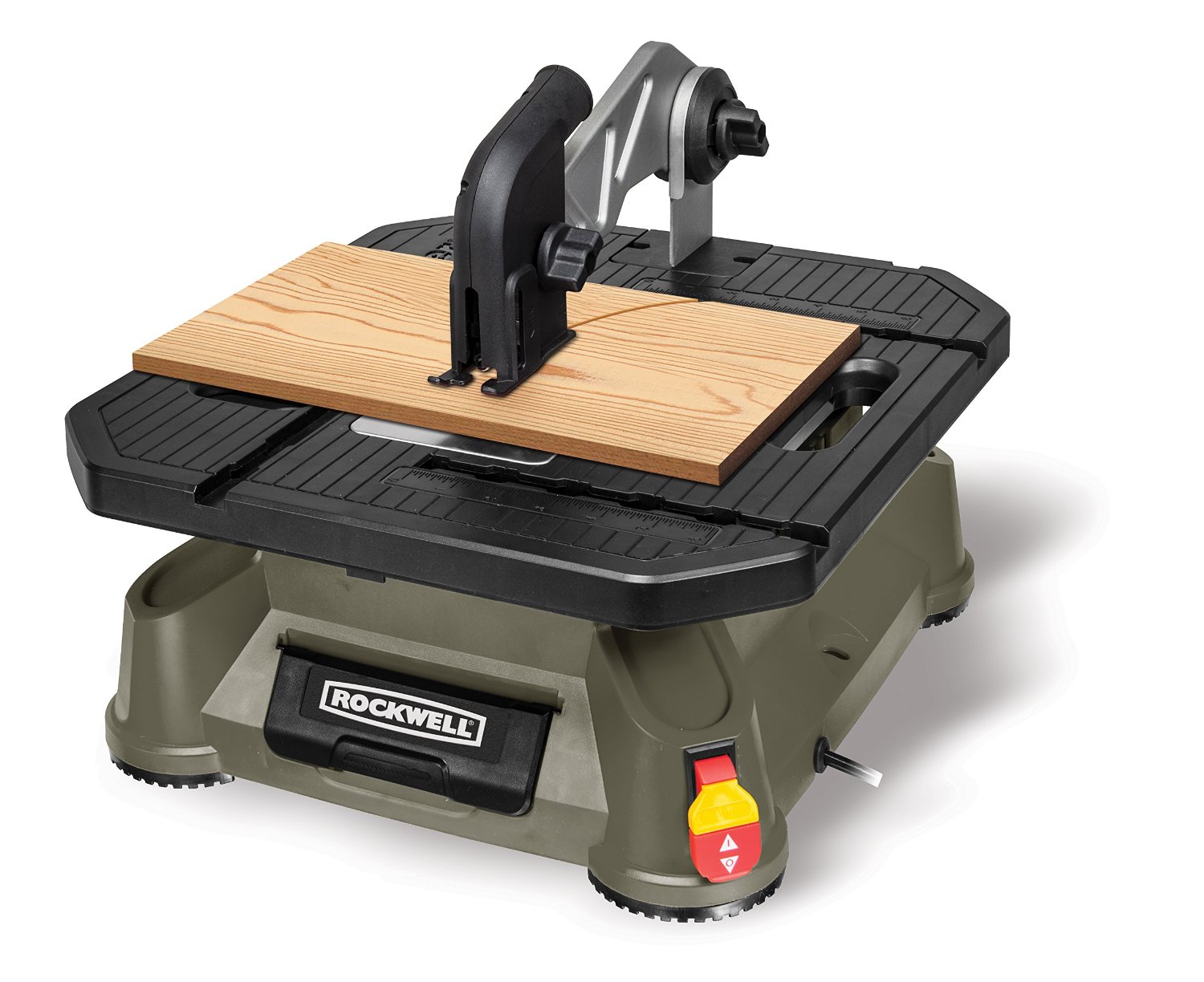 It has 5 blades for making all kinds of cuts in wood up to 1.5 inches thick and it can also cut ferrous metals and even thick ceramic tile. Changing blades is really easy, thanks to a tool-free blade change feature.
You can buy standard T-shank blades almost everywhere, and there are plenty of types and styles. Unlike other small saws that work with special blades, this one can work with almost any blade.
Things We Like
Simple blade change
On-board storage
No limit of the width of your pieces
Perfect for mid-size workbenches
Things We Don't Like
Creates more dust than other electric saws on this list
DEWALT Bare-Tool Brushless Circular Saw
This new Dewalt circular saw has a full-size blade and can bevel up to 57°. It also has a blade brake for the quick stop. Motor speed is a powerful 5,800 RPM. The model also has a dust chute, which works well for directing dust away from you. The weight of the saw is 7.6 lbs without a battery. The saw comes with a fast charger, a blade, a blade wrench, and 2 batteries.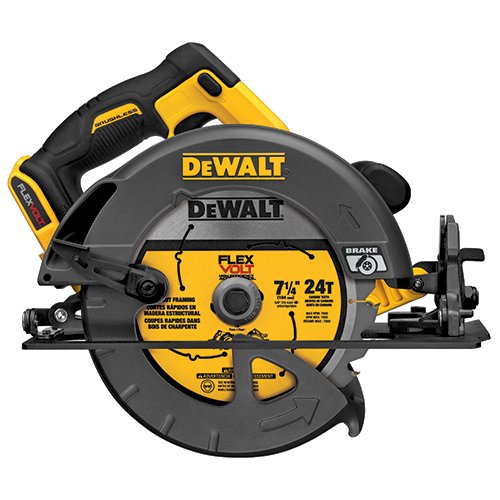 We also found interesting that this toes has a flat plate, unlike magnesium shoe on other saws. It can resist dents and dings in use.
Things We Like
339 cuts per charge
Runs on 60V battery
Electronic brake stops
Brushless motor
Things We Don't Like
The shoe slides a bit tougher across wood than other models
Dremel SM20-03 Saw-Max Tool Kit
This powerful saw is equipped with a 6 amp motor that easily handles even the toughest applications. You can work with wood, plastic, tile, or metal. Quality gearing ensures durability and power. Compact saw allows for one-handed operation and convenient maneuverability.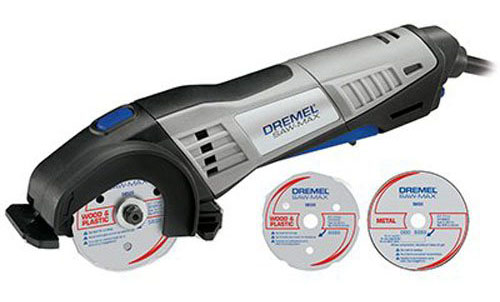 The saw-max is a compact saw that allows making precise, clean cuts using cutting wheels. The tools is designed for beginners and professionals alike, with increased cutting accuracy.
Things We Like
Feels solid
Powerful and durable
Feels expensive
Comes in a case
Includes 4 blades
Things We Don't Like
Blades tend to wear and tear quicker
Miter Saw
The miter saw is important for cutting dimensional lumber for your projects since it handles the majority of work. Of course, you can use the circular saw (we're going to talk about it later), but with the miter saw you can get consistent cuts every time without any problem. You can also cut angles, bevels, and other decorative cuts. We would recommend this type of saw for beginners who want to experiment with different projects.
Reciprocating Saw
If you already have the miter saw, you should consider getting a reciprocating saw (some people also call it a rip saw). And if you're a beginner, you probably have a lot of reclaimed wood that looks like breaking down pallets. Those pallets are free but they do not break down easily. And we wouldn't advise you to waste time on hammers and wrecking bars, you will only damage the wood. With a reciprocating saw, you can cut them easily. There are not that many things that this saw can't cut and it is very easy to operate.
Circular Saw
We have already mentioned the circular saw; it is a popular choice for beginners and professionals and you can do a lot with a circular saw. You can make both quick cuts and big cuts without having to worry about making accurate cuts. This saw can make your life a lot easier, but the quality of a blade is extremely important here. And quality blades often cost more, that's why we recommend starting with a miter saw.
Manual Saw
Yes, we haven't forgotten about the good old manual saws. And yes, sometimes you need this and have to use your power rather than electric or gas power. There are western and eastern style saws, which differ in handle placement and whether the saw cuts in pull or push motion. It doesn't influence anything and depends on your preferences. You need a manual saw to cut certain types of wood or when you want to cut something in hard to reach areas. You can also use it for detail work. Manual saw is a cheap, portable tool that helps you make a precise cut or dovetails. At the end of the day, it can't hurt to get one of these.
Scroll Saw
Scroll saws aren't necessary for beginners but come in handy sometimes. They are a fun addition to your garage if you're working on decor pieces. Scroll saws have thin blades and allow you to control speed to make precision cuts. You can create any design with this saw. For example, people do cursive scripts with it. If you don't do this kind of work but still want to get a scroll saw, choose the one with higher speed because it will be able to manage all types of cuts.
Table Saw
Table saw is the fourth must-have blade for woodworkers. For an experienced carpenter, you can make any cut using this saw (maybe with help of jigs). You can cut circles and other complex cuts with a table saw. But for beginners or people with a small workplace, a full-sized table saw is simply unnecessary. If you have enough space and skills to use a table saw, you will use it a lot for almost everything. Use your fences and taper cuts are a breeze. For everyone else, it is better to start with a miter saw.
Features To Consider Before Buying A Saw
Regardless of the saw you choose, you should always carefully set up everything in order to make clean and precise cuts. Make sure the board is secured with clamps to the work surface before cutting through it with a saw.
Length of stroke
The length of the stroke means the distance the blade travels up and down. For example, a 20mm stroke means the blade can move 20mm up and 20mm down to make one stroke. The longer the stroke, the bigger number of teeth that come in contact with the material.
Strokes per minute
Strokes per minute are the amount of time the blades move up and down per minute. The higher number of strokes, the more cuts and therefore more efficient the saw.
No-load speed
Load speed is the number of complete revolutions for a saw or the amount of time the blades move up and down. No-load means the motor speed when the saw isn't cutting. Speed decreases when the saw is working, so keep this in mind.
Power input
Power input refers to the number of watts that the motor needs from your electricity supply. The more watts, the more powerful the motor is.
Maximum cutting capabilities
This means the thickest material the saw can cut (at least, as recommended by a manufacturer).
Blade bore diameter
This means the diameter of the hole that is in the middle of the blade. The hole (known as a blade bore) greatly varies from one saw to another, and you should get the right blades for your saw.
Tool-free blade change
It is really important if you want to quickly change the blades.
Variable speed
This refers to different speeds that are needed for different projects, so saws with variable speed are more versatile.
Pendulum action
The traditional action on saws is a reciprocating action, up and down. Pendulum action, on the other hand, means that the blade travels back and forth as well. If you can adjust the amount of movement, you can cut faster and ensure fine and clean cuts.
Dust extraction
Not a must-have feature, but sometimes dust collection for a cleaner workplace can be convenient.
Universal blade clamp
There are two types of jigsaw blades -T-shank and U shank. Some jigsaws only work with one type but a universal blade clamp accepts both of them.
Beveling shoe
Beveling shoe is a moveable shoe that allows you to cut at angle. This feature usually makes the tool more expensive, so think about what projects you're going to do before buying a saw with a beveling shoe.
Conclusion
Rockwell BladeRunner X2 Portable Tabletop Saw is our top preference for all possible wood projects; it is really durable and can last for many years. It is pretty lightweight which makes it transferable and portable from one place to another. It is made for all sorts of cutting activities and you're sure to get a cutting accuracy and precision every time.
The wood cutting capacity is 1.5 inches; it can render high-quality cuts using the miter gauge that comes with the saw. There is also a stabilizer bracket that sits on the top of the cutting table and reduces vibration.