Wooden structures are prone to wear and tear with time due to use. In some cases, wooden surfaces and structures rot, get scratched, nicked or gouged. These are some of the common problems with using wood as a building material and handling these challenges through a complete rebuild takes time. Complete restorations are also expensive and in most cases, you will require an experienced professional to execute the job.
However, some DIY restoration projects can be done immediately to keep wooden structures from disintegrating or to ensure surfaces and designs regain their aesthetics. One such DIY restoration solution is the use of wood fillers for homeowners. Wood fillers are also used when making handmade furniture. The versatility of its use makes it an essential part of any toolbox. Here, we will showcase the top 10 stainable wood fillers on the market for you to choose from.
The Top 10 Stainable Wood Fillers
The top 10 will include some of the popular fillers from big brands and some more obscure options that do an excellent job.
FamoWood 40022126 Latex Wooden Spatula
FamoWood is a well-known brand due to the quality of the surface finish and woodworking product it offers. The 40022126 is an excellent product due to its many features. One of its more interesting features is that it is a solvent-free product which can be applied directly without having to mix it with any solvent.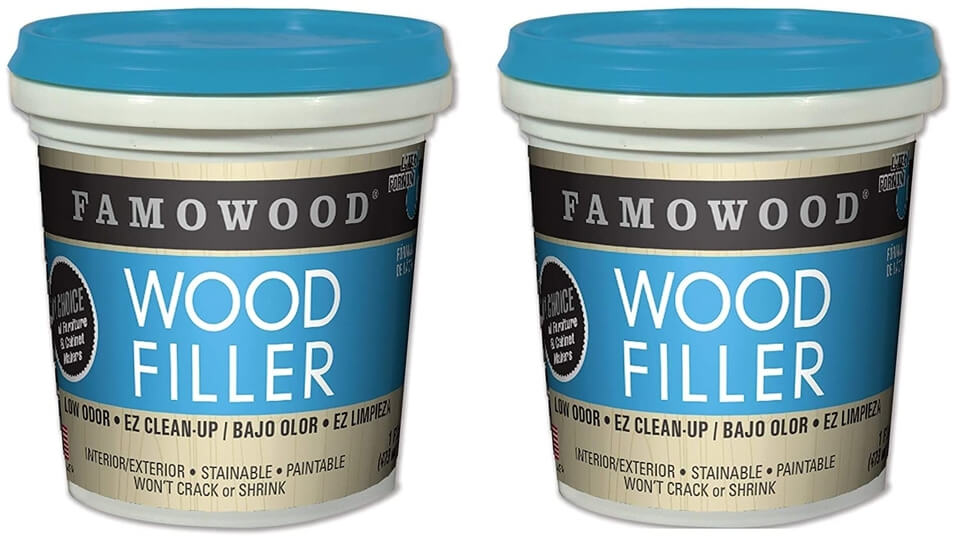 It is a latex-based product which means it is non-hazardous and can be used for both outdoor and indoor applications. The product is quite thick which means you will have to expend some effort in spreading across surfaces especially areas where an expansive application is required. The wood filler takes approximately 15 minutes to dry and once dry, further finishing activities can be done on it. You can choose to apply sandpaper to it, drill it, or cut through it to get the filler to match with the rest of your surfaces.
Pros:
The wood filler is made from latex and is solvent-free
It enables quick restoration as it dries up in 15 minutes
It is relatively odorless
It is rust-proof and can be painted
It doesn't crack or shrink after application and during surface finishing activities
Cons:
Sticky lid makes it hard to remove the lid and get to the filler
Low shelf-life which means it loses its potency when stored for long durations
Minwax Polycryl Stainable Wood Filler
As brand names go, Minwax is one that has been around for a long time and the quality of its products bellies its years. The Polycryl wood filler is an excellent solution for handling restoration tasks. The Minwax filler is made from Polycryl which makes it easy to use and spread around onto surfaces.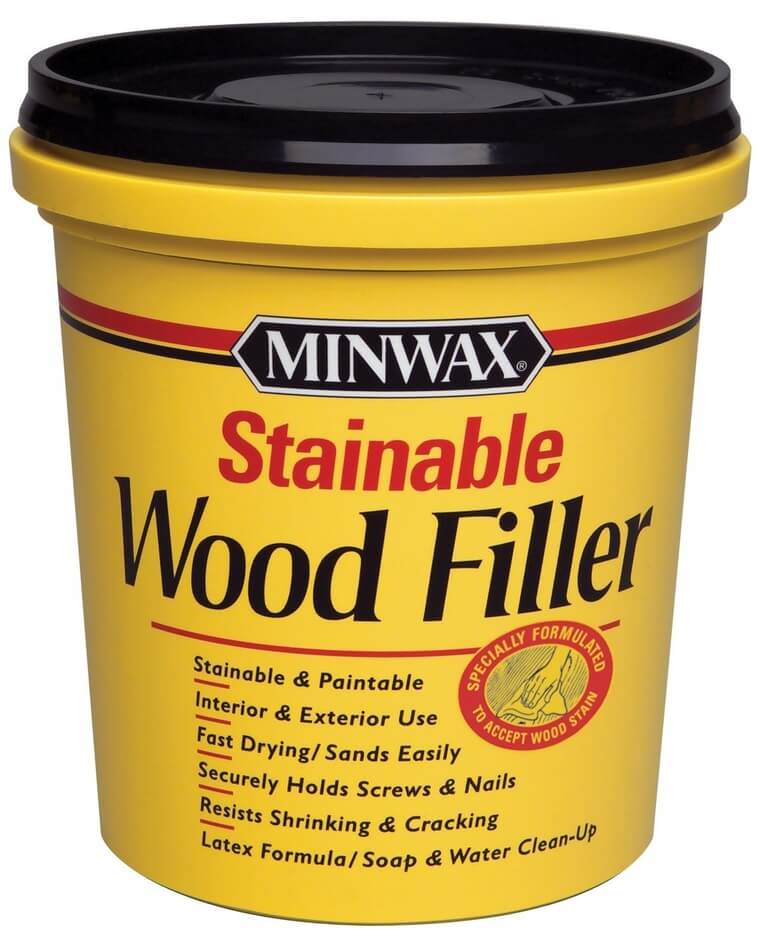 On application, the product dries within 10 minutes which makes it an excellent choice for smaller jobs. Once completely dry, you can choose to sand the dried surface or drill on it according to your needs. This is because the wood filler is actually stronger than wood.
Pros:
The wood filler is stainable and paintable
Dries quickly within 10 minutes
Resistant to shrinkage, wear, and tear
Cons:
Dries really quick which affects its application for larger jobs
It needs to be mixed with a solvent before use
Elmer's Carpenter's Color Change Wood Filler
The color change wood filler was designed for interior use and for the repairs of holes, dents, and scratches. Elmer's wood filler is one of the easiest to use as it notifies you when it is dry. On application, the wet filler is purple in color and once completely dry it becomes white.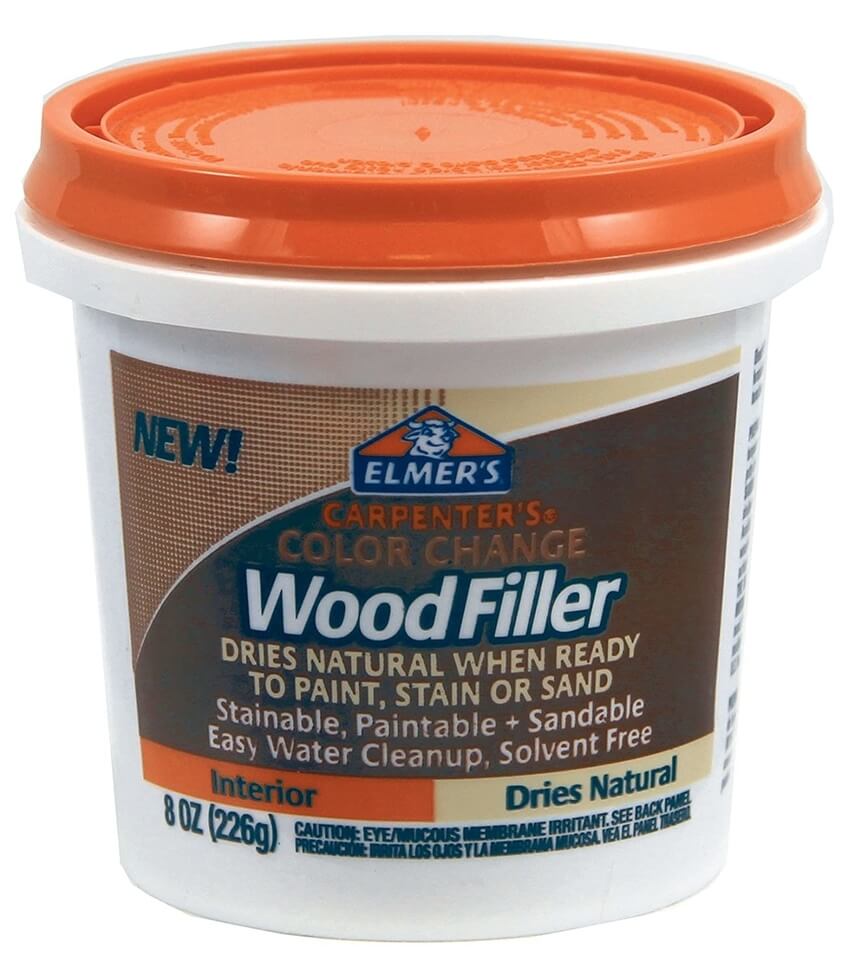 Once dry, you can choose to sand, stain or paint the dried surface without fear of shrinkage or tear. Elmer's application-focused adhesives ensure the filler dries within 15 minutes of application. This makes it easy to use it for both small and larger jobs.
Pros:
An easy application process which means you don't have to struggle with sticky lids or a difficult to spread wood filler
Dries reasonably quick and can be applied on jobs with different sizes
Minimal shrinkage, non-hazardous, and good for indoor use
Cons:
It is designed for interior use only which eliminates any outdoor use
Doesn't blend well with dark stains
3M Bondo Home Solutions Stainable Wood Filler
As its name suggests, the Bondo Home wood filler was developed for indoor use. It is relatively more affordable than other options and it is great for rebuilds, restoration, and the replacement of rotten wood components. Bondo states that its wood filler is your best option for repairing doors, windows, furniture, and wooden fences. When used, Bondo's claim is relatively true as its wood filler can be sanded, planed, drilled, or painted depending on your requirements.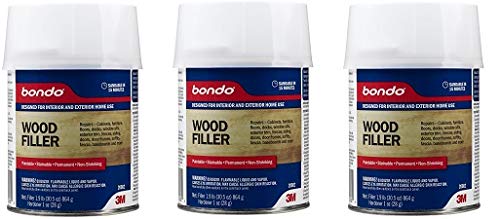 For restoring rotten wood, it is recommended that you apply the Home Solution Rotted Wood Stabilizer before applying the filler. Once applied, the filler dries up quick which means it is great for small jobs but may dry up too quickly for more expansive tasks.
Pros:
The filler is easy to use
Great for smaller applications
Solid and durable which means it can be sanded, planed or treated like wood.
Cons:
Slight shrinking can be noticed when it is used
A Strong smell which may be offensive
Low shelf-life
System Three SculpWood Putty Brown
SculpWood is one of the more expensive wood fillers currently on the market but it does an excellent job as a restoration solution. You can choose to use it to repair chipped surfaces, crack, and defects on windows and door sills, furniture, and fences.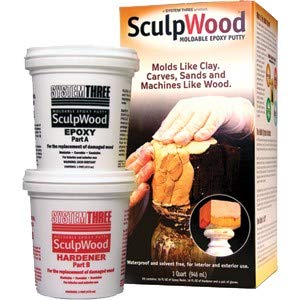 The wood filler must be mixed before application. System Three recommends a 1:1 mixing ration of the resin and a hardener. One applied, it dries quickly and does not shrink or tear after drying up. The hardened filler can be sanded, planed, and primed according to your wishes.
Pros:
An excellent wood filler for both outdoor and indoor use
A quick-drying timeline which is great for small jobs
Made from two-part epoxy putty which means it is not hazardous
Cons:
When applied on outdoor surfaces, paint must be applied and if not, it shrinks
Dries within 15 minutes and this may affect its application for more expansive jobs
J-B Weld KwikWood Repair Epoxy Putty
The KwikWood filler is another excellent option built for the repair and restoration of windows, door frames, screw holes, and furniture. The wood filler cures within 15 – 25 minutes which is manageably quick when compared to other options. When applied, the surface stays intact and does not shrink. The filler can also be ground, drilled and planed as you would do to wood.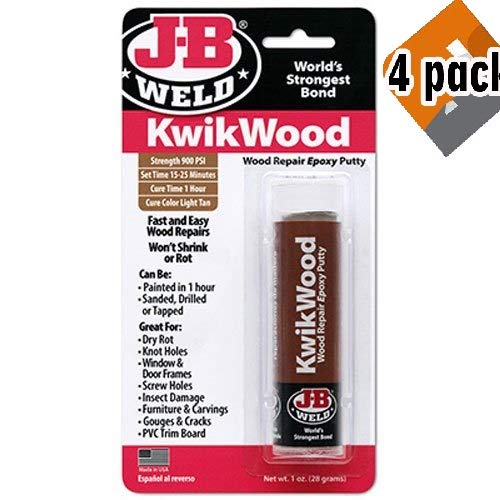 To make use of this filler, you will have to mix the epoxy before use. KwikWood says machining or other finishing tasks should be done after 60 minutes of application. It is also ideal for restoring wood going through a rotting phase.
Pros:
Average drying durations which makes it good for both small and larger applications
Durable filler which can be further processed at need
Made from epoxy which is non-hazardous
Cons:
Does not take a stain or paint well
It hardens solidly and is difficult to sand
FamoWood Eclectic 404026
Once again, another member of the FamoWood family makes the list. The Eclectic 40426 is a solvent-free wood filler developed for indoor and outdoor use. It does a fantastic job as a wood filler and it can be used on windows, doors, sills, furniture, fences, and other outdoor wooden components. The Eclectic 404026 dries in 15 minutes which is relatively quick. This also means a quick application is required when working on larger surfaces.

This wood filler takes paint and stains with ease and can be used to mask large cracks on design pieces. It does not crumble after application and further finishing activities such as sanding, planing or drilling can be done to the hardened eclectic wood filler.
Pros:
Quick cure times as it hardens within 15 minutes of application
Can be used for both indoor and outdoor applications
Cons:
Sticky lid makes it difficult to reuse the filler once it has been previously used
Its quick cure rate means you have to rush when applying it on large surfaces or jobs
GoodFilla Water-Based Wood Filler
If looking for cheaper options when purchasing stainable wood fillers, then look no further that the GoodFilla water-based product. This wood filler was developed for repair and restoration work. It can also be applied to indoor or outdoor furniture, windows, and doors.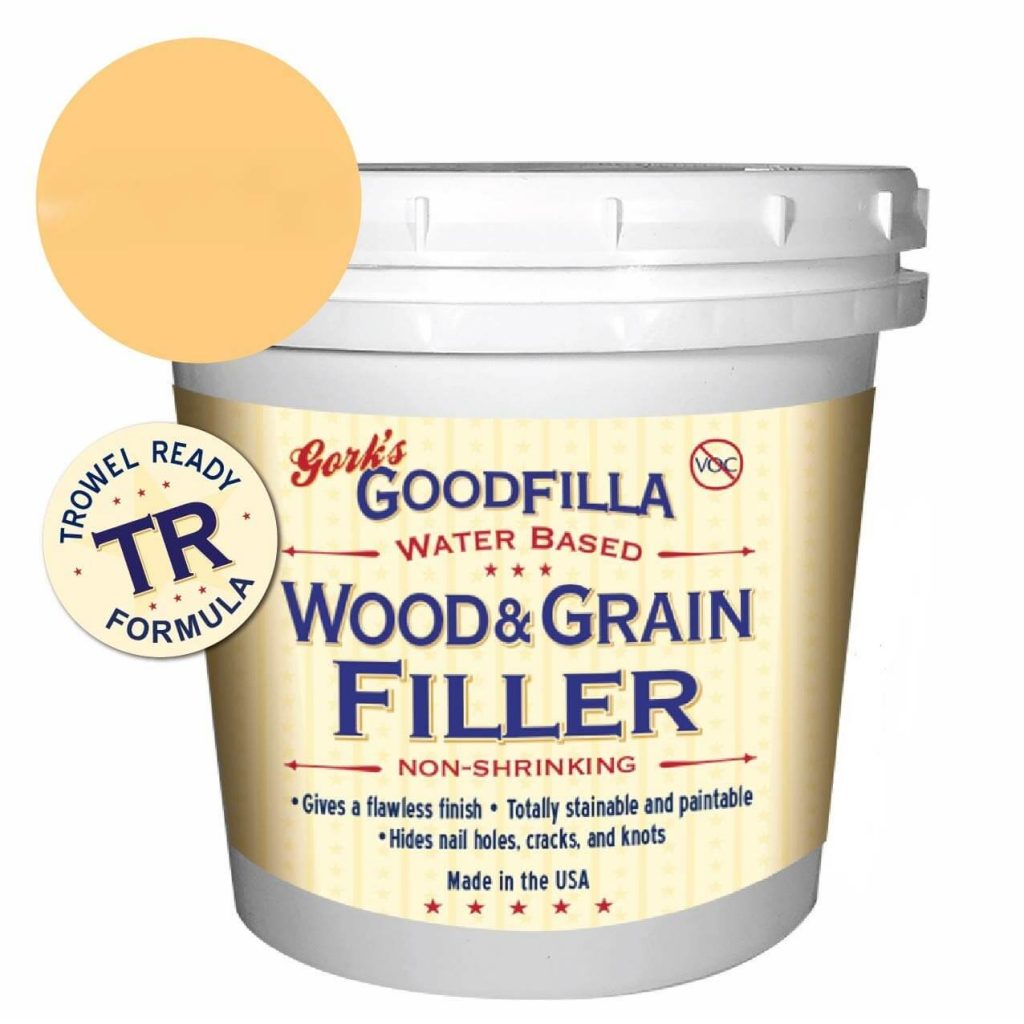 On application, the wood filler dries quickly and once hardened you can choose to work on it. The GoodFilla product can be sanded, planed and drilled after application. It is also a water-based solution which means it is environmentally friendly and easy to clear.
Pros:
The wood filler cures quickly and is good for small job applications
It can be used for both indoor and outdoor work
It is water-based which means it is eco-friendly
Cons:
On hardening, it forms a brown color which may not be what you want
It is a bit watery and requires the use of a tool when applying the solution
DAP 00585 All-Purpose Wood Filler
The DAP 00585 is a solvent-based wood filler that delivers high performance and enables the repair of furniture, windows, and other household items. The 00585 contains real wood fibers to provide a woody finish after application. When applied, it forms a wood filler that is 3 times stronger than wood. Thus, it is also a good solution for restoring rotting wooden structures.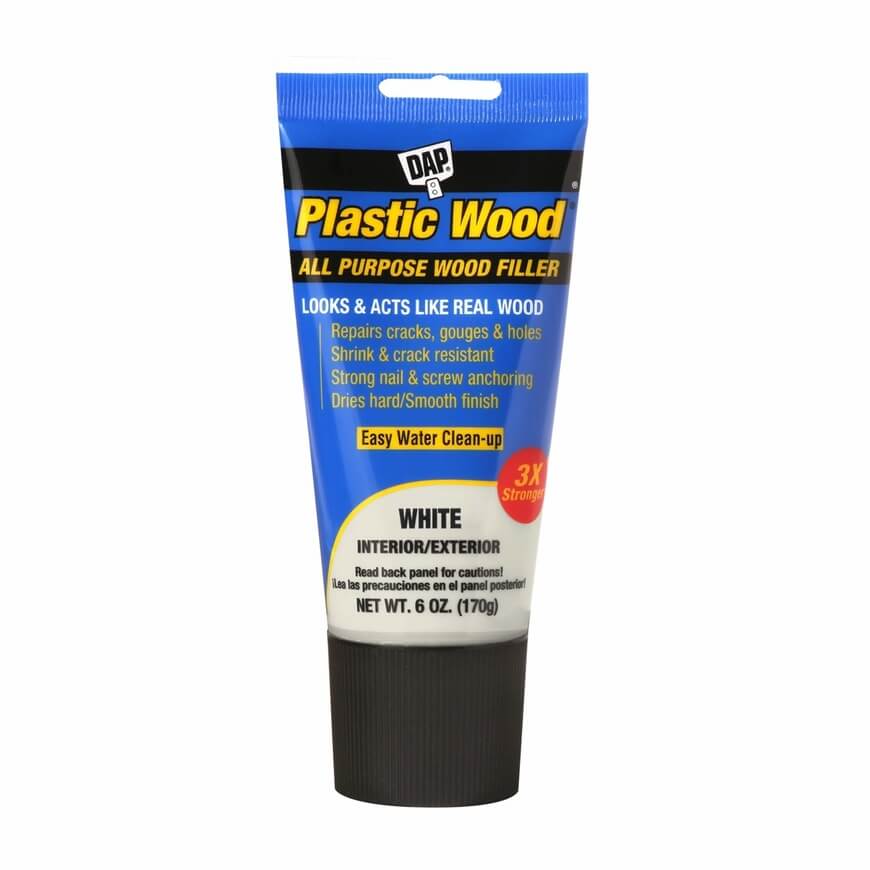 The filler offers strong nail and screw anchorage without splitting. It can also be sanded, cut, drilled, screwed, planed, stained, and varnished according to your needs. DAP 00585 dries quickly and forms a hardcover which fills up deep gouges and other defects to wooden surfaces.
Pros:
Wood fibers are integrated into the filler to enhance its look when applied
Quick cure times which makes it suitable for small jobs and DIY projects
Forms a covering which is 3 times harder than wood
Cons:
Quick-dry times means challenges using it for larger applications
The lid sticks which makes reusing the wood filler difficult
Timbermate Wood Filler
The Timbermate Wood filler rounds up this list. The Timbermate requires you to mix and prepare it before application and some instructions are provided on how to go about the repairs. This wood filler is good for repairing and restoring both indoor and outdoor wood items. It also protects wood and keeps extensive rot away.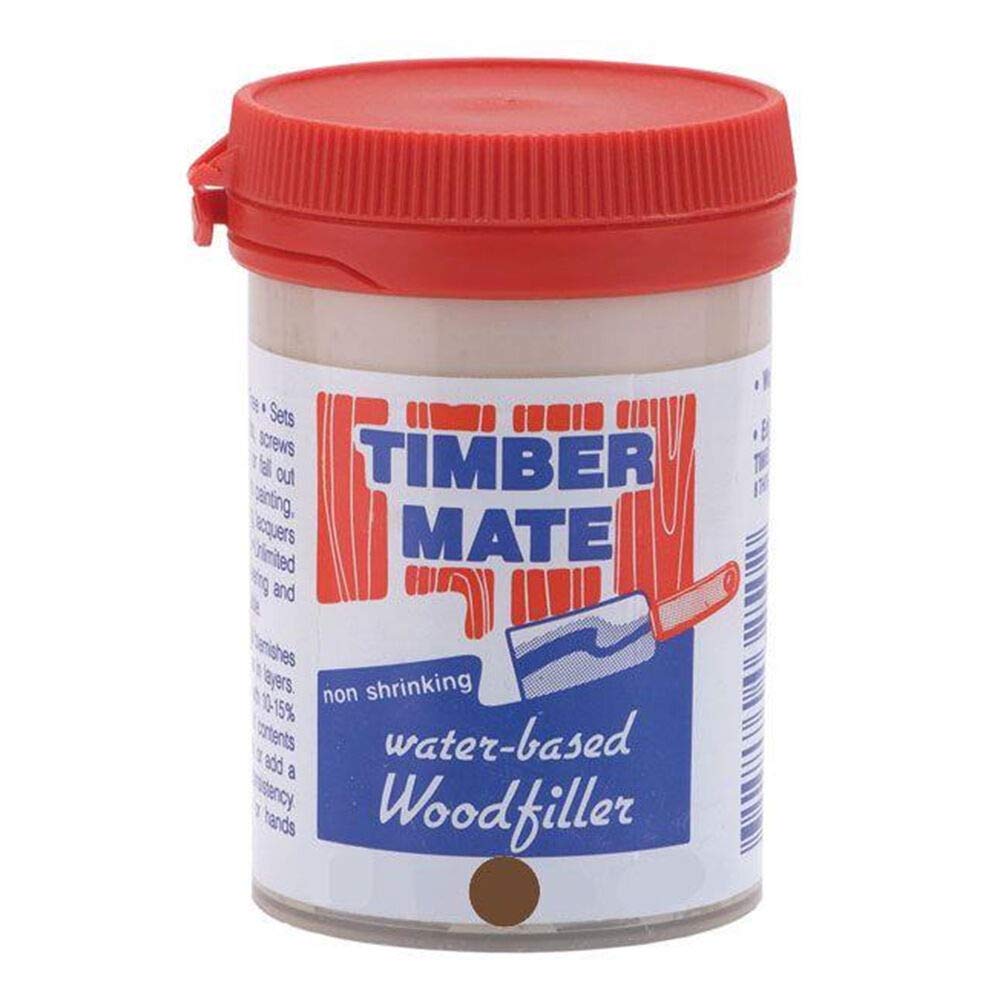 The wood filler cures quickly and within 15 minutes which is great for smaller application jobs but may lead to rushing when filling larger areas. Once applied and hardened, you can choose to finish the filler surface by cutting, sanding, or drilling holes through it.
Pros:
Does not shrink after application
Quick cure times which makes it an excellent instant repair tool
You can reuse it as much as you want even if it freezes or dries up
Cons:
Timbermate reacts to steel and can turn black
It dries out and may need water to form an applicable paste
How to Apply Wood Filler
There are different applications methods people use to apply wood filler and regardless of the method you use, you will need the following tools:
Putty Knife
Stain or paint
Polyurethane sealer
Sandpaper
Tack cloth
Step 1 – The first step involves preparing the wooding surface of the item you intend to repair. To do this, remove every loose part around the defective part and smoothening any rough edges using your sandpaper. Clear debris and dust from the application area using a tack cloth.
Step 2 – With the aid of your putty knife, you can now proceed to apply the wood filler. Fillers that need mixing before application should be mixed using the instructions provided by the manufacturer. Start the application at the beginning of the affected area before applying filler into depressed areas.  After filling up the area, flatten the entire area with your knife.
Step 3 – Wait for the wood filler to dry up before applying the finish you want. If the surface feels rough, sand the filled area before applying a finish.
Conclusion
Wood fillers are great solutions for quickly fixing and restoring wooden furniture to an acceptable level. When choosing a wood filler, you can let brand name or price determine your choice but there are many options out there for you to choose from which can be confusing. This is why we have provided this list to help you simplify the process of making a choice.