Most carpenters often assume that lighter machines perform worst simply because they are less sturdy and have few features. This isn't a fact with regards to portable router tables. The main trick here is getting things done in time on-the-go with little effort. Just as the name suggests, portable router tables are easily movable, safe and most importantly, easy to work with. To get a clear understanding of what this means, here is a brief overview of the features.
Light, Foldable with Accessory Storage Containers
Key Features
Ability to fold: Most are foldable making it easier to carry around especially when you have to travel to complete your work somewhere else far from your workshop.
Accessory storage containers: They also have storage containers that allow you to keep safely all useful accessories that you will be using.
Lighter in weight: For easy transportation, most of these router tables are much lighter compared to other types of router tables.
Small in size: One best feature is that they are often smaller in size so that they can fit anywhere, for example, in your car when traveling.
As you can see, they have almost everything needed to make your work easier. Unfortunately, not all are equal. Just like any other router table on the market, these king of router tables differ in prices, features, and most importantly, performance. To get what suits your needs, it is vital that you go through every detail when choosing one. To save you the headache, here are some of the two best router tables you can choose from.
Portable Router Table
Trim Router Table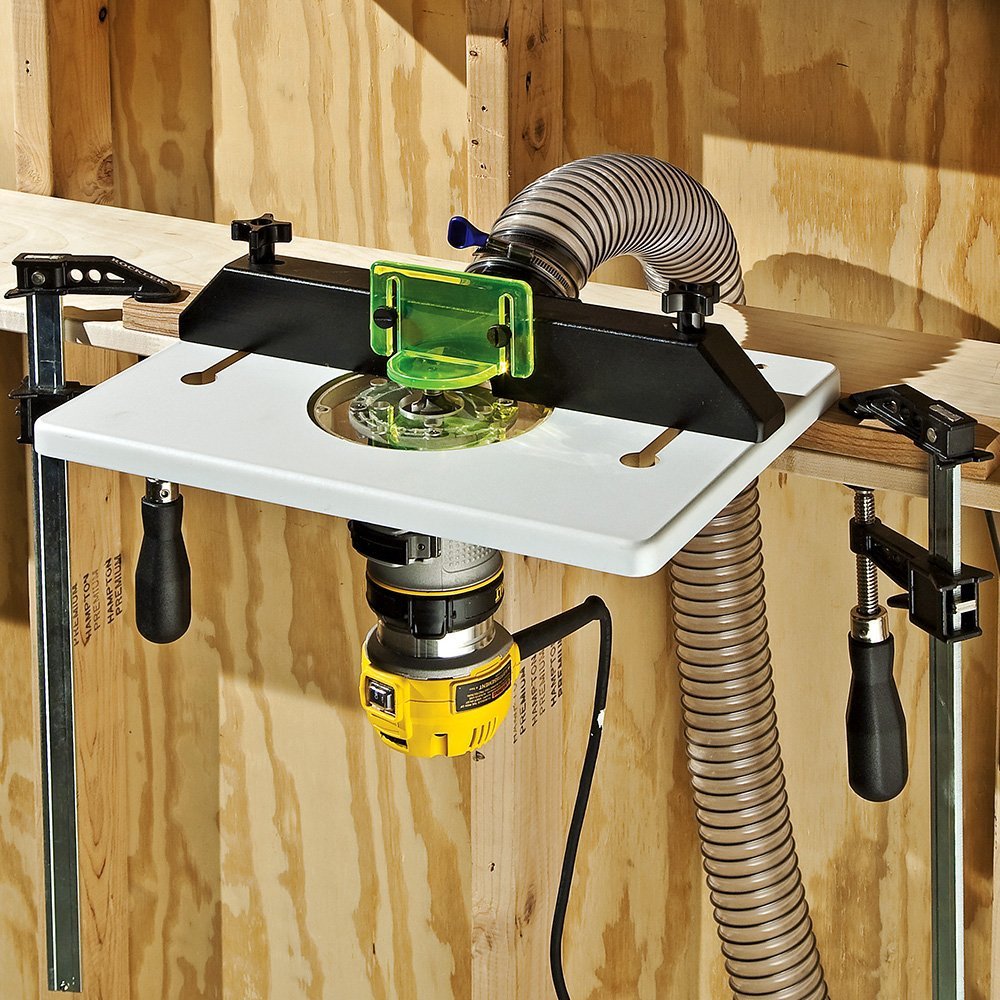 If you are too cautious about what comes out of your pocket then giving Trim Router Table a try will do you some good.
It is much lighter, approximately 6.7 pounds, easy to set up and the best part, features a large level base offering you more space to work on. At the back, you will see several pre-drilled holes that allow you to attach a clamping strip making your work much easier.
You don't need tools to detach the router from your table. This is one that has no limits. You can do almost everything with it. To understand why this router table makes one of your best choices, here are some of its salient features.
Specifications
Weight: 6.7 pounds
Measurements: (3/4 inches)(11-1/2 inches)(15-1/2inches
The predrilled acrylic base that measures 1/4-inch thick and 5-3/4 in diameter
T-knobs to make adjustments for the fence faster
---
---
Skil RAS800 Router Table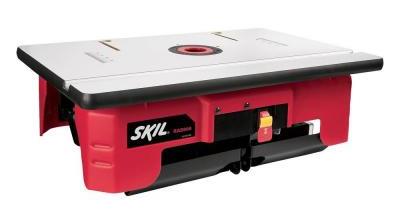 If you are looking for something that you can carry with you to any place, then Skil Router Table is undoubtedly your best answer. It might not get all the credits, but I'm sure it deserves more than it gets.
It is already assembled meaning that you don't have to waste any time setting it up. It is accompanied by an integrated storage bag where you can store your accessories such as router bits and fences when working. Other admirable features include a feather board, a guard, miter gauge and bit inserts.
What puts this simple workshop tool on top of its competitors is the folding design that makes it easy to store and carry around when traveling. A combination of stability and convenience makes it one of the best choices for a person working alone. Here are some of the reasons you might want to give it a try.
Specifications
Weight: 21.4 pounds
Measurements: 25.3'' x 15.8'' x 9.4''
Storage containers for accessories
Big height gauge
Feather boards for accuracy
Router mounting for easier changing of bits
Foldable router tables make your work relatively easier and faster because they are much lighter. They also have more than enough useful features. The truth is, they are the best, but not everyone sees it that way. Just like any other router table on the market, there are those who think they work best as well as those who feel it isn't the best choice for heavy-duty jobs. Here are some of its pros as well as its cons.
Pros
Lighter: The main reason they are referred to as 'portable' is the fact that they are much lighter compared to regular router tables. They are made of lighter materials and smaller in size making them easier to move and carry around.
Foldable: The ability to fold, reduces the size of the table making it easier to pack and store that is quite useful when traveling.
Easier To Use: One great benefit of using this kind of a router table is that it is easy to use. Everything is much clear and most importantly, you don't have to work so hard trying to set them up.
Astounding Features: Apart from being the lightest router table you will find on the market, they come with features meant to make your work easier. For example, most of them feature a storage bag; you can use to keep your accessories while working. The overall design is also quite appealing.
Cons
Durability Issue: One of the things that might put you off when going through portable router table features is the fact that they are not stronger compared to the heavier router tables available in the market. This is because they are supposed to be much lighter. Most of their parts are made of plastic that may easily break off while working.
Not Meant For Heavy Duty Jobs: The first time you go to the market looking for something much stronger, and one that will help you accomplish hefty tasks, you are probably not going to choose a light router table. They are not sturdy enough to handle heavy tasks. They are made of much lighter materials that may wear off quickly.
Bottom-line
Is a portable router table worth a try? Well, it depends on what you are looking for. What I'm sure of is that no one likes to work under pressure and with a machine with limits. The truth is, they are designed in such a way to help you do a perfect job in no time.
They have no limits, meaning that you can do your work anywhere anytime. It isn't a must for your clients to visit your workshop to get the job done. Instead, you can take your services to them. these router tables are easy to carry around, store and the best part is, they perform best. Why not give it a try?