You can't perfectly create an antique from any piece of wood without having the right tools. That's one fact not even the most talented carpenters can't do away with. The main struggle here is making a wise investment, and not just going for anything that would just do the job. You need a tool that will make your work easier for an extended period. Most call it a router table, but its exact name is, 'PRS2100 Kreg Bench Top Router Table.'
Steady, Reliable Benchtop Router Table with Cam Clamps and a Big MDF Table Top
It might sound like an exaggeration, but the truth is, this is one workshop tool that will make you a working machine. According to users, its performance is ultimately the best, comes with remarkable features and most importantly, cheaper compared to its closest rivals. It is also one of the top-rated router tables you will ever come across. You may not buy my word for it, but check out for yourself what this simple machine has in store for you.
Key Features of the PRS2100 Kreg Bench Top Router Table
Three Level-Loc reducing rings
Markings engraved with a laser for mounting a router
Upgraded high-quality fence made using aluminum (anodized)
New cam clamps
Sliding faces that are adjustable
Large table made using MDF
Miter gauge slot
Thick rubber feet
Predrilled holes
What Is So Unique About this Kreg Bench Top Router Table?
The Kreg PRS2100 is one machinery that will give your workshop a professional touch. Compared to previous Kreg's versions, it is quite elegant, and the best part is, it offers more than enough admirable features.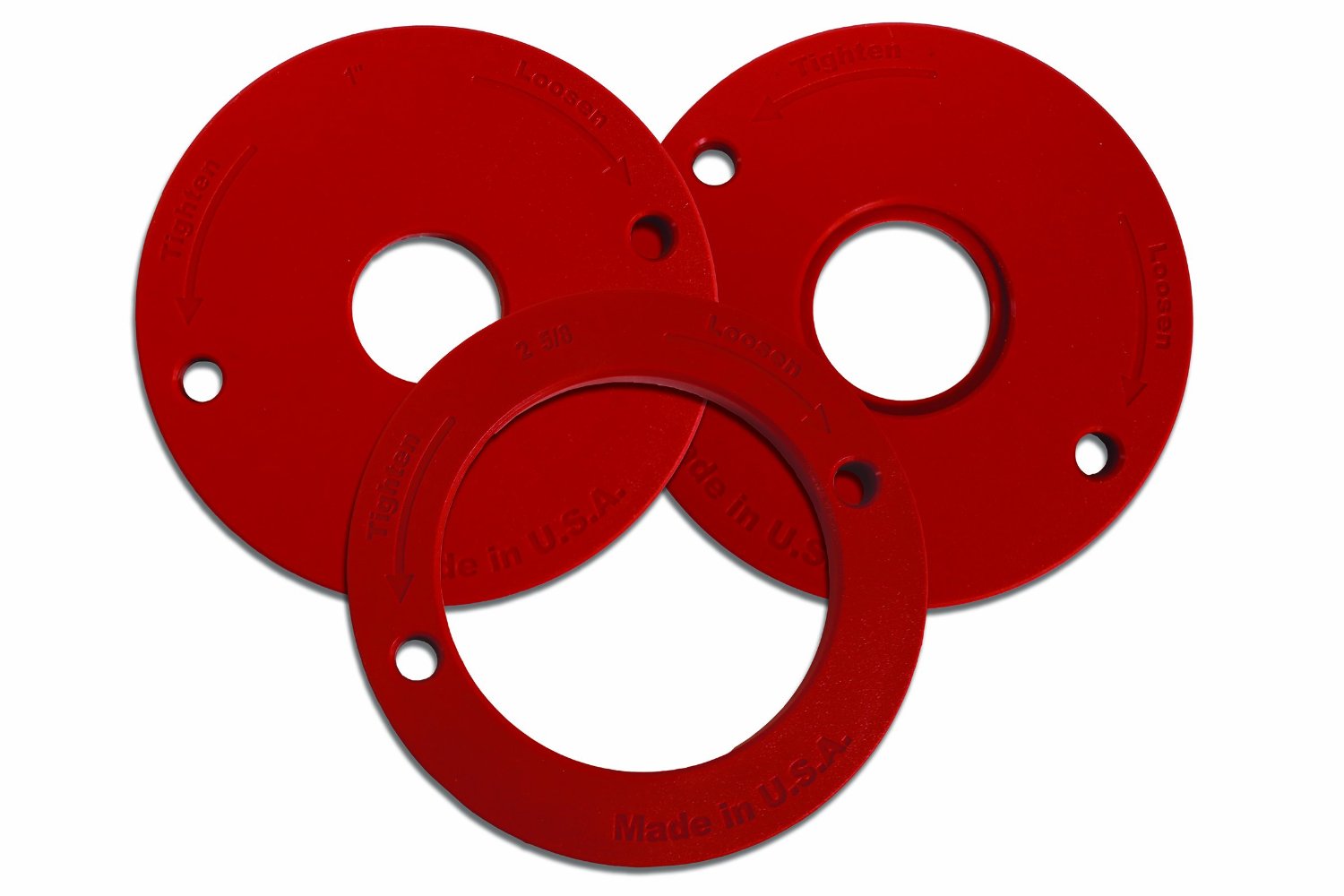 The insert plate measures 9-1/4-inch by 11-3/4 inch by 3/8 inch that is large enough to support big routers. It also comes with three Level-Loc rings that work best to twist into place, flush with the surface of the plate.
A look at the underside reveals markings engraved with a laser that functions best to ease mounting the router.
For better precision, this router table comes with insert levelers, benchtop router, and a high-quality fence. For safety and convenience, the PRS2100 has cam clamps that make it easier to adjust the high-quality fence as well as locking it in place. It is also one of the quietest router tables you will ever come across.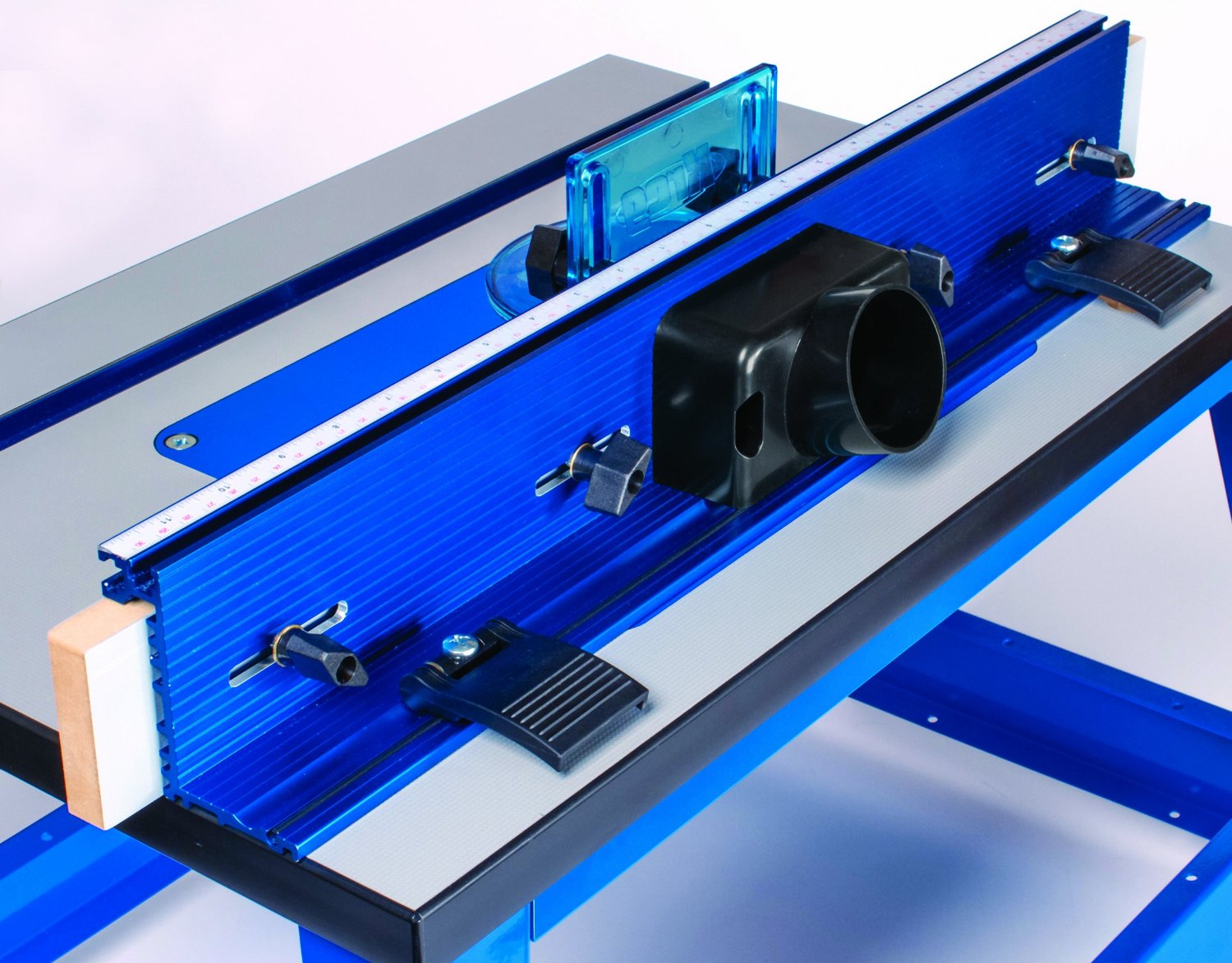 The Kreg PRS2100 is made using a very thick MDF whose primary purpose is to dampen vibration. A piece of thick rubber that helps reduce the noise while you are working is also fitted together with the table. If you are looking for something that will serve you for a very long time without compromising the quality of work, then you will find its sturdy steel stand quite fascinating.
This Bench Top Router Table promises to be an ideal router table for your workshop.
Below is an honest look at the pros and cons of this magnificent router table.
PROS
Safe And Stable: One trick to making accurate cuts and curves is working on a stable machine. Fortunately for Kreg PRS2100 Bench Top Router Table, you don't need to sweat it. This simple router table features a very stable benchtop having a large MDF tabletop; it also comes with cam clamps, and the best part is, it can handle even the largest routers making it one of the most convenient router tables you will find in the market.
Easy To Use: As mentioned earlier, this is also one router table that will make your work easier simply because everything seems to be in its place. It comes with an Industrial-quality fence made of anodized aluminum. The cam clamps make adjusting seamless and firmly locking into place the adjustable Kreg's fence and thus making your work easier.
Flexible: One reason this amazing router table scares its competitors out of the market is the fact that it is flexible. Unlike the previous versions, the PRS2100 features a router insert plate that is full-sized. You can use the 3 Level-Loc rings to insert and to lock the router into place. You don't have to worry about the router sizes either. This Kreg's masterpiece works best with almost all sizes, specifically the large-sized routers.
Operates Quietly: Noise might interfere with your focus, and no carpenter wants that. Unlike most router tables you will come across on the market, this Router Table features an open design making it one of the quietest table routers you can find on the market.
CONS
Plastic Parts: The plastic parts aren't as durable as said to be: As mentioned earlier in the article, this is one of the strongest table routers you can find on the market. Other users don't feel the same way simply because some of its parts such as the fence are made of plastic.
---
---
What Do Others Say?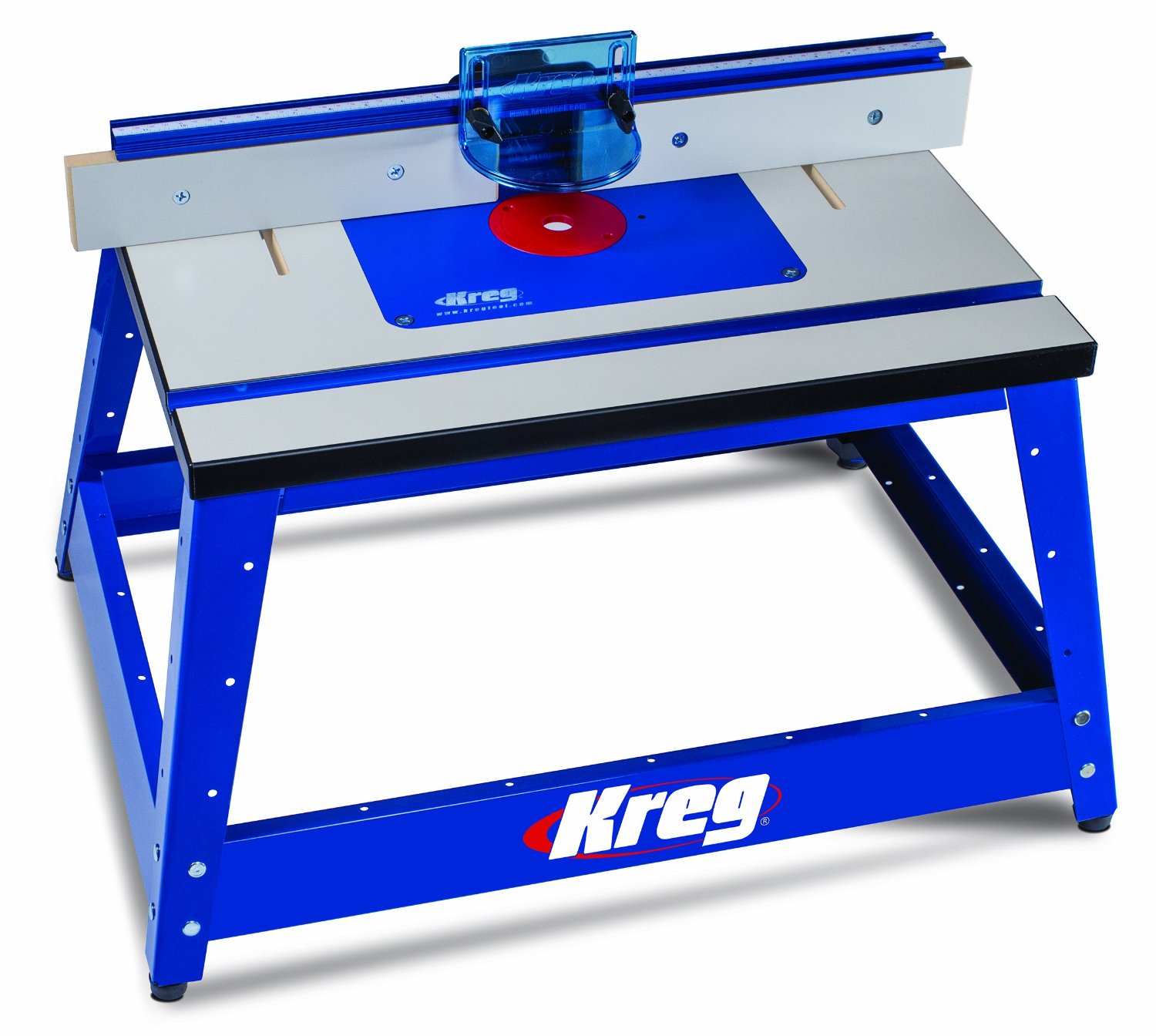 If you are looking for an affordable router table that would serve you well, the Kreg PRS2100 benchtop router will undoubtedly be your ideal choice. However, just like any other product, it can't escape some criticism.
There are more than enough customers who consider it one of the best as well as those who think it needs some improvements. Most clients attest to the fact that it is easy to assemble, easy to work with, performs best, and comes with more than enough exciting features and more.
Contrary to what happy users are saying, few dissatisfied users claim that it isn't quite reliable as they say it is. It has several issues that need to be fixed such as the screw head not fitting well inside the miter gauge. The plastic fence seems not to please many as well.
The good news is, not all have the same issues, meaning that those with faults are just a few that were improperly put together. Summing up all the reviews, it settles at a 5-star Rating after one review which is quite promising.
The Bottom-line
Highly sophisticated machines such as router tables offer a great challenge when it comes to choosing. If you aren't careful enough, you are likely to end up spending too much on something only to regret it later. Fortunately for the Kreg PRS2100, everything is quite clear, meaning that you don't have to spend three-quarters of your precious time doing research.
It offers more than enough new and exciting features that make it easier to use. Unlike Kreg's previous versions, it offers a lot of workspaces making it simpler to complete tasks quickly. However, just like any other router table on the market, you can't miss a few faulty ones. I might not be the best judge here, but I must say that this is one router table that would serve you best for a very long time.