You can never fail to get what you want when it comes to router tables on the market. But one thing doesn't come easy. That is, finding a router table that combines precision, adequate working space, ease of use and salient features in one great performance.
Even when you think you have the right one, you'll always miss a thing or two. This is one thing that makes the 40-001 outstanding. Unlike other router tables on the market, this one seems to have all the answers most professional woodworkers look for. Take a look for yourself.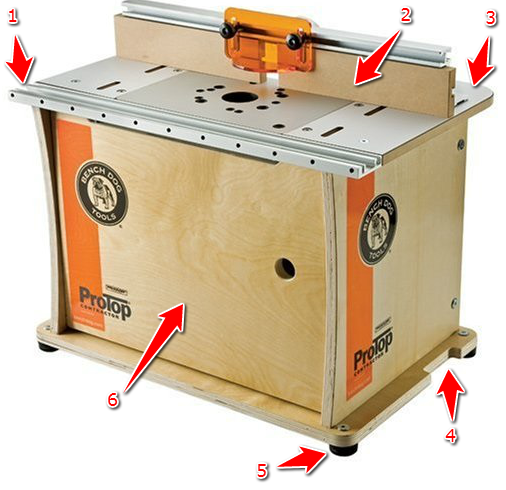 Aluminum miter accessory track is adjustable to fit all standard miter gauges
Includes 22″ ProFence with integrated 2-1/2″ dust port
24″x 16″non-marring laminate top
Recesses secure table between 2 x 4s
Rubber feet prevent slipping
Enclosed birch plywood cabinet reduces dust and noise
Key Specifications
Acrylic Insert that accepts almost all routers
A router table measuring 16-inch by 22-inch with its top laminated with plastic
An aluminum fence that has T-Slots
Measurements: 26.8" x 22.8" x 5.1"
Weight: 43.2 pounds
2-year warranty
Why Choose Bench Dog 40-001 Pro Top Contractor Bench Top Router Table?
You might have a particular router table in mind when you go out looking for one, but what I'm quite sure of is that coming across Bench Dog 40-001 Pro Top Router Table will leave you startled. Bench Dog boasts of its compact design, ease of use and its sophisticated features that many woodworkers look for.
It also features a dual-position fence and a forward offset router location that gives you an adequate workspace unlike what you'll find with other router tables on the market.
Other things to admire are the Pro Fence featuring a dust port, a router insert plate that is pre-drilled and an aluminum miter accessory track that works with most routers. You may also admire the plywood cabinet that works best to minimize the noise while in use. Here are some good reasons you might find it quite outstanding compared to its closest competitors on the market.
What You Might Like About It
Precision
Whether you are a pro woodworker or just an amateur trying to tackle some home-based tasks, you need something that will make your work easier. You need a router table that will allow you to achieve precision without working so hard, and that is where this Pro Top Router Table comes in. It offers guidance, versatility and everything you'll need to achieve precision.
Working space
When working on tougher projects, the last thing you need to haunt you is the working space. Bench Dog 40-001 Router Table features a non-marring laminate top that measures 24'' by 16'' to give you adequate working space. The top is also constructed using stress skin for flatness and strength.
Environment-friendly
Working with a router table can sometimes be messy especially when you don't have all the time to clean your workshop. Unlike most router tables on the market, Bench Dog Router Table comes with a birch plywood cabinet that is enclosed and works best to reduce the dust and noise hence gives you an easy time when working on tougher projects.
Easy to use
Most router tables don't allow you to work on most routers only because their inserts are not designed to accept several router types but, specific ones. This one features an acrylic insert and a predrilled router plate that makes installing a variety of router types from popular brands such as Fein, Bosch, Hitachi and more much easier. It also features an inbuilt cabinet that offers a lot of space for all sorts of routers and other useful accessories.
What You Might Not Like About It
The size
Most users complain about the router table is small. However, this doesn't affect the working space in any way possible. Despite the small size, it features a top that measures 24" by 16" providing you with adequate working space.
Compatible routers
Bosh 1617/1618
Craftsman Fixed base
Dewalt DW621
Dewalt DW625
Dewalt DW616/618 Series
Fein RT-1800
Hitachi M12VC
Makita 1100 Series
Milwaukee 5615-20/5618-20
Porter-Cable 690/890 Series
Porter-Cable 7529 Plunge
Ridgid 2900
Ryobi 161k
Ryobi 180PL
Skill 1823/35/40/45-02
What Others Say About It
Apart from its astounding features and more, going through user reviews of the product will leave you startled. Here are some of the things a few happy customers had to say.
While many love this product, others find that the size of the table is a bit small and quite limiting when it comes to serious work.
Summary Of Customer Reviews And Ratings
Summing up all the reviews, the Bench Dog 40-001 Pro Top Contractor Router Table settles at a 4.3-star rating after 207 user reviews. More than 60 percent of the users are happier to have it on the market.
Others are not satisfied with its small size and to make up for it, the manufacturers ensured that its size isn't one of the hindrances when using the table. They made sure that the top was large enough to handle any tough project. Trying to compare with other available options on the market, the higher rating, and positive reviews make Bench Dog 40-001 Pro Top Contractor Bench Dog Router Table one of the best router tables on the market today.
Buy It from Amazon
Not all dealers are genuine. Not all will give you the exact Bench Dog 40-001 Pro Top Contractor Bench Dog Router Table, but its replica. To be sure you have the right product and at a fair price, you need to buy it at Amazon.com.
---
---
The Bottom line
There are a lot of router tables on the market, meaning that you can't run out of options. What you must remember is that, not all router tables are equal and to avoid any regrets, it is vital that you do thorough research.
Well, I did my research, and this is one router table you might want to give a try. As you can see, it offers you a variety of useful features; it is easy to use, and most importantly, a larger percentage of its users find it convenient.