If you're a serious woodworking enthusiast looking for the best palm router, here is our attempt to help you find it. It's easy to get sucked into a tool-collecting vortex when you see all the shiny new gizmos in catalogs and websites. Fortunately, you can justify owning multiple routers. Even if you already have a full-size router or two, a palm router will come in handy for lighter tasks.
Introducing the Palm Router
A palm router, also known as a laminate trimmer or trim router, is a compact router designed for light-duty operations. Palm routers have small motors (under 2HP) and accept ¼" shank router bits. A few models also work with other shank diameters.
 Jump to the list of the best palm routers
In professional cabinet shops, woodworkers use palm routers to trim plastic laminate and veneer. They glue oversized pieces of laminate to particleboard and trim the excess material with flush trimming bits mounted in palm routers. This kind of work would be exhausting with heavier and larger tools.
Editor Choice
Best compact router comparison table
Festool 574368 MFK Trim Router

MLCS 30 Trim Router

Bosch PR20EVSK Colt router

Porter Cable 450PK palm router

DeWalt DWP611 trim router


Router Type





Fixed & Plunge




Fixed-base




Fixed-base




Fixed-base




Fixed & Plunge




Fixed & Plunge




Fixed-base




Fixed-base


Horsepower





1-1/4




1




1




1




1




1-1/4




1-1/4




1-1/4


Collet Diameter





1/4″




1/4″




1/4″




1/4″




1/4"




1/4"




1/4"




1/4"


RPM





16,000 - 27,000




10,000 - 26,000




10,000 - 30,000




15,000 - 35,000




16,000 - 35,000




up to 27,000




up to 27,000




16,000 - 35,000


Weight
(Pound)





8




11.3




5.6




11.8




14.6




10




5.5




5.2


Dimensions (inches)





7 x 10.2 x 19.2




6.4 x 6.4 x 15.5




10 x 8 x 6




15 x 13 x 8




21.5 x 16.2 x 7.2




19.2 x 10.2 x 7




5.6 x 11.5 x 7.3




8.3 x 8.3 x 5.8
The Best Palm Router list
You've learned about what palm routers are and what they do. Now, here's a look at ten of the best palm routers, starting with the least expensive. These are all excellent tools, so choose one that fits your budget and has the features you need most.
DeWalt DWP611
Editor Choice
The DEWALT DWP611PK is a 1-1/4 HP router featuring variable speed control. It shares a lot of features with the Porter cable 450PK 1-1/4 HP.
The DWP611PK combines power, performance, comfort, convenience, and precision all in one package. A powerful 1-1/4 motor for power does a fantastic job just as the LED that provides illumination on the working area.
Pros
The bits for plunge use.
Rubber handles included for a firm grip.
Dual LEDs ensure max visibility while in operation.
Speed control for various applications.
Motor with a soft starter.
Depth travel for up to 1.5 inches.
Allows for exceptional user control given its smooth depth stroke
A 5 step adjustable turret stop enables stepped plunge cuts for precision and consistency.
Features a couple of tabs for a quick base release.
An added feature of a new base and adjustable clamp, to have motor location kept in position through toughest uses.
Router collet of a size of 1/4 inch.
Up to 3 years of warranty coverage.
Cons
It at times melts out parts during extensive use, for example, brushes
A 1/4″ collet may be a limiting bit choice
The d-shape may not accept all standard guide bushings
MLCS Woodworking Rocky 30 Trim Router
This version of the Rocky Trim Router is one of the easiest to use while at the same time very efficient in delivering service. The new MLCS 9056 Rocky Trim Router has added features that compliment it's already high ranking profile. It boasts of a high-performance 1-HP motor speed adjustable from 10,000rpm to 30,000rpm by only using a speed control dial located at the top of the motor.
Pros
Its 1-HP motor speed is variable from 10,000 rpm to 30,000 rpm making it fairly versatile
It has a 1″ long rule fixed into the aluminum housing marked in 1/16″ as well as 1mm long increments.
The motor is double insulated and includes a spindle-locking button to expedite single wrench bit changes.
The MLCS 9056 Rocky Trim Router has a rack and pinion height adjustment system employed in adjusting the motor's height.
This version of the Rocky Trim Router possesses a rubber pad that partly wraps the base and offers a positive gripping surface whenever the router is held in the palm.
The MLCS 9056 Rocky Trim Router is a heavy-duty machine yet a very easy to use a router.
Cons
At times the router becomes hot and smells as if it's burning when in intensive use
Bosch PR20EVSK Colt
Bosch PR20EVSNK Colt
Bosch PR20EVSNK Colt Installers Kit 5.7 Amp 1 Hp Fixed-Base Variable-Speed Router with 3 Assorted Bases and Edge Guide
Check Current Price
Learn More
We earn a commission if you click this link and make a purchase at no additional cost to you.
The Bosch PR20EVSK Colt is one of the bestselling and most reviewed routers today. It's a versatile tool perfect for performing custom carpentry, mortising hinges, and trimming laminate flooring/deck planks among other professional and at-home based jobs. With it comes a big power package, small but compact.
The Bosch PR20EVSK Colt has a powerful motor, variable speed, and has an adjustable depth to ensure precise results. Also, it has a package of user-friendly features for comfort, flexibility, and reliability. This version of the Bosch routers has constant response circuitry for stable motor speed.
Pros
Efficient cooling while in intensive use
 Its Speed dial is variable and is easily accessible. It's located on the router's top
It has an indicator to let you know which direction the bit is going to take while rotating.
Unlock/lock mark on the side of the router
The angled cord maintains the cable away from the work area thus limiting chances of it being cut off while in active session
The Bosch PR20EVSK Colt has a soft start thus reducing start-up torque
It comes with an edge guide. The PR002
Cons
May not be easy to use for beginners
In rare instances, the power output was discovered to be insufficient
The base can at times prove to be very slippery
The fixed base limits its plunge base performance.
The location of the adjustment wheel makes it somewhat difficult to adjust the depth
Makita RT0701C 1-1/4 HP Compact Router
This router is a 1-1/4 HP compact router with adjustable speed control allowing to make it run from 10,000 to 30,000 RPM. The RT0701C is an amazing piece of engineering, able to perform a wide range of routing applications. The complete set comes with additional features such as a soft start feature. Durability is assured through double insulation using a heavy-duty motor housing made of aluminum.
Pros
A soft start to minimize the start torque of the motor. This is achieved through a 6 1/2 Amp 1-1/4 Horsepower Motor
Equipped with variable speed control that goes from 1-6. This gives speed options of between 10,000 to 30,000 RPM depending on the application.
Equipped with a depth adjustment system allowing for precise settings.
Electronic speed control that ensures constant speed when putting under load
Changeable base allows for other base types to be used together with this router
It has a durable flat top design for easy changing of bits
Comfort and control are guaranteed through a slim and ergonomically designed body
Cons
The power switch does not have a dust shield
The motor is likely to drop when the base is unlocked
It requires two wrenches to change the bits
Does not have a micro depth adjustment
Ridgid 1-1/2 Horsepower Compact Router
The RIDGID 1-1/2 HP Compact Router brings with it an exciting mix of features that allow for precision, admirable performance as well as durability. It has a soft start to minimize start-up motor torque thus extending the life of the motor.
It also features adjustable speed control for different applications and material types. Depth control is assured through the introduction of a micro-adjust dial. The most common version is the #R24012 model.
Pros
It has a LED light to illuminate your work station (increased visibility)
A soft start to minimize the start-up torque as well as extend motor life
Variable speed control allows for diverse application and material type
It features a spindle lock for easy bit changes
A round and square base allows room for more convenience and versatility in your workstation
It also has an easy access micro-adjust dial for precise depth adjustments
The RIDGID 1-1/2 HP Compact Router has an electronic feedback system for consistent power and speed
It has a dust shield to control the direction of dust.
The motor is easily removed from the base through a quick-release lever
Flat top allows the router to sit upside down while changing bits
Cons
It's corded meaning the cord may get cut off when the router is under load
The horse length is only 8feet
Porter-Cable PCE6435
The Porter-Cable PCE6435 Laminate Trimmer is of one the best laminate trimmer available today. It packages a lot of features that ensure precision, utmost performance, and control.
The Porter-Cable PCE6435 Laminate Trimmer has an onboard LED for improved visibility, adjustable speed ranging from 16000-35000 RPM as well as a 5.6 amp motor for power and durability. The ergonomics provide for increased handling and comfort. It can be single-handedly controlled. It's best for most trimming, hinge routing, and small edge forming applications.
Pros
Has a variable speed ranging between 16000 and 35,000 RPM in addition to a 5.6 amp motor for  power and durability needed for cutting various materials
It's most ideal for most trimming, hinge routing, and small edge forming applications
Onboard LED offers improved visibility in the work station
It can be single-handedly controlled given the amazing ergonomics
Its precision is machined and has a cast-aluminum fixed base for long term durability
Motor release and depth adjustment is made easy using an extra-large locking clips
Depth rings attached to this laminate trimmer also provides for accurate and quick bit height adjustments
The additional spindle lock button is included for single-wrench bit changes
It has a 1/4 in. collet
Porter-Cable 450PK
PORTER-CABLE Router
PORTER-CABLE Router, Compact, 1.25 HP (450), Soft-starting motor, Adjustment ring, Ergonomically designed 
Check Current Price
Learn More
We earn a commission if you click this link and make a purchase at no additional cost to you.
This router features 1-1/4 HP, is a fixed/plunge router with a powerful palm-grip. The Porter-Cable 450PK is capable of handling both light and heavy-duty woodwork tasks despite its lightweight.
This is partly made possible because this router does integrate easily into both fixed and plunge arrangements.
You will need this masterpiece whether you are a woodworking professional or a DIY type. It's the recommended router for cabinet construction, sign making, decorative cutting, and even delicate inlay work.
Pros
Comfort and control are assured by it being excellently compact and lightweight in design.
The 1.25HP motor is amazingly durable and delivers power irrespective of the technicality of the application.
 It has a soft start motor with an all-round clock electronic feedback mechanism for speed maintenance throughout your on-load session
Bit depth control is guaranteed through the adjustable ring, can be brought to within 1/64."
Single wrench bit changes can comfortably be achieved through the large, low-pressure spindle lock button
The motor can be maintained in any desired position with the aid of the Depth ring and clamping mechanism. This is for the fixed base only
Precise depth setting has been made possible by the inclusion of a fine-tune adjustment rod in the plunge base
The Motor can easily be converted from fixed to plunge bases orientations
Stability is guaranteed by having a large plunge base platform
Extended 8-slot 1/4″ collet allows for a tighter grip by maximizing surface contact with router bit shank
Cons
It may prove somewhat difficult to use on jigs as the bits may not reach the area to be cut.
May not have enough horsepower for anything larger than ¼ cutter flute or round over
Bosch PR20EVSPK
Bosch PR20EVSPK
Bosch PR20EVSPK 5.6-Amp Colt Palm Grip 1-Horsepower Fixed and Plunge Base Variable-Speed Router Combo Kit
Check Current Price
Learn More
We earn a commission if you click this link and make a purchase at no additional cost to you.
This cold palm router is of a variable speed type and is proven to be an exceptionally versatile tool. It is of those routers good for performing mortising hinges, trimming laminate flooring, deck planks.
It is a robust router featuring a 1 HP and allowing a speed variation from 15,000 to 35,000 RPM. Its soft-start help reduces startup torque. When the router is working overload, its constant feedback circuitry monitors and maintains the speed for consistent performance.
Pros
1.0 HP output for extensive routing applications both at-home and professional jobs
Variable speed
A Soft Start  that reduces torque at start-up for extended motor life
Circuitry for monitoring and maintaining the speed when the router is under load.
Angled cord to make sure the cord is kept far out of the way
The PR20EVSPK  has a rough plunge base combined effortless plunge-action as well as a depth rod with micro-fine adjustment and a plunge lock release lever
The PR20EVSPK  boasts of a fast & precise depth adjustment systems
The PR20EVSPK  has a comfortable grip area  and is probably the best on the market
Multipurpose and fast bit changing system
Cons
The push-button Spindle Lock 's hard to maneuver but may be avoided using two wrenches
No dust cover over the power switch
Notches and markings are missing on the edge guide
It may get very hot during usage which calls for the usage of gloves
Festool 574368 MFK 700 EQ Modular Trim Router Set
The Festool 574368 router is designed to suit all your shop-based and job site trim routing needs and offers unbeatable precision and flexibility. Its systematic design added to its multiple base options delivers a swift transformation from vertical to horizontal routing positions. Comfort and control are well taken care of in this masterpiece of a router by having the base relatively wide and an easy-to-grip handle.
The manufacturers added even more amazing features as can be seen in its micro-adjustability, a ratcheting collet, and repeatable depth stops. You can use it with bearing-less bits when combined with the attachable feeler bearing. Dust extraction allows for increased visibility and saves you clean up time. This Festool router has warranty coverage of up to 3 years.
Pros
The 720-watt motor is capable of handling most trimming, routing, and profiling applications
Variable speed
Detachable cord.
The inclusion of a Threaded insert allows for integration with template guides. This provides for a smooth glide on a surface without the need to mar the material to be routed.
The dust extraction port allows you to attach a vacuum dust extractor.
A Multi-Material Control (MMC) Electronics guarantees the motor of the MFK 700 delivers a constant spindle speed when under load.
The MFK 700 Router features a one-wrench collet.
A tool-less base system for quick and easy change between the horizontal and vertical bases supplied with the MFK 700.
Super Fine Micro-Adjustment
Cons
This router is quite expensive
Makita RT0701CX7 1-1/4 HP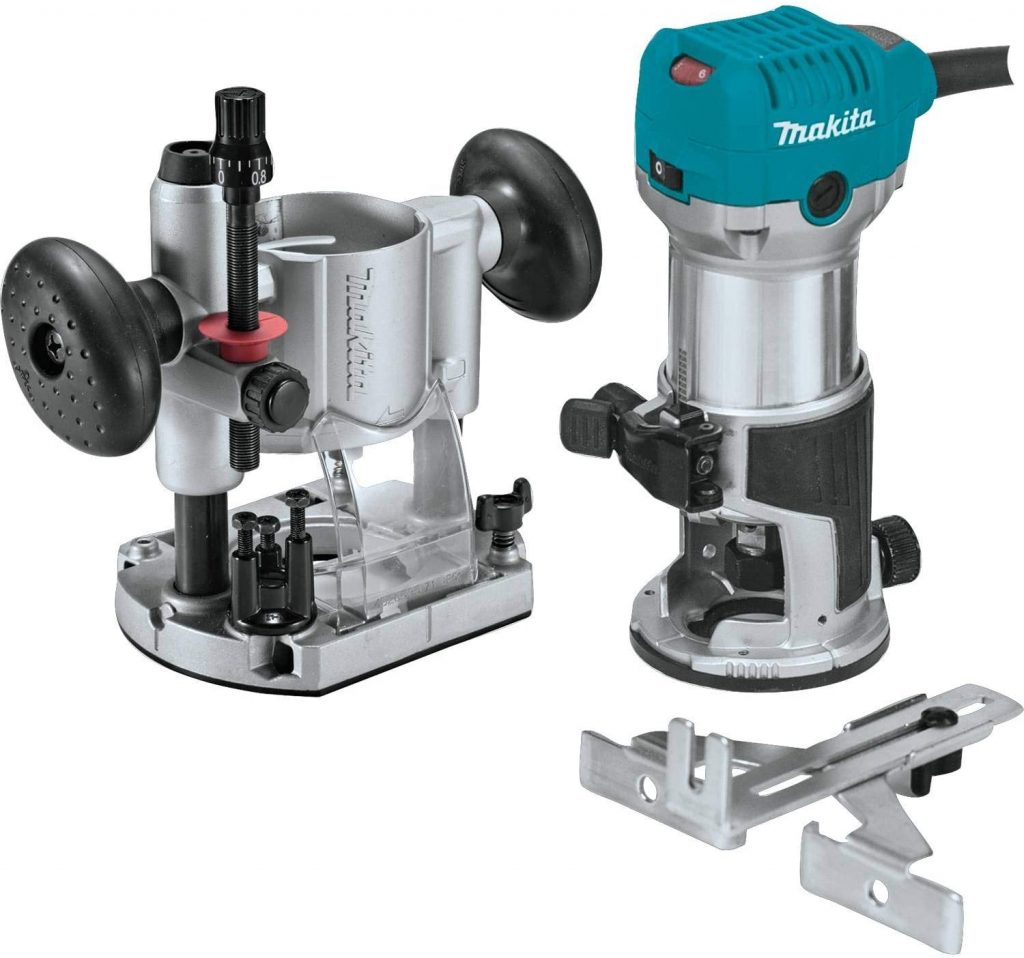 Makita RT0701CX7 1.25 HP offers an excellent mix of characteristics. This router is easy to use, has power, and its ergonomic features provide for efficient handling, visibility, and overall performance.
This router is capable of handling a variety of applications ranging from small bevel cuts to large edge profiles, heavy flush trimming, or as dictated by the application. Moreover, this Makita masterpiece has a smooth rack and pinion depth adjustment system for precise settings. The complete package comes with a fixed base but can as well integrate well with plunge bases.
Pros
A special ergonomic assembly (handle) allows you to efficiently handle the router, especially when shifting from plunge to base or vice versa
This router is perfectly compact and has few limitations on what workspace you can operate in
It has different speeds that suit different applications and materials. It can do up to 30000RPM
It also has a soft starting motor which means low torque on start-up. This extends the motor's life
Additional adjustment ring allows for bit depth changes to within 1/64
Two tabs are included to allow quick and easy release of the base
A new adjustable clamp design to maintain the router/base position even in difficult applications
low noise level
Cons
The edge guide works only with the standard base
A different edge guide is needed if you wish to use the plunge base for straight-line work
Uses for a Palm Router
Anytime you need to do a lot of routing with a small bit, a palm router can be a good choice because the reduced weight eliminates the fatigue that would occur from handling a bigger tool. Chamfers and round overs are perfect chores for a palm router. ¼" shank bits for these operations are widely available. You'll also be able to fit a palm router into spaces that are too small for a full-size router.
Palm routers are also helpful in shops that use CNC technology. Small parts tend to move around when cutting on a CNC machine, so woodworkers use a technique called "onion skinning" to prevent this. Here's how they do it: The CNC routes most of the way through a piece of stock, leaving a small "skin" that holds the part in place. Then, a woodworker routes through that skin with a palm router and flush trimming bit, which releases the part from the stock.
Commercial CNC machines like those used in big shops use electronically controlled router spindles, but hobby machines are often fitted with palm routers. You'd probably be surprised by the complex work a palm router is capable of producing when used in a CNC machine. Woodworkers make all kinds of interesting things this way, including 3D carvings, guitar bodies, and signs.
Spindle Locks
If you're shopping for a palm router, you should look for a few key features. Good routers have spindle locks that make bit changes easier. A spindle lock is usually just a button you press that prevents the spindle from rotating and allows you to loosen the collet nut with only one wrench.
If your router doesn't have this feature, you'll need two wrenches to change bits. Spindle locks tend to malfunction on cheap routers, so your best bet is to look for a router designed for professionals.
Square and Circular Bases
Many of the palm routers available today have square or rectangular bases, which are helpful when you need to route against a straightedge. It's easy to keep the router on a straight path by keeping the flat edge of the base against whatever you're using as a guide. Circular router bases aren't always perfectly symmetrical.
When they're not, your bits can be off-center by 1/32" or more. If you're routing against a straightedge and you rotate the base even slightly, your cut can end up being crooked. A circular base doesn't have to be a deal-breaker, but it's something to think about if you're going to route a lot of dados with a straightedge as a guide.
Variable Speed Control
 The ability to adjust spindle speed isn't usually as important in a palm router as it is in a full-size router. You can't use large diameter bits, so you shouldn't ever need to slow the router down unless you're working with metal.
Spindle speeds for routing metal are fairly slow, so variable speed comes in handy if you incorporate aluminum, brass, or copper into your work. If you use a palm router in your CNC machine, variable speed control will open up all sorts of possibilities for working with different materials. Many manufacturers offer palm routers with variable speed control, so you shouldn't have any trouble finding one you like.
If you use a palm router in your CNC machine, variable speed control will open up all sorts of possibilities for working with different materials. Many manufacturers offer palm routers with variable speed control, so you shouldn't have any trouble finding one you like.
Dust Collection
Dust is a fact of life in the woodshop, but tool manufacturers have come up with some creative ways to keep the air in your shop as clean as possible. The Rocky 30 Trim Router from MLCS Woodworking comes with a dust-collection attachment that allows you to connect your shop vacuum or dust collector.
It does a fine job of sucking up dust and woodchips. If you can afford it, Festool makes the 574368 MFK 700 EQ, a fantastic little palm router with a combination vertical/horizontal base.
Plunge Base
 The first palm routers had fixed bases. Today, you'll find a few other convenient options. The Bosch PR20EVSPK 5.6-Amp Colt Combo Kit comes with fixed and plunge bases. A plunge base is a useful accessory for a palm router. It's great for inlay work, mortising and a lot more. DeWalt and Porter Cable also offers fixed and plunge base palm router kits.
Accessories
 Before you buy a palm router, find out what accessories work with it. Manufacturers usually offer their own edge guides, dust collection attachments, and baseplates. You can also find some aftermarket items for popular routers.
Conclusion
Routers are very handy tools in the woodworking industry and knowing which router suits best in what working conditions or for which specific tasks are goldmine kinds of knowledge. Our review focuses mostly on the key features that distinguish these routers and what makes them suit particular tasks. We also have highlighted a few disadvantages of each of these routers that users have come so you get a balanced approach to router review.
We hope you enjoyed reading and obtained valuable information that influences your next router purchase.