If you are looking for a router that will give you unbeatable results, then you may want to give Bosch 1617 EVS 2.25 HP router a try. It doesn't just eliminate the stress of buying both a fixed and a plunge router. Bosch 1617 EVS combines speed and performance to give you the best results.
Features
12 AMP 2.2 HP Motor that runs at 8,000 to 25,000 RPM
Soft start that reduces the torque of start-up
Speed Dial that is variable
Soft and contoured grip handles for comfort and better control
Both left and right switches for consistency and choice
Openings with wide base plus a 2-inch sub-base opening that accepts bigger bits and improves visibility.
Why Bosch 1617 EVS 2.25 HP router?
Bosch 1617 EVS 2.25 HP router performs both as a plunge as well as a fixed base. It features one of the most powerful 12 amp motors that runs at 8,000 to 25,000. It comes with an effective clamp system that allows free movement of the tool, especially when working on complex projects.
Both the bases of Bosch 1617EVS have a wide base having 2'' sub-base openings that accept bigger bits and offers you an enhanced visibility. Both the two bases come with a unique design for optional and precise template guides.
Other amazing features include soft-start, variable speed as well as a Constant-response circuitry. Bosch 1617 EVS 2.25 HP router is one great tool any woodworker working under a tight schedule where clients may become too aggressive. See how it works in the following video.
How Bosch 1617 EVS works
What to like about Bosch 1617 EVS 2.25 HP router
Rugged Design
If you are looking for a router that will serve you for a longer period, then Bosch 1617 EVS 2.25 HP router is without a doubt your answer. Both the bases and motor housing are made of aluminum.
It comes with a dust-sealed switch for additional durability. Also included are carrying cases where you can keep other fragile accessories for protection.
Precision
Bosch 1617 EVS offers you everything you need for a plunge as well as a fixed base routing. Both the bases have a microfine bit depth adjustment system for fast and accurate adjustments of bit depth. Also, the micro-fine adjustment offers you a range of 1-inch and is precise to 1/64-inch.
It also comes with a centering design that allows the centering of bits using a sub-base or any other template guide. This allows you to maintain the router bit on the targeted cutting line while using devices of guidance such as a dovetail, templates as well as jigs.
Power of the motor
Bosch 1617 EVS 2.25 HP router is one of the most powerful routers for one reason, its 12 AMP, 2.25 HP that runs at 8,000 to 25,000 RPM. It also features a variable speed dial that makes it easier for you to set your optimal speed for a particular routing task as well as the workpiece. Also, it has a built-in Constant Response Circuitry that enables the router to maintain a particular speed until the cut is done.
In addition to the motor power, it features a soft-start that is integrated. This reduces the torque when working on a complex workpiece.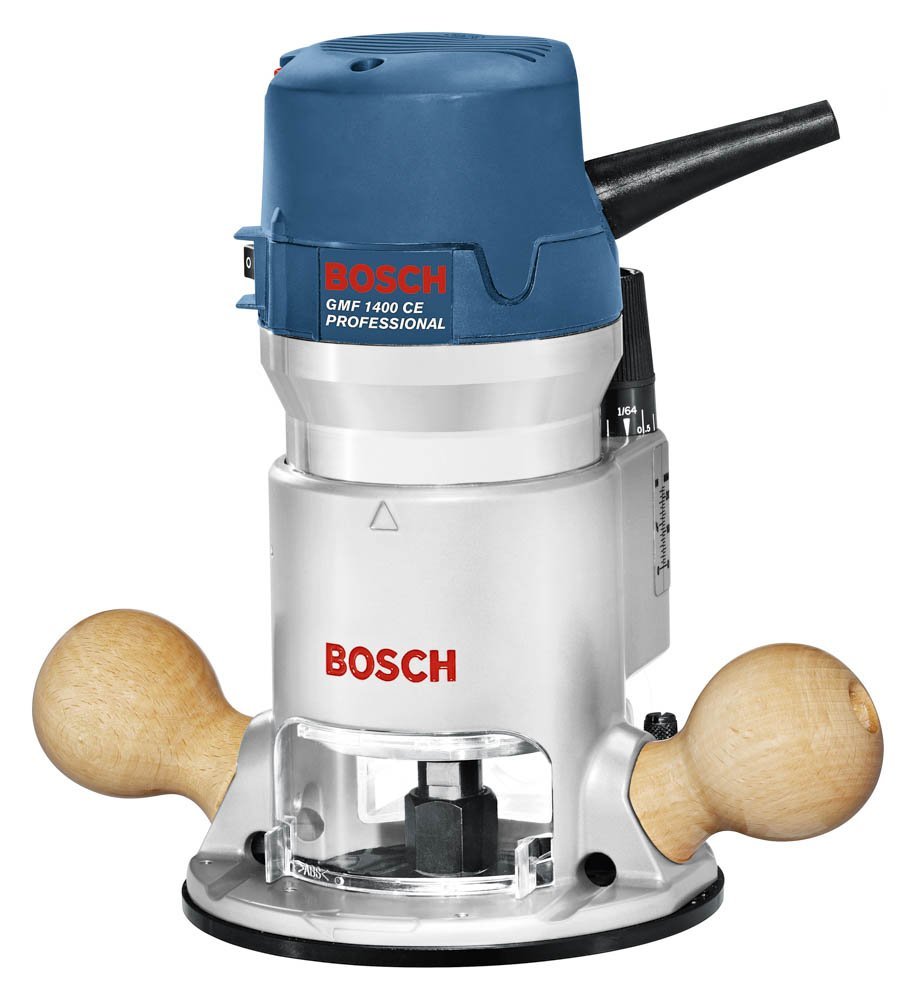 What you might not like about it
According to Amazon.com, Bosch 1617 EVS is one of the highest-rated tools its type on the market. Unfortunately, not all users agree with that. Just like any other product it has its ups and downs. One of them is that you might need to buy a few accessories separately especially when you have to work on complex workpieces. Others also complain that the router gets hot when used for longer hours.
Summary of customer reviews and ratings
Compared to its closest competitors with the same price, Bosch 1617 EVS 2.25 HP router is undoubtedly one of the best on the market. Users find its 12 AMP motor that runs at 8000 to 25000 quite convenient for tough projects. Others also like the fact that it can do both the tasks unique to a plunger router or a fixed base router eliminating the need to buy the two separately.
On the other hand, there are those who have issues with it. Few users don't like the wooden handles that get loose more often. It is also evident that getting hot after being used for longer hours pesters many woodworkers who deal with complex work Pieces.
Summing up all the user reviews. Bosch 1617 EVS 2.25 HP router falls at a rating of 4.7 stars after 474 reviews on Amazon and 4.6 stars after 123 in boschtools.com. Other sites give it either the 4.6 star or 4.7-star rating. With this, I can conclude that many users are happy that they bought it.
How to buy
If you are looking forward to making an original purchase with limited risks, you can go with Amazon. Amazon offers you the best deals on the product that includes low-priced used items as well as fair prices for the new ones.
You'll also get a chance to see what users are saying about the product to help you make a wise purchase. You can also buy the product via its official website, Bosch tools or Bosch certified partners that include, Tegs, Canadian Tire, Home Depot, Tool Academy, and more.
The Verdict
Using a regular plunger router or fixed-based router separately might be inconvenient especially when you are working on workpieces with different requirements. Bosch 1617 EVS 2.25 HP router offers you a new way to handle your cuts without involving many efforts. It combines both a plunge as well as a fixed base router for an astounding workshop performance.