Whether you are working on simple cuts or the most intricate inlay grooves, Triton TRA001 3-1/4 HP Plunge Router will make your job easier than before. It combines precision, ease of use and simplicity to make your work easier.
Designed to meet the needs of both an amateur and a professional woodworker, Triton TRA001 3-1/4 HP Plunge Router comes with some of the most amazing features. Here are some of them.
Key Features
A spindle lock that is automatic
A multi-purpose fence mount
A height winder that is removable
A plunge tension spring that is removable
It comes with speed controls that are variable.
An enclosed plastic shielding and more.
What Makes Triton TRA001 a good Choice for Any Woodworker?
With a 3.25HP motor that runs at 8000 to 21000 RPM, Triton TRA001 can handle all sorts of workpieces, whether simple cuts or the most complicated mortises. It comes with a variety of features that are not only simple and useful but also easy to set.
It also features a three-stage turret that makes it easier for you to make a precise cut, especially when working on tough projects. It offers you a chance to work with variable speeds that allow you to choose a perfect speed for any cutter type.
This triton router has a micro winder that allows a fine depth adjustment throughout the full plunge range. Other features include safety-switch shutter locks, a multi-purpose fence, an automatic spindle lock as well as an air vent to prevent the dust from ruining its performance.
If you are looking for a plunge router that will cut anything, go anywhere and handle all sorts of projects, then Triton TRA001 3-1/4 HP Plunge Router is without a doubt a way to go.
Benefits Of Using Triton TRA001 3-1/4 HP Plunge Router
Power
Triton TRA001 features a 3.25HP motor that runs at 8000-2000 RPM. This is one of the most powerful motors you can find with a router of its type. With this kind of motor, you can handle almost everything from the simplest cuts to the most complex workpieces.
Performance
Triton TRA001 was designed with an aggressive woodworker in mind. It offers you some of the most straightforward and easy-to-use yet useful features that offer you almost everything you need to make your work easier. Among these features include a fixed base router having a rack plus a pinion rack for precision and smooth cuts.
Safety
Triton TRA001 features a safety switch shutter locks that are closed in a bit change mode to stop the power on. It also comes with air vents that prevent you from going through the motor casing especially when you mount it upside down on the router table. With these two features and proper care, you never have to worry about the router table breaking down anytime sooner.
Precision
What makes working with complex workpieces quite a task, is the requirement to make precise cuts such as mortises and inlay grooves. With Triton TRA001, you don't have to worry. It features a multi-purpose fence that offers you excellent control required for circle cutting and hand-held use.
This allows you to make even the tiniest cuts that entirely depend on your precision. It also comes with a plunge spring that is removable. The fall-spring makes it easier for you to make bit adjustments. Other additional features for precision include a three-stage turret for accurate cut depths.
Easy to control
The last thing you need when working on complex workpieces is to make simple mistakes due to a lack of control. Unfortunately, when working on tough projects, most of the time you will have to rely on your precision. Triton TRA001 comes with a multi-purpose fence that allows secure control, especially when doing circle cutting using.
Perfect for all cutter types
You don't need to worry about the cutter type. Triton TRA001 combines the performance of variable speeds and soft start that allows you to choose a particular speed for any cutter type giving you an easy time when working on a project that requires you to make both minor as well as complex cuts.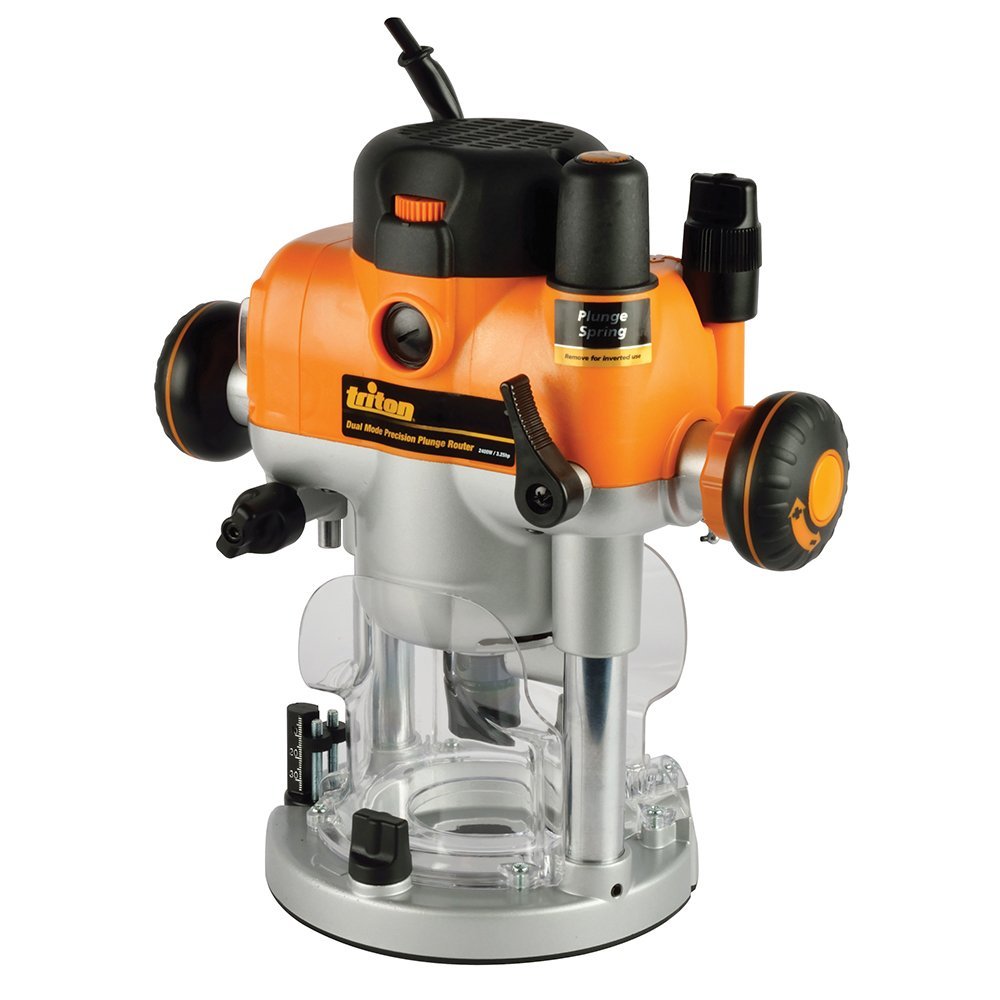 What you might not like about it
Other users claim that the manufacturers could have removed the safety lock feature. This is because, when the router is plunged, you will have a hard time turning it on.
When you attach the router to the table, and you plan to use a long-depth adjustment knob, it will be harder to turn on after achieving the bit height you require.
Contrary to this, most users find this feature quite convenient especially when working on tough projects.
There are also a few complaints about Triton TRA001 being heavier than expected. Some users feel that it might not be a good idea when plunging.
Summary of Customer Reviews and Ratings
There is a lot to like about Triton TRA001, but no one has been able to define accurately how this fantastic workshop took can change a wood worker's life. According to some reviews on Lumber Jocks and Amazon, many seem to like its flexibility, useful features, and its ability to achieve almost everything.
Others claim that it is one of the best choices for table mounting simply because it is a combination of both a plunge as well as a fixed base router. Summing up all the customer reviews, Triton TRA001 settles at a 4.2-star rating after 83 user reviews that make it one of the most liked routers its type.
It is evident that more than 60 percent of the users find it quite convenient while the remaining few have a few issues.
Deals
If you are looking for the best deals, then buying Triton TRA001 at Amazon.com will do you some good. At Amazon, you'll get the best deals and offers on both used and new Triton TRA001. It is also one of the safest purchasing platforms. You can also buy it at its official site, Triton tools, lumber jocks, and many other affiliate sites.
---
---
The Final Verdict
Triton TRA001 comes with some amazing features making it the best router for router tables. Designed with clients in mind, it offers you a variety of useful functions that allows you to make precise cuts. It is robust, durable and the best part works for most projects.