Whether you have complex projects before you or just some simple DIY home tasks to handle, you need a router that will enable you to achieve precise cuts, works for several cutter types and most importantly, easy to handle.
Sadly, your regular router can't resolve any of these without an additional accessory such as a router lift. What you must remember is, just like any other product, router lifts despite their limited use aren't equal.
They differ in features, performance and lastly, usability. Unless you have room for mistakes, you don't want to spend large sums of money on something that is partially compatible with your router or will fail to work after a few days or months. Here are some of the top-rated router lifts you'll ever come across.
Best router lift list
Router Lift Reviews
JessEm Rout-R-Lift
Compatible with some of the Craftsman router motors, Bosch, Dewalt, and Porter-cable series, Rout-R-Lift by JessEm offers you incredible precision at an affordable price. It perfectly fits 3-1/2-inch fixed base router motors.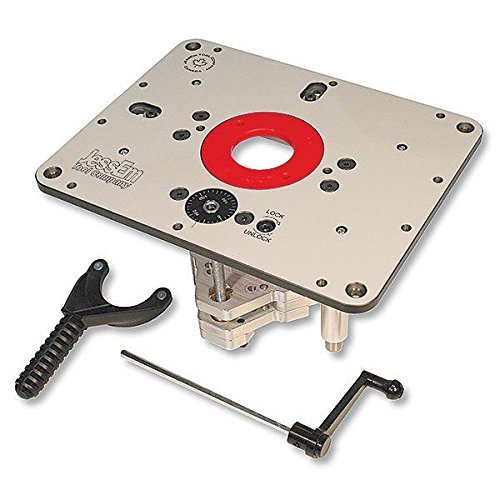 It is also loaded with some of the amazing features you'll only find with the most expensive brands such as Master-R-Lift and more. Rout-N-Lift features a spindle run you'll find on its perfectly sealed bearing that makes it easier for you to lower as well as raise the router.
Unlike what you'll encounter with its closest competitors, you don't need any special wrenches to change the bits that are operated over the table. You have up to the 3-inch vertical movement to cover plus an efficient cam-lock mechanism that reduces the chances of spindle rotating
Lastly, its large-sized opening can accommodate up to 3-1/2-inch without the need to install an insert. Other additional features include a starter pin, an insert ring wrench, a 2-inch Tab-Loc insert that reduces the bit opening size on the plate. Rout-R-Lift by JessEm is one tool that will without a doubt offer you an incredible performance.
Things We Like
Easy to install and use: You don't need to have special skills to use this kind of router lift. Its specs are quite clear for easy installation as well as use.
Great features at an affordable price: As mentioned earlier, you'll have to spend some extra dollars or anything close to this router lift. It comes with some of the amazing features you'll not find with its closest competitors, but some of the most expensive brands such as Master-R-Lift.
Things We Don't Like
Performance is limited to JessEm tables: Rout-R-Lift is claimed to be compatible with most router tables. However, when you are looking for better performance, you'll need specifically a JessEm Table.
Bosch RA1165 Router Base
RA1165 Router Base is one of the top best Bosch products you'll ever stumble upon. Everything is much clear from machining to casting. What makes it more attractive to any wood workshop is its simplicity. With minimal features and no-frills, it combines accuracy and performance to give you the best outcome with limited risks.
It comes with a height adjuster that is quite similar to above table bases, but with a shaft that works perfectly with a T-handled Allen wrench. If you have a plan to increase your options, you can use the indicator ring accessible on its knob for adjusting the height so as to fine-adjust the extension handle.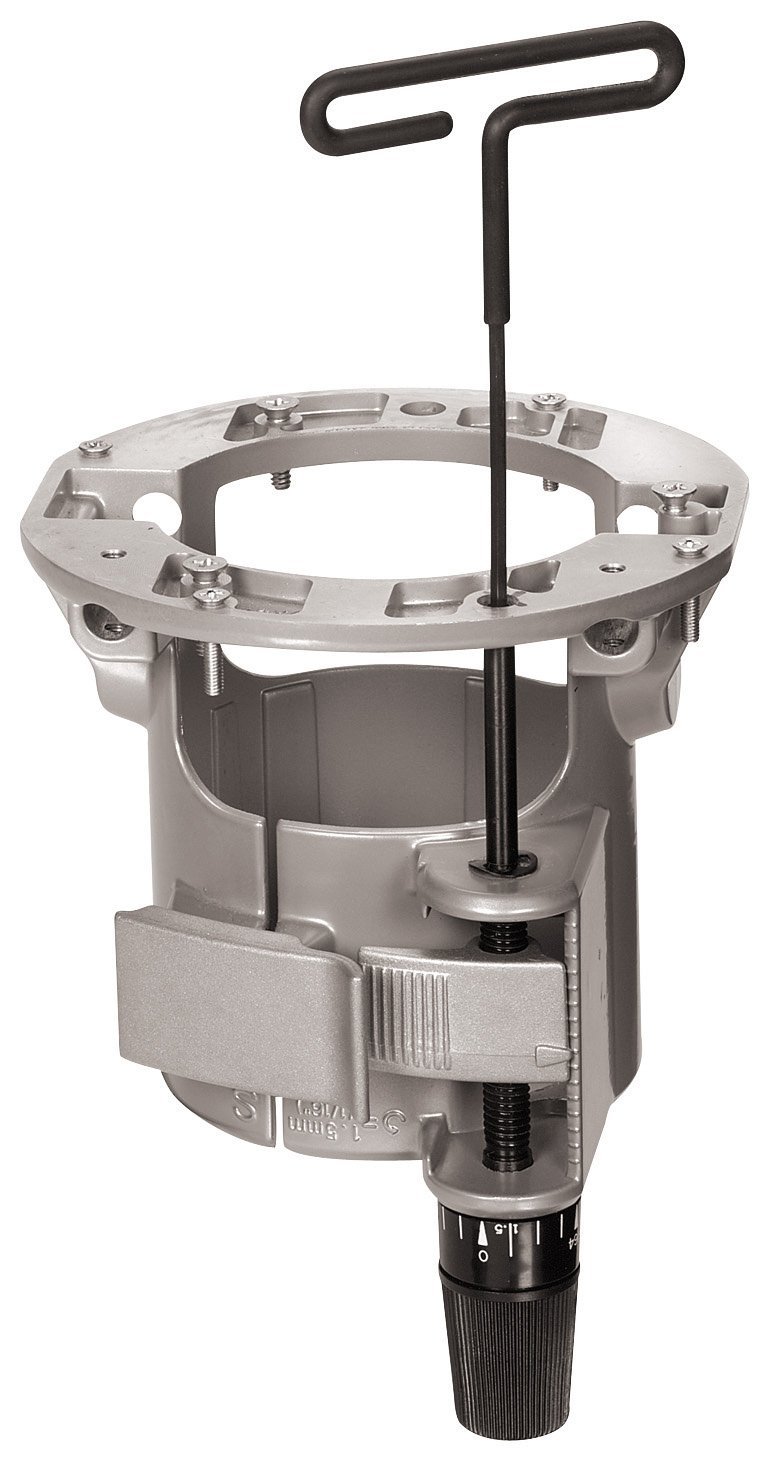 During an experiment at a new woodworker, it became apparent that RA1165 Under table base holds fast reducing the base movements that in turn make it easier for any woodworker to achieve precise cuts without a sweat. However, to adjust a bit height, you are required to open the motor lock by flipping then follow up by putting in a T-wrench.
Just like the regular Bosch with fixed bases, it comes with three height adjustment detents that each produces ½-ich changes and are activated by pressing the button accessible under the locking arm of the motor.
Its T-handle also produces a 1/8-inch height change when fully turned using a 7/8-inch total range included. As you can see, RA1165 has almost everything any woodworker would appreciate, but not all users, agree with this. Here are some of its pros as well as its cons.
Things We Like
Compatible with several routers. Unlike many other products its type, Bosch RA1165 is consistent with several routers that include Bosch 1617 and 1618.
Easy depth plus bit height adjustments: Unlike its closest competitors, it allows easy adjustments of bit height operated above the table. You can easily access the wrench from the above table making it one of the most convenient bases for depth changes.
Things We Don't Like
The clip whose function is to hold workpieces in a vertical position isn't strong enough to handle heavy loads. There are few users claiming that if a heavy workpiece is placed, it keeps on sliding making the clip useless. Some users find this an issue simply because most workpieces that require this accessory are much heavier.
INCRA Mast-R-Lift-II Router Lift
Unlike, its previous versions, the new custom-built INCRA Mast-R-Lift-II Router-Lift offers you a lot to enjoy including its amazing features and astounding workshop performance. It is amazingly fast, allows accurate height adjustments, and the best part, allows above-table router change.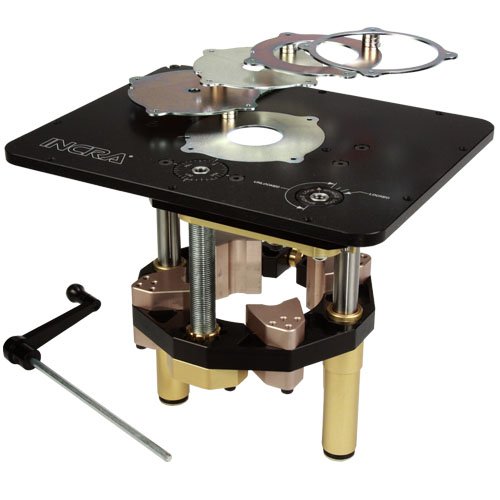 With a total of up to five sealed ball bearings accessible on its cam lock and a lift screw, its operation is smooth and free of friction. This makes it a better choice for some of the heavy and complex workpieces that threaten to lower the performance of your router.
It comes with a Magna Lock that reduces the rings system convenient for ring changes as well as ring lift. Also included are router bits, an ultra-fast responsive 16TPI drive lift screw system, and a thread tensioning mechanism that rules out vertical lash common with the lift mechanism.
The manufacturers included a 0.001-inch height adjustment for greater precision, a Blanchard ground cast top plate made of aluminum for maximum durability, and the best part, a Cam Screw that is corner mounted for a better fit on any router table.
Things We Like
Ultra-smooth performance: INCRA Mast-R-Lift comes with an efficient ball bearings mechanism that allows smooth performance with limited friction. It also features a thread tensioning system that prevents the vertical lash that is common in the lift mechanism plus an ultra-responsive lift screw system.
Enhanced precision: With a router that is positioned from over the table and a 0.001-inch height adjustment, ICRA Mast-R-Lift eliminates the struggle of achieving accuracy. To make this even easier, the manufacturers included a Magna Lock that reduces the ring system for easy and convenient ring changes and fit.
Things We Don't Like
Not a perfect choice for a fence that is 5-inch and above: A few users complain about the Mast-R-Lift not being the best option for walls that are 5-inch and above. There are some claims that after setting the fence into position, using a crank handle that is included in ICRA Mast-R-Lift isn't easy as the crank is likely to fail to clear the fence.
Kreg PRS3000 router lift
According to reviews by woodworkers lab, Kreg PRS3000 is among the top 5 best router lifts currently on the market. Known for its ability to achieve accurate height adjustments in no time and with ease. Kreg PRS3000 is a router lift is designed for any serious woodworker dealing with complex projects.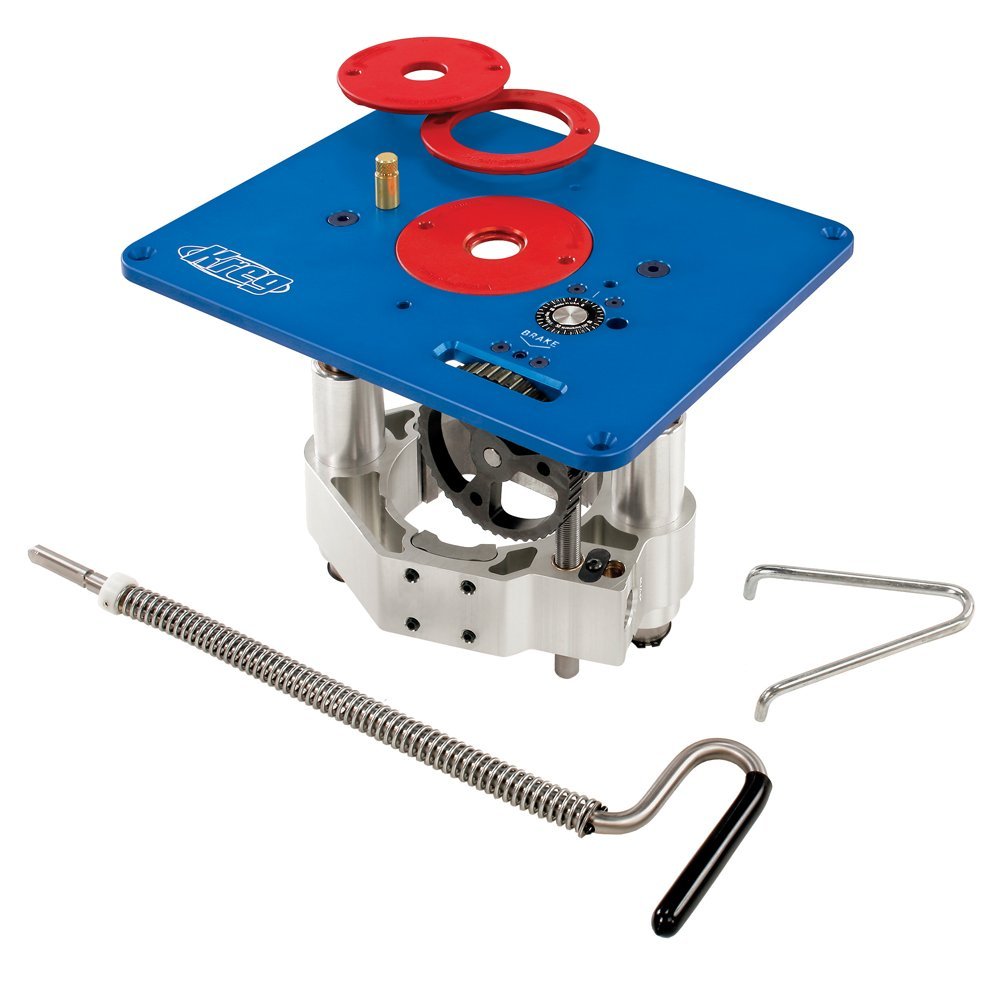 The carriage with an integrated motor clamping system is perfectly crafted from aluminum making it one of the most durable router-lifts on the market. Unlike its closest competitors, it comes with a micro-adjust thumb wheel instead of a crank handle.
For quick and easy adjustment, the manufacturers incorporated a spring assist wrench that smoothens the vertical movements involved in height adjustments.
In addition to its astounding features, you can set both the simple and easy-to-use adjustable reference scale and a lift brake from any position of the bit to zero. Other salient specs include three insert rings, a heavy-duty aluminum plate with a flat accuracy within 0.005-inch, and much more.
If you already have other Greg routing products, then adding PRS3000 will help eliminate any inconveniences when working on complex projects. It is one tool that will turn any complicated task into an easy one with a fast, smooth and easy patented quick lift system. Check out some of the reasons; you might want to consider them when planning your next woodwork budget.
Things We Like
Convenience: Kreg PRS3000 comes with several unique specs that work together to give you an easy time when working on any project. It will always ensure that your final workpiece is completed in time without compromising the quality.
Fast Lift Wrench: Whether you are trying to lift the lightest simple workpieces or the heaviest routers, PRS3000 offers you a fast lift wrench that allows you to move from height routing to changing of bits in a timeless than three seconds.
Durable Insert Plate: You don't have to worry about your router lift wearing out anytime sooner. With a Lift Brake having an insert plate made of Aluminium, you are always sure that Kreg PRS3000, will serve you as long as you are using it correctly.
Easy to mount on a table: As mentioned earlier, you don't need a crank handle to achieve the fine bit height adjustments. The micro-adjust thumb wheel enables you to achieve precise height adjustments in 0.002-inch increments making the table-mounted routing easier than before.
Things We Don't Like
It is not easy operating the stiff thumb wheel: According to several user reviews on Amazon and other sites such as Kreg Tool, its thumb rule is a bit stiff and might require you to involve much effort in raising it. You won't encounter any problem while trying to lower the bits. The main issue here is raising the bit after lowering which is quite hard for many users.
There are also those users who prefer the previous version's design to the current PRS3000. A few users claim that it isn't one of the best designs you'll come across when window shopping.
JessEm Mast-R-Lift II, Router Lift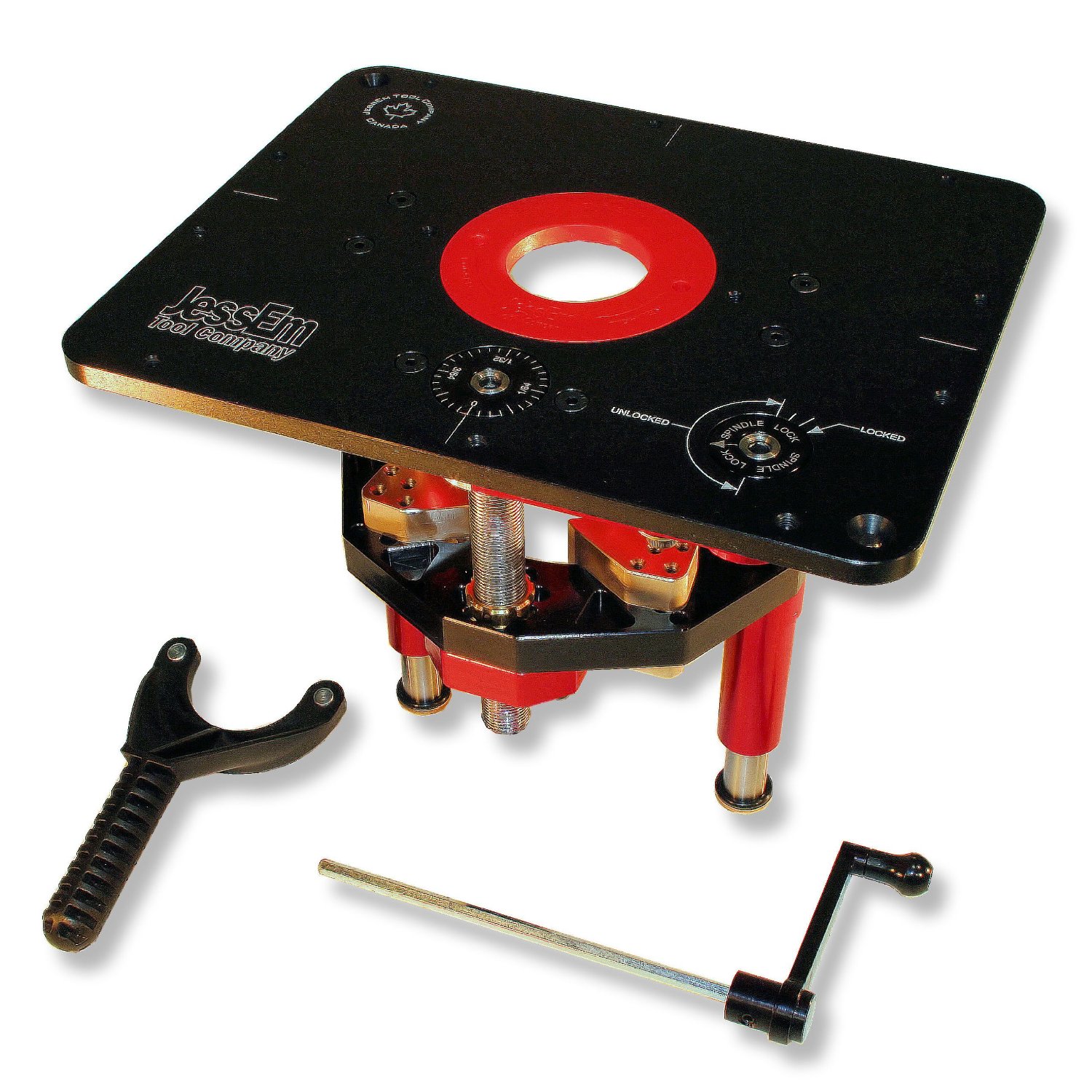 There are more than enough reasons to try JessEm Products. This router lift is just another proof that they are targeting the top. Unlike many other router lifts, it features up to five double-sealed bearings designed for heavy routers and this offers you an astounding performance for a long period.
Just like any other JessEm product, it comes with a patented feature that increases the tension that targets the threaded spindles so as to eliminate the unnecessary vibration, backlash and most importantly, prevent the settings from changing while you are routing. The manufacturers went ahead and added a new effective locking system for long-term, heavy-duty operations.
This fantastic feature is located at the top of the tool and is activated by a crank handle whose main purpose is to lower and raise the lift. In addition to its astounding specs, it works well with several routers without the need for an adaptor collar. Its unique clamping block allows you to use several fixed base router types; they have anodized lifts and the best part, are durable.
You might find it quite expensive compared to its rivals, but after using it for some time, you'll realize that its lifespan is equivalent to spending on two to three more routers. This JessEm router lift isn't just any router lift you'll come across. It is designed for woodworkers who hate inconveniences. Check out some of the reasons; it might be your number one choice.
Things We Like
Durable: With a bearing construction that is double sealed and anodized aluminum construction, Mast-R-Lift is one of the most durable router-lifts on the market today.
Works with many fixed-base routers; you don't have to buy a different router lift each time you change a router. It features a unique clamping block that is compatible with different router types.
Things We Don't Like
You must re-tap the leveling holes before using them. A few users find the tapping process quite a bother, especially when working on a tight schedule. There are a few complaints about the screws not turning properly. To avoid breaking the set screws in the leveling holes, you'll have to re-tap them every time you need to use them.
The Bottom Line
The last thing you need when working with routers is making the wrong height adjustment. You need to be more precise to ensure that your final workpiece is of high quality.
A router lift and a base are some of the tools that will replace the fear of making mistakes with confidence when making cuts. Unfortunately, not all router lifts you'll come across will offer you a desirable performance. They differ a lot, meaning that you'll have to be a little bit keen when choosing. The five router lifts above are some of the top-rated tools on the market.