Are you looking for a router table with an ample working space, has a fantastic mounting plate and will perform despite the type of router you are having? If yes, you might want to consider Kreg PRS1045. According to many users, PRS1045 offers everything you need, easy to use and the best part, strong enough to handle any project. It is also among the top rated router tables you will ever come across. However, you should not base your judgment on what you hear. Check out these fantastic features and judge for yourself.
Accompaniments
the PRS3100 router table switch
the PRS3090 caster
the PRS3400 setup bars
the PRS3020 true flex
the PRS7850 Router table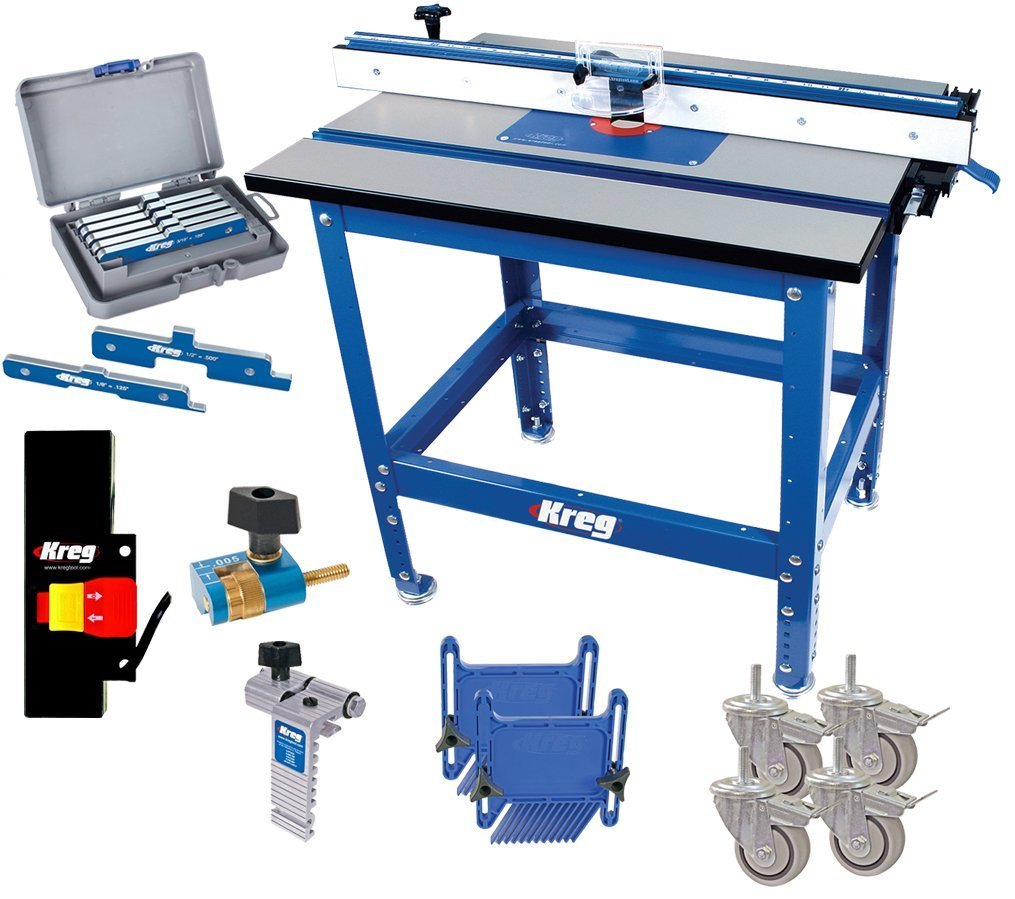 Kreg PRS1045 Specifications
MDF top measuring 1-1/16 thick for quite operation
A fence that squares itself and moves parallel to the miter slot
A steel stand you can adjust from 29-inch to 35-inch depending on your preference
A durable insert place that is low on friction
Up to 4 Precision insert plate levelers for smooth operation and precision
Shims you use to offset the fence faces by 1/32 inches or 1/16 inches for joints
A dust collection port to keep your woodshop clean
A mitre-accessory slot that allows a 3/8-inch by ¾-inch miter bars, feather boards, and other accessories.
Why buy Kreg PRS1045?
Buying a full package of Kreg PRS1045 means having all the accessories needed to make your work comfortable and enjoyable. But not only that. By just making a one-time payment, you also get the PRS3100 router table switch, the PRS3090 caster, the PRS3400 setup bars, the PRS3020 true flex and lastly, the PRS7850 Router table stop. Once you buy it, you will realize it has a T-square fence that maintains the parallelism of the fence to the miter slot needed for small adjustments as well as maximized miter slot performance.
The fence also comes with two faces that are independent plus a shim you need to joint 1/32-inch and 1/16-inch increments. Also, the manufacturers crafted its top using a noise resistance MDF having a high-pressure laminate skin as well as two steel struts that prevent the sagging and to reduce the noise when working on your projects.
What to like about Kreg PRS1045?
Kreg PRS1045 features a table top that is made from a noise-resistant MDF and vibration. The MDF features a skin that is crafted from a high-pressure laminate that allows workpieces to slide easily across the table top. It is also reinforced using two steel support struts that prevent it from bending even after extended use.
Unlike what we see with insert plates of most router tables on the market, it features an insert plate measuring 9-1/4″ by 11-3/4″ by 3/8″ that mounts to any router without the need of any particular type of surface. Combined performance of the included template and its base plate, makes it possible to mount the insert plate to any router, offers you a perfect fit and eliminates the need for additional holes.
The table fence of PRS1045 gives you a T-square-like design that maintains the parallelism between the fence and miter slot permanent. This automatic squaring allows you to maximize the performance of your miter slot and is required for minor adjustments on the table's fly. Also, the fence is crafted using sturdy aluminum extrusion that supports all kinds of work pieces whether small or large.
Assembling might take some time – PRS1045 does not come pre-assembled due to its numerous accessories. You will have to spare some time to do the assembly and to completely set it up. The good news is, you only need to do this once. You also don't have to worry about making a mistake simply because it comes with a detailed manual plus additional elements making the setup easy and smooth.
Quite expensive – If you are planning to buy your first table, you might find Kreg PRS1045 quite expensive. However, this is not one of the things that will completely discourage you from buying. One of the unique things about PRS1045 is a combination of a miter slot and a T-square, something you will not find with any other table. You also get a lot of useful accessories, meaning; you will not need to buy any additional items to make it work.
Summary of customer reviews and ratings
Summing up all the reviews on Amazon and other reliable sites, PRS1045 settles at a 4.7-star rating. That is quite a high rating compared to what we see with its closest competitors on the market. Among the things appreciated by many is, its extreme versatility and accuracy vital for any routing and woodworking applications. Despite its high price, a good number of users say, it offers useful features at an affordable price. In short, more than enough users find PRS1045 more helpful and worth buying.
On the other hand, there are those who think it is not entirely satisfying. A few users mention the assembly process as one of the major drawbacks since it is time-consuming. Contrary to what the majority are thinking, there are those who believe it is quite expensive for a first router.
I may conclude that many users like Kreg PRS1045
Where to buy
Kreg PRS1045 is without a doubt the best on the market for its category, but not when you buy it from a wrong dealer. To get the complete package at a price, you will appreciate, buy it from Amazon. Amazon offers you the most affordable and safe way of getting a genuine PRS1045. Also, they maintain every user review whether positive or negative to guide you to make a wise purchase.
Final thoughts
Looking at its closest competitors, PRS1045 is undoubtedly one of the best on the market right now. It offers you almost everything needed to make your work easier, sturdily built and the best part, affordable compared to its rivals on the market. At a 4.7-star rating and a few manageable issues such as assemblage, I may be right to say, every user likes it.