I thought I knew so much about router tables until I came across SKIL RAS900. I'm not talking about the great design or visible features, but one of the best SKIL routers tables you'll ever come across. Unlike the previous versions of SKIL router tables, everything seems to be perfectly in place.
The Best Choice For Professional Woodworkers
You don't need hours to set it up, it has the best features you'll find with any router table and the best part is, it is easy to use. To get a clear picture of what I'm talking about here is an overview of its noticeable features.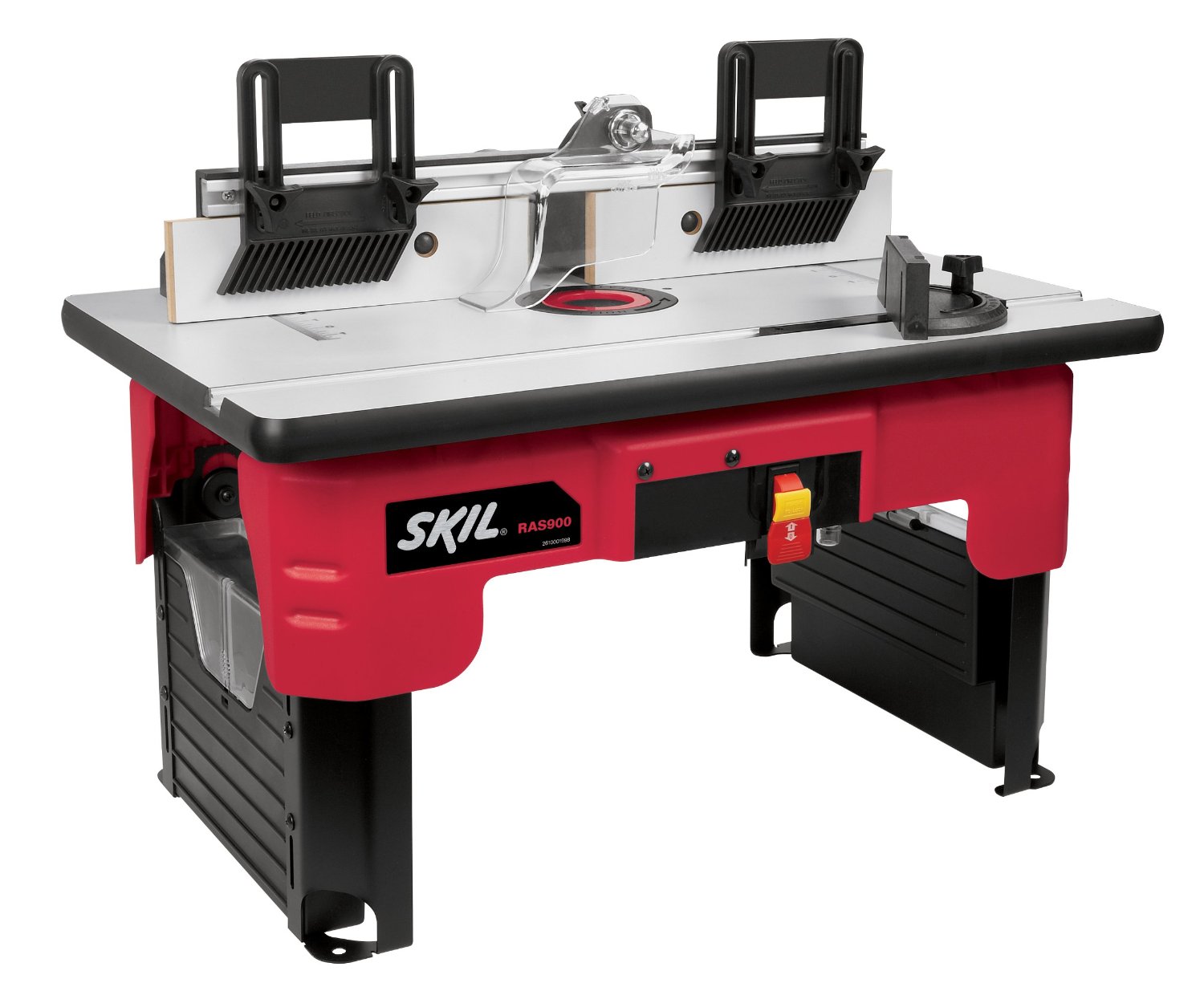 Key features
It comes with a Router Mounting that has easy bit changes and there is no need for leveling.
Included are two containers and a quick clamp system.
A combination of a Starter pin and a guard makes it easy to support your workpiece when working on curved ages of a router.
Two feather boards that are quite useful when trying to achieve accurate routing by guiding a workpiece.
Has storage containers to store and protect accessories
For accurate cuts, you have a Bit Height gauge that makes it easy to set up.
Weighs 32 pounds that are quite light compared to router tables its type
Measures 27.7-inch by 17.7-inch by 9.5-inch
Why SKIL RAS900 Router table?
One disadvantage of using most router tables is the hardship in setting them up. This is one thing you must clear off your mind when you come across the SKIL RAS900. Unlike most router tables its type, the SKIL RAS900 comes pre-assembled, meaning that you don't need to put in too much effort to set it up. Half an hour is just enough to have everything in place and working.
For easy movement and storage, it has foldable legs, an integrated storage bag for accessories, a self-contained structure and much more accessory storage compartments for storing useful parts such as router bits and fence. Other admirable features include two feather boards, a guard, bit inserts and a miter gauge.
Also included is a tall fence having a laminated MDF faces that are adjustable, a guard and a starter pin. For accuracy and ease of use, you have a bit height gauge, a router mounts that detaches and attaches in no time and more. Here are some of the reasons you might find it convenient.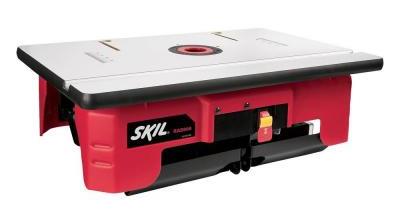 Benefits
Accessory storage: When routing, you have more than enough accessories that need proper storage for ease of use. SKIL RAS900 router table has a storage bag, a self-contained structure and many more accessory storage compartments making it easier to store and access everything you need when working.
Foldable legs: One thing that makes router tables less admirable is that they aren't easy to store or move around. With the SKILL RAS900 router table, you have less to worry about. Unlike most of its competitors, it has foldable legs making it easier to store and move around.
Accurate routing and precise cuts: SKILL RAS900 comes with two feather boards that help guide the workpieces so that you achieve an accurate routing. Also included is a starter pin and a Bit Height that makes it easy to set up as well as improves the accuracy of cuts.
Easy to set up and use: Unlike most of its competitors, you don't need hours to set it up. According to manufacturers and those who have used it, you need half an hour for everything to set up everything. You don't need a manual to use it simply because everything is quite clear.
Few things you might not like about it
No Manual: Most of the time if you are a beginner, a manual is vital simply because it is the only way to ensure you have everything in place. Unlike other SKIL router tables, RAS900 doesn't come with a downloadable manual making it harder to use it, especially if it is your first time. The good news is, unlike other router tables, you don't really need the manual simply because it is easy to use.
Plastic parts: Router tables should be strong enough and be able to last you a lifetime. This is quite hopeless when you have some of its components made of plastic. Unfortunately for the SKIL RAS900, it is the plastic that supports it. If you are not careful enough, the plastic might break. Fortunately enough, it is also one of the lightest router tables on the market, meaning that it won't break up easily because of its weight.
What others say about it
The RAS900 is undoubtedly one of the best router tables priced at $129 approximately. Unfortunately, this is not what every user thinks. Despite its good features, ease of use and better performance, there are a few users who feel it needs some improvements. The good news is, not everyone thinks the same.
More than enough users think it is one of the best on the market and does nothing less than recommending it. Ease to set up and use is coming out clearly as one of the things liked by most users. Others praise the fact that you don't need to work so hard to make accurate cuts simply because it features two feather boards, Bit heights and a starter pin that guide the workpieces for accuracy.
Contrary to what happy users are saying, there are those who feel that the manufacturers left a lot of things when designing the SKIL RAS900 Router Table. The fact that it is being supported by plastic makes it less reliable simply because it can easily break. Others are finding the inability to download its manual quite disturbing since downloadable manuals make tasks such as assembling and use much easier.
As you can see, not all find it quite fascinating, but we can rely on the fact that these issues vary from one user to the next. Summing up all the user reviews, the final rating for SKIL RAS900 settles at 4.1 stars after 93 customer reviews that are quite high compared to its competitors. We can say that it is not the best but deserves giving a try.
---
---
Final words
We can't do away with the fact that we have more than enough router tables on the market to choose from. However, we might give SKIL RAS900 credit for being among the best. A combination of simplicity and performance makes it a better choice compared to the highly sophisticated and bulky router tables that are also expensive.
The truth is, you need not worry so much when using this kind of a router table unlike what we see with its closest rivals on the market. You only require half an hour to put it up, and the best part is, you don't need to be an expert to use it.
One fact we can't do away with is that it isn't perfect that is also the main reason it can't get a 5-star rating. However, looking at what we have on the market, there is no router table with the same price that can match what it has to offer. The truth is, SKIL RAS900 is one of the best SKIL router tables you will ever come across…