A question that constantly floats around the woodworking community is "what should my workbench height be"? The short answer to that question is that: no one size fits everyone as different individuals have different heights and peculiarities.
But an inch or two on the plus or minus side can make a whole lot of difference.
Now, for the longer answer, you will have to read through this post. In this guide, we will discuss the importance of choosing the right height for your workbench. The important factors to consider and what makes a good workbench will also be covered in detail. The guide will be rounded up with the top four workbenches you should consider for your workstation to simplify the task of purchasing one for you.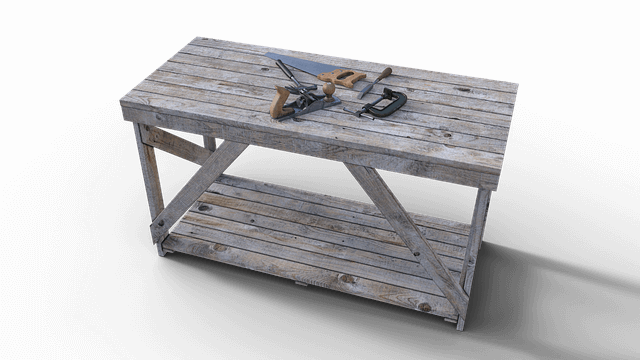 Why is the Right Height of a Workbench Important?
Getting your workbench height right is important for three major reasons which are: for ergonomic reasons, ease of use, and for health reasons. Taking a closer look at these three major reasons, we have:
Ergonomic reasons – When you intend to work for hours on your workbench, then the ergonomics of the entire bench must fit exactly. This means you do not have to overextend yourself or reach too far when cutting or handling tasks. The reason why overextending one's self isn't a good idea leads directly to the health reasons why your workbench height is important.
Health Reasons – When the human body is stretched overextended over long periods, it could lead to reoccurring issues such as back pain or hand pain. Using the wrong workbench height with cutting tools also increase the risk of getting injured when using these tools or trying to reach out too far.
Ease of Use – Comfort is important to get the best out of your woodworking craft and an excellent workbench provides the ease of use you need to focus on for long periods. When everything works to your advantage, working long hours becomes easier without any adverse effects on your health.
What makes a Good Workbench?
Now, you understand why getting the right workbench is important to both your craft and health, the next step is having an understanding of what makes a good workbench or the factors you must consider when going for one. There are a couple of factors to look out for in a solid workbench but here, only the most important factors will be outlined.
A Solid Mass – Regardless of what you intend to craft, it is obvious your workbench will have to shoulder a lot of weight as you may be hammering, sawing, or conducting strength-intensive tasks on it. This means a good workbench must be sturdy with thick legs that can shoulder whatever you throw at it.
A Sturdy Top – The top of your workbench should be of constant thickness with no weakness anywhere around its surface. You do not want a spindly top or a top with a hollow middle as this will cause deformities when moderate to excess load is put on top of your desk.
Method of Construction – A workbench is not a dinner table or school desk. It is an important piece of furniture that must be compact to handle loads, force, and other exertions that come with crafting. Thus, the build of your workbench is an important consideration to have in mind when selecting one. So, when searching for an excellent workbench look out for draw bolted joints across the entire workbench as this adds an extra layer of solidity to the workbench.
Workbench Size – Although today is all about height, the size of your workbench is an important consideration that must be accounted for when choosing one. For this factor, the size of your workspace and the work to be done is the determining factor in choosing a workbench that meets all your needs. Note that there are no set-in-stone rules to determining your workbench size but a width of 23.6 to 31.4 inches should do the job.
 Manageable Drawers – Workbenches should deliver ease of use and support the use of clamps but benches with multiple cupboards or drawers underneath struggle to do so. This is because the cupboards take up the space needed to hoist a clamp on your workbench. Thus, look out for workbenches with a simple partitioned drawer as they will simplify the task of clamping work holding tools to the bench.
A Bench Well – A bench well provides you with an easily accessible compartment to keep smaller items out of the way. The bench well also eliminates scenarios where small items fall and you have to spend a lot of time looking for them. The bottoms of bench wells are also removable and this makes attaching work holding tools to your bench an easy task to accomplish.
What are the Common Workbench Heights and is a Portable or Fixed Workbench for You?
As stated earlier, when it comes to workbenches, there is no one size that fits everyone but there are certain rules of thumb you can apply to select a comfortable bench. In terms of dimension, the most common workbench dimensions you are likely to encounter include:
Leg and Bench Top Thickness – Many recommend the use of workbenches with tops and legs within the 2.9 to 3.9 inches thickness level. This ensures the workbench is sturdy enough to support heavy loads.
Width of Workspace – The width of the benchtop should be between the 23.6 to 31.4 inches ranges as it gives you enough space to get your work done.
Bench Height – As for bench height, the rule of thumb is that the bench should at least reach the middle of your palm when standing up with your hands hanging on your sides. A workbench should not ideally go above your waist and you should consider using a shorter bench as it is easier to add to its height using blocks or wedges than cutting through the legs of a higher bench.
Now, with this in mind, the second consideration in this section is choosing between a portable or a fixed workbench. Making a choice depends on the work you do, your workspace, and your personal choice. For many craftspeople, fixed benches have been the conventional workspace for creating and what they have grown used to. Thus, in professional or commercial shops, you are more likely to see fixed workbenches than portable ones.
 On the other hand, portable workbenches provide you with versatility a fixed bench cannot match. It also allows you to move your workstation from the indoors to the outdoors or anywhere that suits your creativity. This makes the portable workbench the preferred choice of many hobbyists, DIYers, and people who generally work from home.
As long as you get a workbench that fits your personal working preferences, it's safe to say that you will do just fine with either choice. Now, to simplify your search for a workbench as was promised, here are four of the top choices you should consider to enhance your craft.
The average height of a workbench should be between 23.6 to 31.4 inches (600 to 800 mm) ranges as it gives you enough space to get your work done
Workbench Height vs Body Height and Type of Work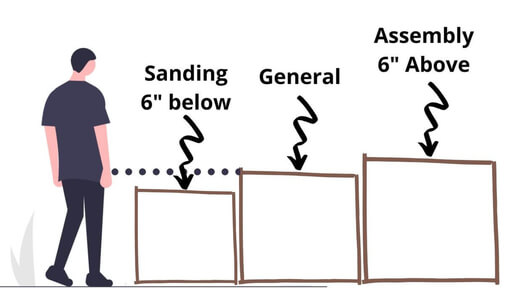 The Top 4 Workbenches You can choose from
The four workbenches on this list are all portable workbenches for personal use. They also follow a contemporary design pattern to ensure you get the best while working on your craft. These workbenches include:
Black + Decker WM225
Black + Decker's popularity in the crafting community is due to the various power tools and other maker tools they offer craftspeople. Their wide variety of products also extends to workbenches and the WM225 is an excellent workbench due to its versatility and features.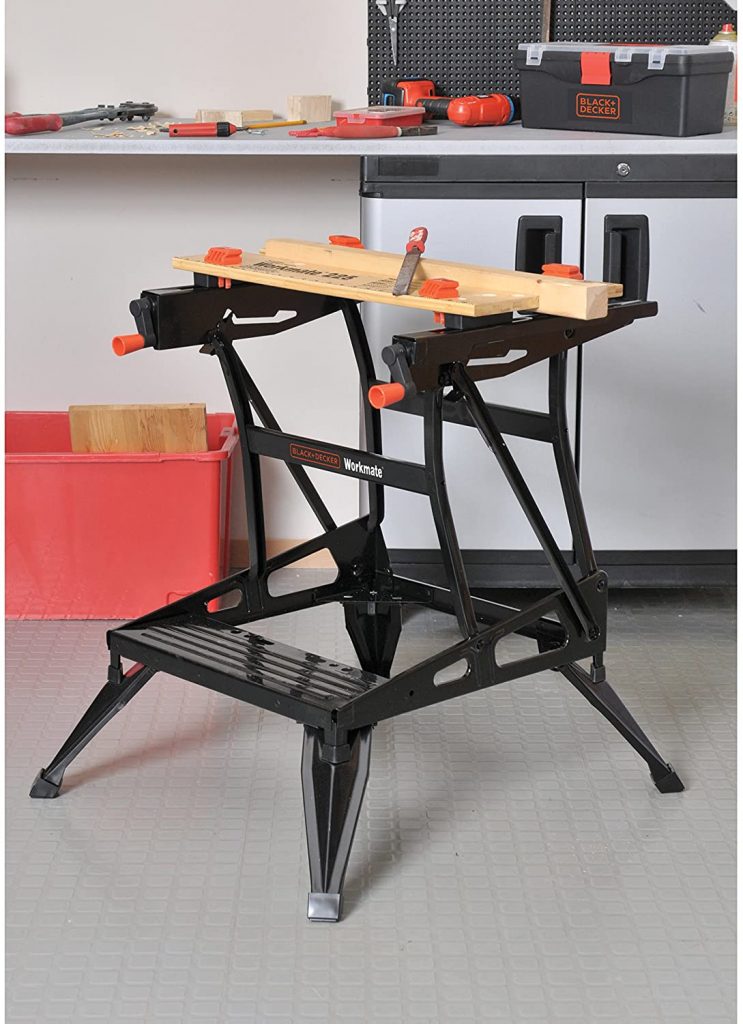 The features of this workbench include:
A wooden worktop supported by a sturdy base constructed from iron. Its base allows it to support up to 450 pounds of load. This is more than enough to support your craft and the loads you intend to work on.
A height of 30.2 inches which is approximately 760mm means it falls within the height range of most craftspeople. The bench weighs 28 pounds which makes it portable and a bit easy to move as you see fit.
Enhanced versatility sees this workbench being able to transform into a vise, sawhorse, and also serves as a bench stool stand. Thus, you can use this workbench in a variety of settings depending on what you intend to accomplish.
The bench also comes with four vise attachments that make attaching tools to the benchtop an easy task.
Black + Decker Portable Workbench WM425 –A
Another offering from Black + Decker makes this list for its sturdiness and build. What is the difference between this and the WM225 you may ask, the answer is the design of the tabletop. Unlike the WM225 which is designed to have an open center space, the tabletop of the WM425 is made from one solid piece of wood. This means it is capable of supporting extra load compared to the WM255.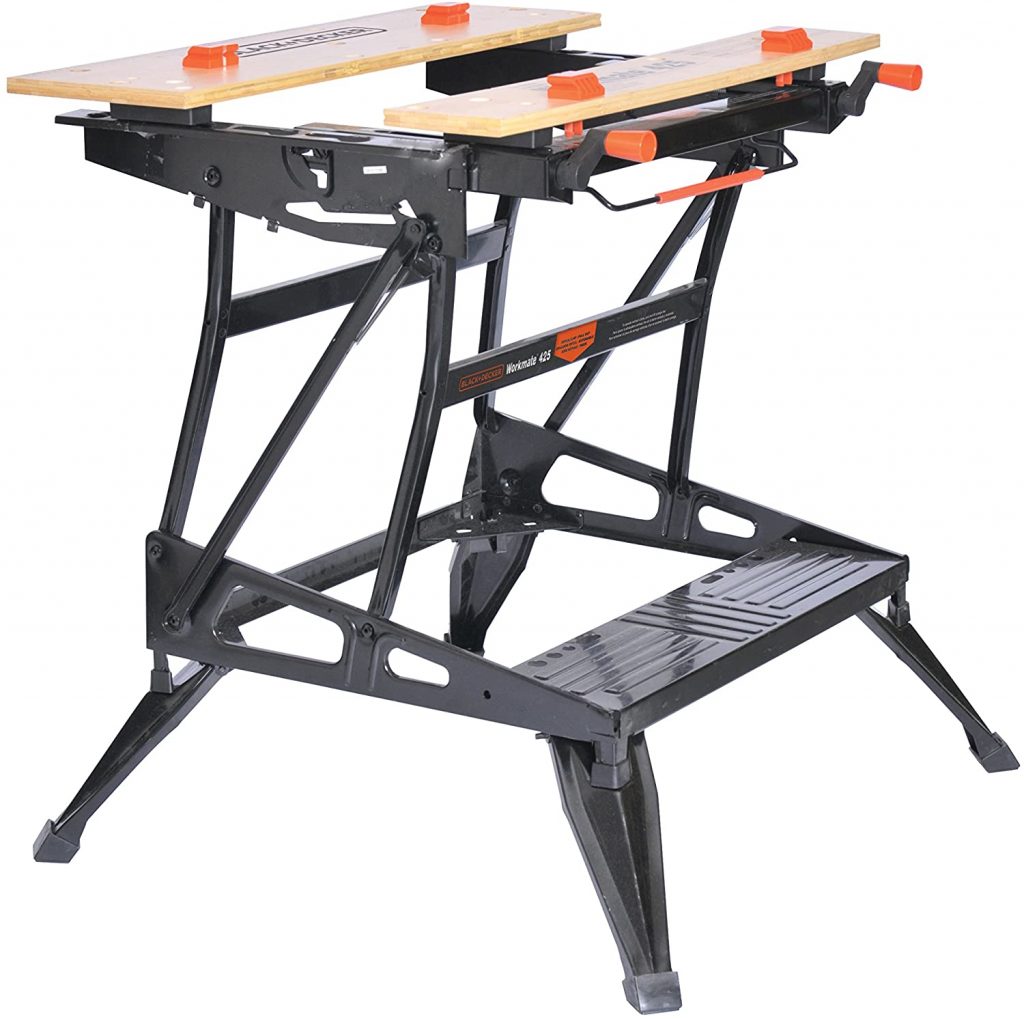 The features of this workbench include:
A wooden worktop with the capacity to support up to 550 pounds of load. The steel base of this workbench makes this possible and ensures you do not have to be concerned when working with excess loads.
A height of 29.2 inches or 736mm should be below the waistline of most craft people and falls into the aforementioned height category. This shorter height may also appeal to more people than the height of the Wm225 as it makes reaching across the length of the board easy.
The workbench can also be transformed into a bench stool stand and it comes with an extra block, a vise-to-workbench converter, and four swivel pegs. Thus it is also versatile and provides features for attaching crafting tools.
WORX Pegasus Workbench
In the crafting community specifically woodworking, WORX has garnered its fair share of customers due to the quality of crafting tools it provides. The Pegasus workbench is one example of the quality WORX is able to produce and with this bench, you get a versatile workbench that is compatible and very importantly, foldable.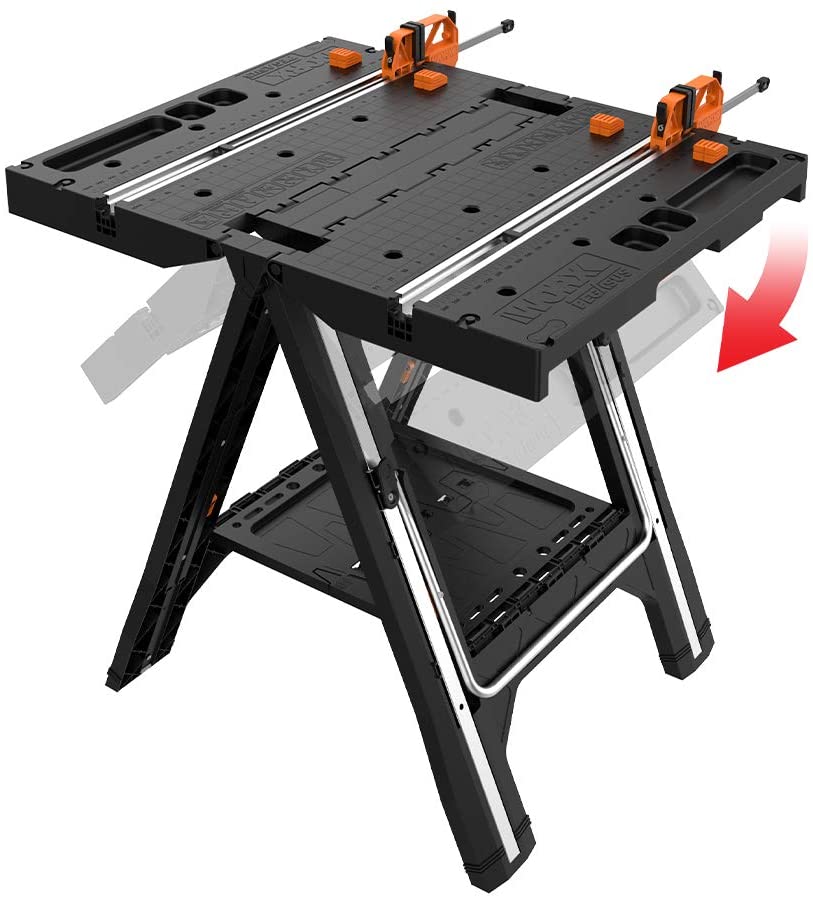 The features of this workbench include:
A sturdy hard plastic benchtop that is supported by steel legs. WORX's use of plastic is to ensure the bench is easily foldable when the need to move it arises. The bench can support 300 pounds as a worktable and 1000 pounds of the load when serving as a sawhorse. The added security of leg locks makes this possible.
A tabletop width of 29.1 inches and a height of approximately 29.5 inches. This means the workbench is definitely going to be a comfortable buy for most craftspeople.
The workbench is versatile and can be transformed into a sawhorse, as well as, folded to form a lightweight contraption that can be easily lifted and transported at will.
Two clamps and four quick clamp dogs are attached to this workbench. Thus, it provides extensive support for a wide variety of tools and materials. WORX states that the clamping width is 18 inches.
Olympia Tools Multipurpose Workbench
Although the multipurpose workbench can be moved, the availability of cabinets and stationery legs means the Olympia should be viewed as a fixed bench. The fixed nature of this bench does not take anything away from it. In fact, it comes with a pegboard equipped with fluorescent light to light up your workstation. This means you can put this bench in your garage and work through the night without any hassles.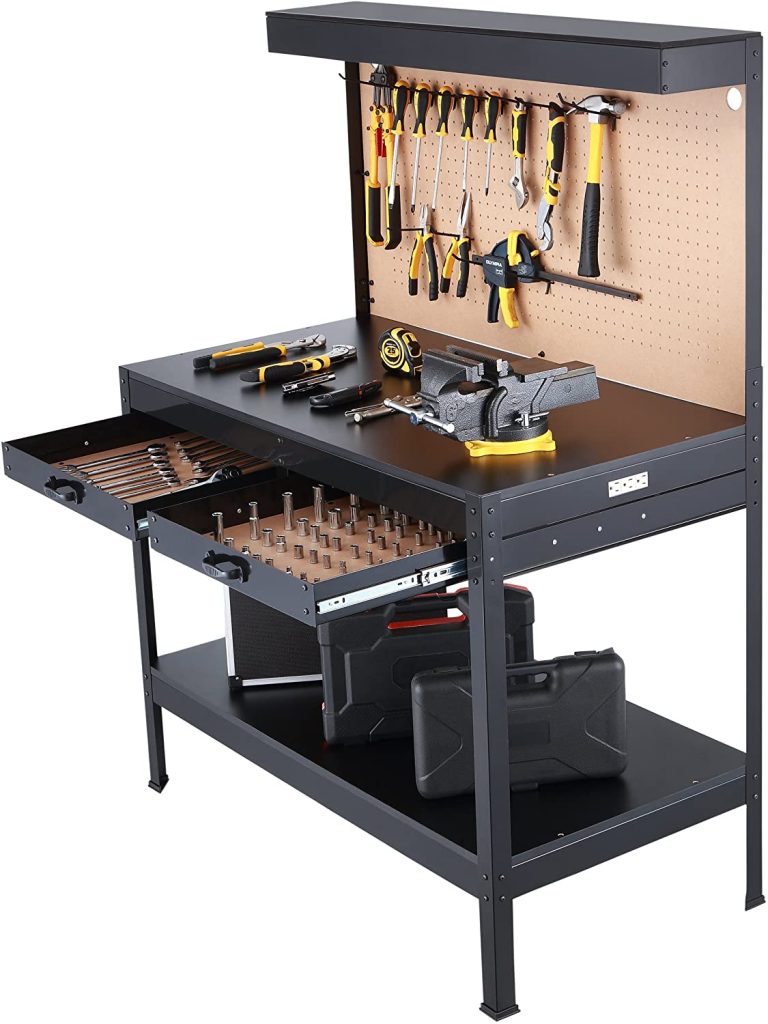 The features of the Olympia workbench include:
Heavy-duty steel construction provides the sturdiness and durability you require from a workbench. The bench is capable of supporting loads of up to 220 pounds. The tabletop is designed with an enamel finish and two drawers are located underneath it to provide storage space for your tools and other items or materials.
A height of approximately 28.7 inches makes it a comfortable workbench for your everyday use. The bench also provides clamps that simplify the task of attaching materials or tools to the workbench.
The Olympia Tools Workbench is a durable and simplistic workstation to use for your craft.
Conclusion
Workbenches are some of the essential furniture every craftsperson should have as it provides you with a dedicated station for your work. A woodworker or craftsperson without a suitable workbench will struggle with organizing projects and getting them executed in time.