Unless you know you are only going to assemble furniture and knockdown barns, you are already familiar with different jugs, tubes and bags. Some of you have also grown to work with several favorite tools, and even found tricks to deal with poor qualities.
Sooner or later, you will start in on a project and realize your glue cannot fulfill your needs. If it happens, you will find yourself going through reviews looking for the perfect wood glue. There are hundreds of choices, but selecting the proper one can be tricky. Here, we go through the main considerations you need to make before buying the wood glue and offer the best options on the market.
Wood Glue Considerations
In a perfect situation, any wood glue you take is capable of creating strong bonds. However, selecting the perfect glue depends on many factors, including working time, temperature, and weather resistance. Let's go through all glue properties to help you select the right one for your work, indoors or outside, and materials woodworkers use.
Sometimes, there can be more than one glue that fits the bill. When buying one, study its properties to see if you can use it for different projects or if you need a new one for every new project.
Flexibility
Flexibility is necessary to allow wood movement at the beginning, and the stretching is called creep. When you work on small projects, you may see glue lines that lose their shapes. In bigger projects, creep can result in joint failure.
We recommend avoiding white glue because it creeps the most. Consider getting epoxy and urea-formaldehyde glue, but polyurethane is also a good option and you can use it for non-structural projects. CA glue can be broken with a hard rap, so it isn't an option.
Toxicity
Of course, you should use goggles and gloves and work in a room with good ventilation. But if you are concerned about long-term exposure, search for the glue that doesn't contain problematic chemicals, for example, solvent-based cleaners. Every manufacturer has a Material Safety Data Sheet to help you see whether the toxicity of a certain glue is high.
Avoid urea formaldehyde because it is lung and skin irritant. It is also a carcinogen. Epoxies are sensitizers and can trigger allergic reactions if you're sensitive. CA can irritate eyes and lungs, as well. We recommend trying PVAs. They are non-toxic so you don't need to worry about your health.
Working Time
You may think that all glues take a minute to use, but it's not true. Open time, working time and curing time all add to the amount of time you will have to wait to complete the project. And sometimes, speed is your best ally.
Fast Glues
Hot hide glue bonds in minutes and offer considerable strength.
Slow Glues
Liquid hide glue needs a lot of time to bond which is beneficial for some projects.
Temperature Sensitivity
If you try to complete the project in a cold room during winter months, it can lead to glue failure. If the temperature drops, many types of glue can't stick. PVAs require temperatures above 50° F. If you see the glue dries white, the temperature is lower than 50° F and the joint will fail. Epoxies, on the other hand, can cure at 35° F. And if you have to work in a colder environment, you can use a hairdryer to help the epoxy stick.
Gap Filling
If a joint is anything but perfect, you may not worry. When 50% of the joint faces are in contact, the proper glue will hold without problems. Poor clamping practices are a problem here. If you have to work with joints with gaps, you need a gap-filling glue. We recommend avoiding polyurethane glue because it foams and dry froth doesn't have any strength. PVAs can quickly fix the situation, but the gap-filling puddle will shrink. As a result, you won't be able to make future fixes. Try using epoxy for gap-filling repairs.
Water-resistance
Water-resistance, constant immersion and waterproof are not the same things. All PVAs will soften in the marine environment. We also recommend avoiding white glues. Their bonds will be undone in hot water. Try epoxy glues because they are suitable for constant water contact. And for outdoor projects, polyurethane is a good option, too.
Types of Wood Glue
In the past, there was a clean line between the wood glue (used for organically based materials) and the word adhesives (used for manmade materials). Nowadays, wood is glued together using glue that is made of aliphatic resins and manmade polyvinyl.
Polyvinyl Acetate Glue
It also called white glue; polyvinyl glue is made of the same things as glues we used in schools. It will glue wood, paper, and china. White glue sets really quickly, hardening when the moisture evaporates and the glue becomes transparent. However, when you're clamping glued pieces together, you should let them sit for several hours. When buying this glue, make sure you're getting full-strength one, because some of them are for children's use.
This glue is not waterproof, thus you can't use it for exterior application. Besides, if you glue in places near sources of heat such as fireplace, furnace, heater, this glue will not stick. But it is cheap, easy-to-use, non-flammable and non-toxic. It won't stain your tools and materials (except oak and metals). White glue should be used in a warm environment.
---
---
Aliphatic Resin Glue
Like the previous type of glues, you can find these in bottles but they are much stronger than white glue. It has a bright yellow color but dries quickly and becomes transparent. It is also more easily sanded than white glue, which can soften due to the heat. Just like white glue, it is not for use in moist or damp environments. It sets quickly in warm temperatures but can be used at low temperatures (as low as 45° F).
Resorcinol Formaldehyde Glue
This glue is waterproof and can be used in water skis, boats, and other aquatic equipment. You can also use it as an exterior finish on windows, molding, and doors. When it dries, it has a deep maroon color. However, this glue is expensive and you have to mix it at the time of use by blending catalyst with the resin. It also takes ten hours to set and can only be used in warm temperatures. It is less convenient than other types, but it is your only choice for joints in damp locations.
What is the best wood glue?
Franklin International 5066F Wood Glue
This wood glue has impressive functionality and features. Many professionals say it is the best glue that bonds all wood types, including porous wood. We definitely recommend considering this option; it is easy to use and even beginners will do everything right from the first try.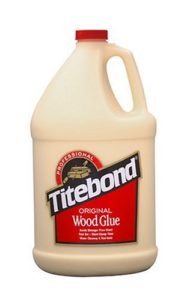 Just like other glues manufactured by this company, the formulation of this glue offers a strong tack. The bonding strength is superior, and it ensures you have enough assembly time to finish the project. It is non-toxic, sandable, and solvent-free. We should also mention its amazing water cleanup capacity, low application temperature, and it is unaffected by finishes.
The glue meets ANSI Type I water-resistance standards and it is approved by the FDA for indirect food contact requirements. Hence, you can use it for both exterior and interior applications. It won't cause allergic reactions.
This glue is one of the best options for wood highly preferred by specialists. It has been here for over 50 years and it has proven to be perfect for general woodworking applications. It is fast-setting and offers outstanding standability.
You can use it for hardwoods and softwoods while working with porous materials. It is loved by people who need to perform interior applications, for example, cabinetmaking. For smaller projects, a pint-size is more than enough.
While this glue is water-resistant, it is not the best for wet applications. All in all, this wood glue is worth considering when buying the most effective glues on the market.
Things we liked:
Bonds all wood types
Water-resistant
Can be cleaned with water
Non-toxic
Solvent-free
Things we didn't like:
Don't work in wet environments
Gorilla Wood Glue
Next up is Gorilla wood glue that has amazing customer ratings. This glue is often the main choice of beginners and hobbyists and it is trusted by woodworkers, carpenters, and businesses. This glue belongs to PVAs, offering the main benefits of PVAs such as easy-to-use and water-based formula. This glue offers long-lasting holding power which made this glue so popular in the first place. It features premium formulation, ensuring superior strength and cross-linking bond.
The wood glue can bond wood-to-wood projects stronger and faster than many other types of glue on the market. The special formula has been developed to suit a wide variety of applications and it is water-resistant, too. Thus, you can use it both indoors and outdoors.
Certainly, the company has improved this product and it is tougher now than before, resulting in a nicely-looking bond line. The glue can help you complete your projects faster with its 30 minutes clamp time and one-day curing time. It dries up transparent, creating a natural bond.
It proves to be versatile and can be used for projects involving natural wood, softwood, and hardwood composites. Ideal for various environments, it has passed ANSI requirements, making it Type II water-resistant glue. It also meets FDA requirements.
Without any doubt, it is very strong wood glue and considering its manufacturer – a trusted company loved by professionals – you can't go wrong with this one. Its spread-ability and strength are amazing. The only downside is the lack of strength when bonding large areas.
Things we liked:
Non-toxic
Bonds stronger and faster than others
Versatile
30 minutes clamps
Long-lasting holding power
Things we didn't like:
Not the best option for covering large areas
J-B Weld 8251 Wood Epoxy Adhesive
This strong wood glue offers a 2-part epoxy system, which has been developed for repairing and bonding wood. Once it is cured, the glue can be sanded, tapped, drilled, filed and shaped. Providing a permanent bond, this glue can be everything you need. It has a 1:1 mixing ratio and it sets within 10 minutes. It also cures pretty quickly, taking less than 3 hours to cure. It has a rating of 1800 PSI strength, thus it is the strongest glue on the market. When it is set, it features a light tan color.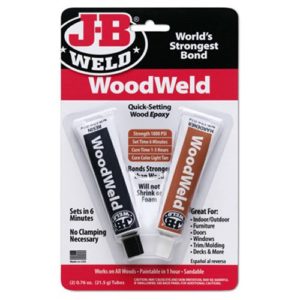 This glue is perfect for gluing doors, furniture, windows, decks, moldings and trims, and almost all indoor and outdoor applications. You can use it for rotted wood, wood restore items, and more. This fast-setting glue is easy to use. Just make sure to roughen the surface with sandpaper for the best results.
After that, you should simply mix the glue, squeezing equal parts onto the surface and mix for a couple of minutes. Then you can apply the glue with a proper tool. Wait for 10 minutes to dry and then several hours for the cutting. The glue can work at low temperatures, but the setting time will be a bit longer. All in all, this is workable and reliable glue, and definitely one of the best glues on the market.
Things we liked:
Works in low temperatures
Dries in 10 minutes
Versatile
Things we didn't like:
You need to mix it before using
And the winner is…
Franklin International 5066F Wood Glue with its slow set formula that ensures precise assembly. You can use it for all kinds of projects; it is perfect for beginners and professionals alike. Aside from perfect sandability, it is used to achieve perfection with no effort