Let's face it. A fixed base and a plunge router might have quite a number of differences but when it comes to performance, both are important. Unfortunately, buying both can be quite expensive, and that is why Wood Crafter Tool Talk and Amazon considers Dewalt DWP611PK combo the best in the market. But is that so? Take a closer look.
Key features
Dewalt DWP611PK Comes with efficient speed control that allows easy optimization of bit speed needed to change applications.
Features a 1.25hp motor for maximum performance on complex applications
Another great feature is the full-time electronic soft starting motor that works best to maintain the motor speed while working on the cut.
Included is a Dual LED light plus a sub-base that ensures maximum illumination when working on complex workpieces.
It also comes with an adjustment ring that makes it easier to control the bit depth when using it as a fixed base router.
Other additional features include 8-pound weight, 7-inch by 10.2-inch by 19.2-inch measurements, 120 voltage and more.
What Is So Unique About Dewalt DWP611PK?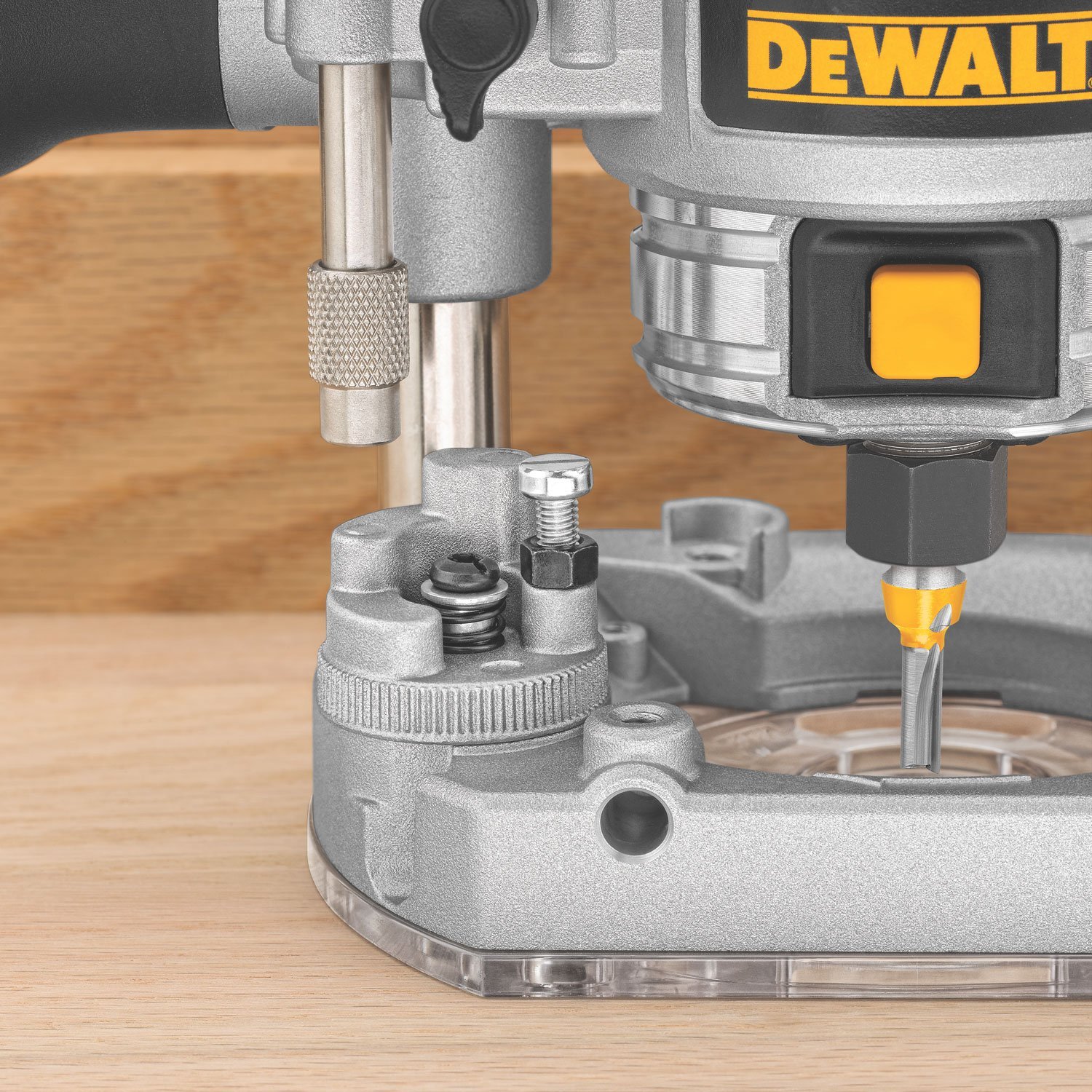 DWP611PK is an electric router kit that can work both as a plunge as well as a fixed base router. Unlike any other router, it combines simplicity, control, and salient features into one perfect performance.
DWP611PK is designed to handle several applications that vary from minor cuts to heavy flush trimming. It also features a high-performing 1-1/4 horsepower motor plus dual LED lights for illumination.
Whether you are working on large and heavy workpieces where repeat applications and stability is required or complex projects such as inlay grooves and the rest, Dewalt DWP611PK will always make your work easier.
What You Might Like About It
Comfortable handle
It comes with a heavy-duty handle on both sides that offer your hands maximum comfort and allows you to control your cuts fully when using it as a plunge router.
| Variable speeds | Durable and light |
| --- | --- |
| As mentioned earlier, it features a 1.25 horsepower, making it one of the most powerful routers its type on the market. The motor also enables your router to operate at different speeds making it easier to achieve a variety of projects. | It comes with a plastic housing as well as an aluminum construction that makes it one of the strongest and sturdiest light-weight routers its type. Its overall weight is approximately 8 pounds making it easier to use and move around when working on different projects. Also, its metal design makes it one of the most excellent workshop tools. |
The adjustment ring
Dewalt DWP611PK comes with an adjustment ring that makes it easier to control the bit depth changes. It also makes it easier for you to tighten as well as loosen its bits.
When using the Dewalt DWP611PK as a fixed base router, the depth can go up to 1.5 inches while for the plunge router, it can go up to 2 inches creating a securely smooth operation.
The Dewalt DWP611PK  also features a spindle lock button that makes it simpler to achieve single wrench bit changes with the depth ring ensuring that the motor remains where it is, making it a perfect choice for complex cuts.
Other things you might like about it include, a 1/4 –inch collet that is a perfect size for any palm router, making it one of the best wood routers for both the beginners and pros with already a larger router but need a small-sized compact router.
The fixed base is D-Shaped for stability as well as enhancing your visibility when working on radius cuts and edging. Also added are quick-release tabs that are spring-loaded making it easier for you to release the base faster.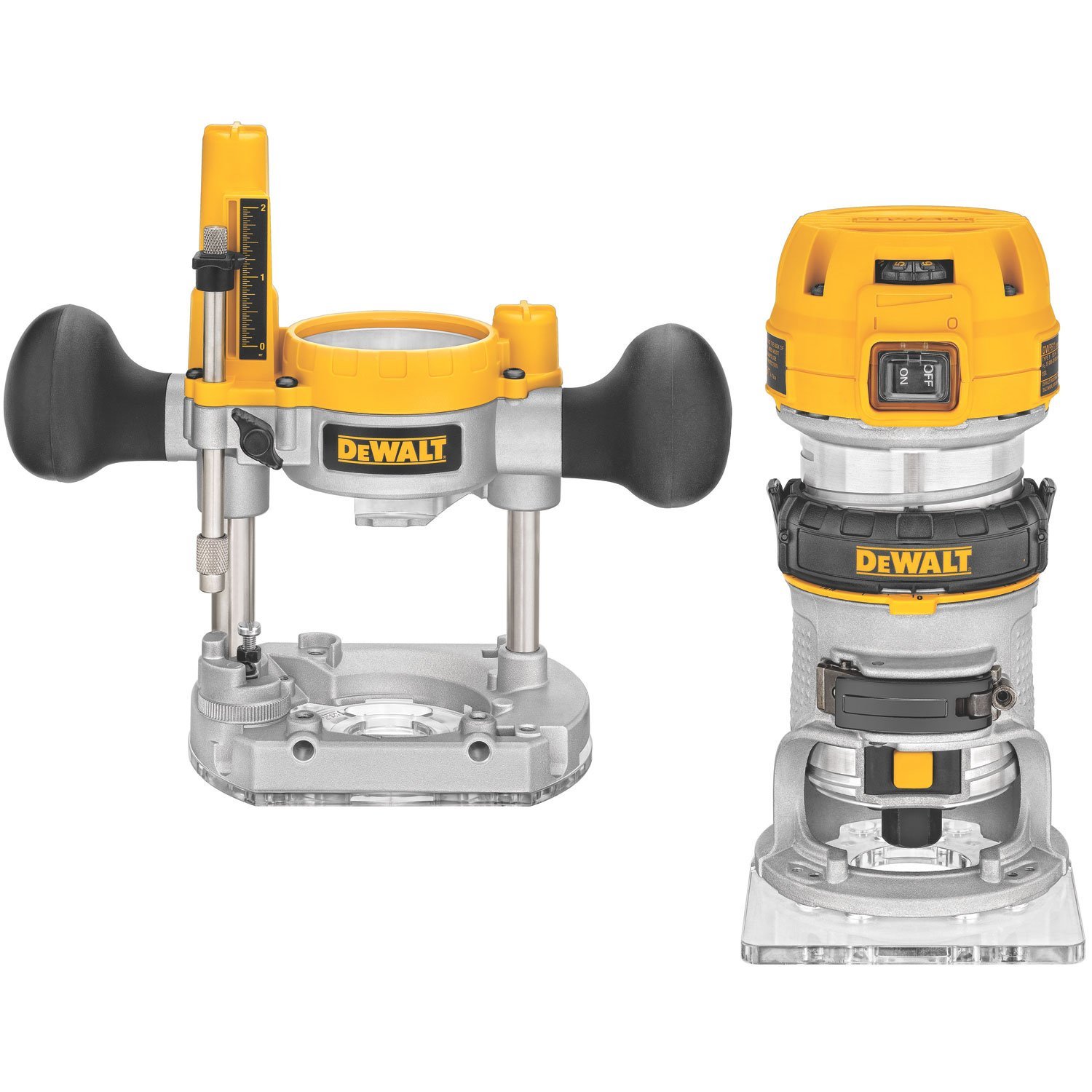 What you might not like about it
Not suited for large projects: Dewalt DWP611PK isn't designed for larger heavy-duty projects. The fact that it is small and compact makes it a better choice for smaller home projects. However, it might also come in handy for those who already have a large router, but in need of something that is easier to move around and more.
Not meant to work for longer periods: According to some few user reviews on Amazon, Dewalt DWP611PK can't run for more extended periods only because it gets hot to a point that it can melt the plastic parts. As mentioned earlier, this router was designed to work on smaller and simpler projects that take a few minutes or even an hour to finish, meaning that using it for longer periods is like trying to damage it.
Summary of Customer Reviews and ratings
Going through the user reviews on Amazon, Lumber Jocks, and other sites, it is quite clear that Dewalt DWP611PK is a compelling product. More than enough users find it quite convenient for both simple projects as well as complex heavy-duty projects.
However, not all are satisfied. Despite its simplicity, ease-of-use, performance, and salient features, there are a few users who feel that it would have been much better if it worked for longer hours without getting hot. There are also those who think that it could be much better if it were a heavy-duty machine.
Summing up all the user reviews, Dewalt DWP611PK 1.25 HP combo router settles at a rating of 4.8-stars out of 5 after 440 reviews; that is quite high compared to what we see even with the heavy-duty routers on the market. Compared to its closest rivals on the market, I can say that Dewalt DWP611PK hasn't found a perfect match yet.
The Verdict
Dewalt DWP611PK might work for heavy-duty tasks, but woodworkers whether pros or amateurs need it to work on complex projects where lack of precision is a problem. Despite its small size and its inability to work for longer hours, it proves quite convenient for a variety of projects. The only way to find out is to try it.